A study looking at improving assessment and treatment of older people with breast or bowel cancer
Cancer type:
Bowel (colorectal) cancer
This study looked at using a frailty assessment, support and health professional training to see if these improved the experiences of older people.
It was for people diagnosed with breast or bowel cancer who lived in north London and who were older than 70 years.
More about this trial
Cancer treatment aims to either cure the cancer (curative) or to control the symptoms (palliative treatment). 
The doctors assess you and give you the highest dose of treatment they think you can cope with. Treatment can be:
We know from research that older people with cancer might have less intensive treatment than younger people. This is often because they are not well enough to cope with intensive treatment, or they choose not to have it. 
But there can be other reasons. For example, your doctor might be concerned that you don't have enough community support. 
In this study, researchers wanted to see how the assessment of treatment and support of older people with cancer could be improved. To do this they asked people questions to assess how strong or weak (frail) they were. This is called a frailty assessment. 
Researchers also offered help to the people taking part. And provided training to the clinical nurse specialists (CNS) looking after the older people.    
The aim of this study was to see how well a frailty assessment can improve the support and the treatment assessment of older people with breast or bowel cancer.
Summary of results
The study team found that some clinical nurse specialists used the frailty assessment. But some assessments took a lot of time to complete and this added to the nurse's workload. They also found that doctors didn't use the assessment results to make treatment decisions. 
90 people took part in this pilot study. Everyone was older than 70 and going to 1 of the following hospitals in north London:
Barking, Havering and Redbridge University Hospital
Homerton University Hospital
Newham University Hospital
Royal London and St Bartholomew's Hospital
Whipps Cross Hospital
People had the usual tests and examinations and were diagnosed with breast or bowel cancer. 61 people had breast cancer and 29 people had bowel cancer. 
After diagnosis, people had an interview (a frailty assessment) with a clinical nurse specialist. Many of the nurse specialists involved in the project had training on using the assessments, understanding the results and making referrals. 
 People were asked about:
where they were living
if they were looking after someone (a carer)
their physical and daily activities
their daily diet (nutrition)
their mental capacity (cognitive test)
other health issues
if they were depressed 
Frailty assessment results
The study team looked at the older people's answers. 
Most people:
lived alone
had good mobility
were not carers
didn't have other health issues
But problems were identified for some people including:
difficulty with mobility including managing stairs
unable to have a bath
assistance needed with shopping
not being able to drive
not having an adequate diet (malnourished)
loss of control of bladder or bowels (incontinence)
other health problems such as diabetes, another type of cancer, problems with breathing and blood circulation and liver disease 
Support referrals
As part of this study, older people were offered support. This depended on their needs. The study team looked at the number of people referred for support:
7 people were referred to the care of the elderly service
14 people were referred to Age UK
28 people used taxi services for their hospital appointments
The care of the elderly service is a team of doctors and nurses that specialise in looking after older people. But only a small amount of people were referred to this service. 
The study team think some doctors and nurses weren't aware of who their local team was or what the team can do. 
More people were referred to Age UK, although 3 declined their help. This charity offered help with people's:
shopping
housework
bathing
Some also had daily telephone calls to check how they were.  
Some older people also used taxis for their hospital appointments. Most specialist nurses and doctors thought this was very helpful.  
Using the frailty assessment 
The study team asked the clinical nurse specialists and doctors about the frailty assessment. Some thought this assessment took too much time to complete. On average, it took almost 40 minutes each time. 
The specialist nurses also thought t it was hard to find the right time to do the assessment. And that some questions (such as mood and sexuality) were difficult to ask about. 
Most nurses thought that some of the frailty assessments were repeating checks the doctor had already done. And the results weren't shared with the doctors and other health professionals looking after the older people. 
Doctors and nurses interviews
The study team asked 22 doctors and specialist nurses to have up to 2 interviews. They wanted to find out how they choose the type of cancer treatment people should have.
The team found that treatment decisions are mostly focused on the diagnosis of cancer. Other health problems and the social situation of older people are often not taken into account. This means that some people end up not completing all their treatment or having delays to their treatment.
Focussing just on the cancer and its treatment can put older people who might have complex care needs at a disadvantage. 
  
Overall conclusions
Although some clinical nurse specialists completed the frailty assessment, the results weren't used to assess how fit the older person was and the treatment they should have. 
The study team think there isn't enough time between diagnosis and start of treatment to complete the frailty assessment and look at the results. This is because of time pressures on health professionals to start cancer treatment as soon as possible. 
They conclude that by only looking at the cancer treatment it can mean that older people who have other illnesses or social needs end up with a treatment plan that is not suitable. Having time to complete the frailty assessment and getting appropriate support in place could mean that more people are able to have treatment tailored for them.
We have based this summary on information from the research team.  As far as we are aware, the information they sent us has not been reviewed independently (peer reviewed

) or published in a medical journal yet. The figures we quote above were provided by the research team. We have not analysed the data ourselves.
How to join a clinical trial
Please note: In order to join a trial you will need to discuss it with your doctor, unless otherwise specified.
Please note - unless we state otherwise in the summary, you need to talk to your doctor about joining a trial.
Supported by
Macmillan Cancer Support
NIHR Clinical Research Network: Cancer
CRUK internal database number:
Please note - unless we state otherwise in the summary, you need to talk to your doctor about joining a trial.
Charlie took part in a trial to try new treatments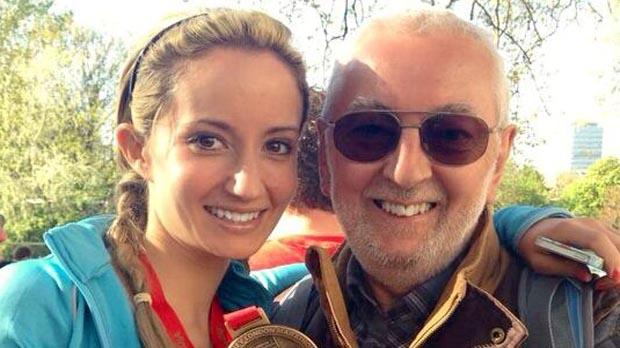 "I think it's really important that people keep signing up to these type of trials to push research forward."