A study looking at the effect of helpful chemicals in fruit and vegetables on bowel health in people with a pre cancer or cancer of the bowel
Please note - this trial is no longer recruiting patients. We hope to add results when they are available.
Cancer type:
Bowel (colorectal) cancer
This study is looking at how the bowel breaks down chemical compounds called polyphenols, and at how they affect bowel health.
Diets full of fruit and vegetables are linked with a decreased risk of developing age related diseases including cancers of the stomach, bowel and back passage (rectum). Bowel cancer is strongly linked to diet. Most people diagnosed with bowel cancer are over 50 years old. Doctors want to understand how diet affects bowel health, so they can recommend diets that may help prevent these diseases.
More about this trial
We know that some compounds in colourful fruit and vegetables such as tomatoes, onions and berries gather and build up in the large bowel. These compounds are called polyphenols. They are broken down by bacteria

 in the gut into smaller compounds that may protect the gut.
There has only been a small amount of research into how polyphenols in the diet affect bowel health in older adults. The aim of this study is to compare how gut bacteria break down these compounds in adults over 50 who either have a pre cancerous bowel growth called an adenoma, or bowel cancer, with those who have not. You will not have any direct benefit from taking part in this study, and it is unlikely to change your treatment plan in any way. But the results of the study will be used to help research into bowel cancer.
Who can enter
This study will recruit people when they come to hospital for a bowel camera examination called a colonoscopy which is not part of the study. Whether or not they continue in the study depends on the results of their colonoscopy. To take part you must either
Have had one or more pre cancerous growths called adenomas removed from your bowel in the last 4 weeks, and have not had any other types of growths (polyps), or
Have been diagnosed with a type of bowel cancer called adenocarcinoma, but it will be at least 12 weeks before you start treatment
And you are
In good general health
Between 50 and 75 years old
You cannot enter this study if you
Are severely overweight (obese)
Smoke
Drink more than 20 units of alcohol per week
Are taking any medications or supplements that affect bowel health
Have needed to repeat a course of antibiotics for any reason in the last 3 months
Have any other condition that would affect the study results – you can ask your doctor about this
Trial design
This study is in 2 parts. Whether you take part in one or both depends on the results of the colonoscopy already planned for you, which is not part of the study.
For the first part of the study, you have to agree before your colonoscopy that if you need any tissue samples (biopsies) taken, the doctor can remove up to 6 extra samples for the study. The study team will also collect information from your hospital notes. They will treat all this information anonymously, so no one will be able to link this and your biopsy results to you.
If your colonoscopy results show that you have got adenomas or bowel cancer, the team will ask if you would be willing to take part in the second part of the study. They will measure your weight, height, blood pressure and around your waist. You will also fill out a questionnaire about your eating habits and physical activity. They will then ask you to follow a diet plan, first for 6 days then, after a week's break, for 6 weeks.
During the first 3 days you eat foods with a low polyphenol content such as rice, meat, fish, pasta and bread (but avoid tea, coffee, fruit and vegetables). For the next 3 days you eat food with a high polyphenol content such as tea, coffee, berries, tomatoes and onions. The team will provide some of these foods for you.
You write down what you eat during this time, including any mistakes. At the end of each diet you will be asked to collect urine for 24 hours and a stool sample. The team will give you special containers and instructions for these.
The next part of the study is randomised. The people taking part will be put into one of 2 groups randomly, and follow one of 2 diets for the next 6 weeks.
If you are in group 1, you will just eat your usual diet.
If you are in group 2, you will increase certain foods such as green tea, dark chocolate, tea, onions, tomatoes and berries. The team will provide you with green tea and chocolate.
At the beginning, middle and end of these 6 weeks everyone will
Write down what they eat every 3 days, including any mistakes
Collect urine for 24 hours
Give a stool sample
Give a blood sample
The team will compare this information with information they have already gathered by studying healthy adults.
The team will give a £50 shopping voucher as a thank you for taking part.
Hospital visits
The first part of the study does not involve any extra hospital visits, as you would be having the colonoscopy anyway.
You visit the hospital when you join part 2 of the study and then
At days 3 and 6 of the 3-day diets to return your stool samples and urine collections
At the beginning, middle and end of the 6 week diet to return samples and have blood tests
The team will refund your travel costs for these study visits.
Side effects
You may have a bruise where you gave your blood sample.
How to join a clinical trial
Please note: In order to join a trial you will need to discuss it with your doctor, unless otherwise specified.
Please note - unless we state otherwise in the summary, you need to talk to your doctor about joining a trial.
Supported by
NHS Greater Glasgow and Clyde
NIHR Clinical Research Network: Cancer
Saudi Arabian Ministry of Higher Education
Tenovus
University of Glasgow
CRUK internal database number:
Please note - unless we state otherwise in the summary, you need to talk to your doctor about joining a trial.
Alan took part in a clinical trial for bowel cancer patients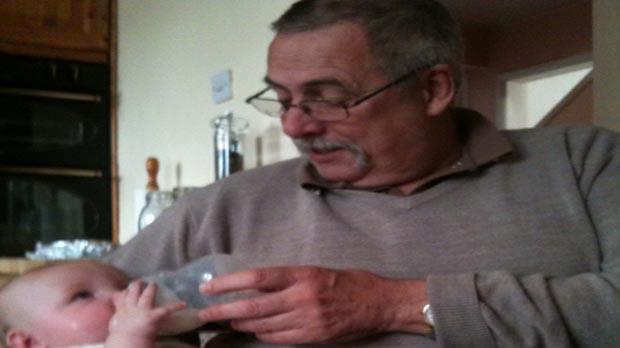 "I think it's essential that people keep signing up to these type of trials to push research forward."