A study looking at a drug called E7449 in people with advanced solid tumours, or advanced B cell cancers
Coronavirus and cancer
We know it's a worrying time for people with cancer, we have information to help. If you have symptoms of cancer contact your doctor.
Please note - this trial is no longer recruiting patients. We hope to add results when they are available.
Cancer type:
Chronic lymphocytic leukaemia (CLL)
This is a study to learn more about a new drug called E7449 for solid tumours

and cancers affecting immune system cells called B cells. The people taking part have cancer that has spread or come back after treatment.
E7449 is a type of biological therapy that blocks a protein called PARP (a PARP inhibitor). PARP repairs damage to DNA

in our cells. Blocking PARP may stop cancer cells being able to repair themselves after chemotherapy.
The main aims of the study are to
You may not have any direct benefit from taking part in this study. But the results will be used to help others with cancer in the future.
Who can enter
This study is split into 2 parts (phases), made up of 7 groups altogether. It is recruiting people in different situations for different parts of the study.
You may be able to take part in phase 1 of this study if you have a solid tumour

or a cancer affecting your B cells such as mantle cell lymphoma, marginal zone lymphoma, follicular lymphoma, diffuse large B cell lymphoma or B cell chronic lymphocytic leukaemia that has continued to grow or spread after treatment, or your doctor has said that there are no standard treatments available for your cancer.
And you
Are well enough to be up and about for at least half the day (performance status 0, 1 or 2)
Have satisfactory blood test results
Have a satisfactory heart scan (MUGA or echocardiograph )
Are willing to use reliable contraception if there is any chance that you or your partner could become pregnant
Are at least 18 years old
You may be able to take part in phase 2 if, as well as the above, you have one of the following
Serous ovarian cancer that has come back after standard treatment , but platinum chemotherapy may still help treat this
B cell cancer that has either come back or continued to grow after at least 3 systemic treatments , and you do not have a fault with a gene called the AT gene – you can ask your doctor about this
Advanced melanoma skin cancer (not melanoma of the eye) if you have had at least 2 courses of systemic treatment, but your melanoma has got worse
Triple negative breast cancer that has spread to another part of the body, if you have had one standard treatment for this, but it has continued to grow
And if you have a solid tumour, you have at least 1 area of cancer that is at least 1 cm long (or 1.5 cm long if this is the only area), or a lymph node

containing cancer cells that measures at least 1.5 cm across
You cannot enter either part of this study if you
Have taken E7449 before
Are taking medication that affects body substances called cytochrome P (CYP) enzymes
Have cancer that has spread to your brain, or the membranes that surround your brain or spinal cord (if you had surgery or stereotactic radiosurgery to treat this at least a month ago and a scan shows it has not come back, you are not having symptoms and you stopped taking steroids at least 30 days ago you may be able to take part)
Have had any cancer treatment including experimental drugs in the last month, or you have not recovered from any side effects unless they are only mild
Have had major surgery in the last 4 weeks
Have any condition that may affect how well your body absorbs E7449
Have had any serious heart problems or a stroke in the last 6 months
Have an infection needing drug treatment
Are allergic to anything in E7449
Have moderate to severe anxiety or mental health problems
Have a severe non cancerous disease that affects your kidneys or liver
Have hepatitis or HIV
Have a disease affecting your hormone system, such as diabetes, an under or overactive thyroid or adrenal disease that is not controlled with medication (if you have not needed changes to your medication in the last month, or have not been in hospital for the condition in the last 3 months you may be able to take part)
Have ever had bleeding from your tumour
Are pregnant or breastfeeding
Have any other condition that would make you unwell if you took part
You cannot enter phase 2 of the study if you have taken a PARP inhibitor before – you can ask your doctor about this. And you cannot join certain groups if you are allergic to temozolomide, platinum drugs

, a type of castor oil used in some drugs called poloxyl castor oil or dacarbazine or you have had carboplatin or paclitaxel before – you will see in the trial design below which groups these apply to.
You can ask your doctor if there is anything in these lists that you are not sure about.
Trial design
This study will recruit up to 198 people. It is split into 2 phases. Each phase is looking at different things.
Phase 1 will recruit up to 102 people, who have advanced solid tumours, or B cell cancers. It is looking at the safest dose of E7449 you can have on its own, or with temozolomide or carboplatin and paclitaxel chemotherapy.
Phase 1 is divided into 3 main groups. The first few people in each group will have the lowest dose of E7449. If they don't have any serious side effects, the next patients will have a higher dose. And so on, until they find the best dose to give. This is called a dose escalation study.
If you are in group 1, you take E7449 capsules once a day. You take them 2 hours before or 2 hours after food. You should avoid drinking water an hour before and an hour after the capsules, but you can have a cup to drink to help you swallow them.
Once the team have found the best dose to give, they will recruit up to 12 more people to group 1 to test this. They take the drug in the same way but on one day they take it after a cooked breakfast provided by the study team, and another day on an empty stomach. This is so the team can see if food affects how well the body takes in (absorbs) E7449.
If you are in group 2, you have E7449 with the chemotherapy drug temozolomide. You have 4 week cycles of treatment. You take E7449 once a day, for the first week of each cycle of treatment. You take temozolomide tablets for the first 5 days of each cycle.
If you are in group 3, you have E7449 with the chemotherapy drugs carboplatin and paclitaxel. You take E7449 once a day. You have carboplatin and paclitaxel chemotherapy through a drip into a vein every 3 weeks.
Everybody, except those taking part in the food study, will have a single dose of E7449 2 days before they start their study treatment. They also have blood tests so the team can see what happens to the drug in the body. This is called a pharmacokinetic study

.
Phase 2 will recruit up to 96 people into 3 groups. The people taking part have the best doses of E7449 that were found in phase 1. This part of the study will recruit people with B cell cancers, melanoma skin cancer, triple negative breast cancer and women with ovarian cancer.
If you have ovarian cancer or a B cell cancer, you have E7449 in the same way as the original group 1.
If you have melanoma skin cancer, you have E7449 and temozolomide in the same way as the people in the original group 2.
If you have triple negative breast cancer, you have E7449 with carboplatin and paclitaxel chemotherapy in the same way as people in the original group 3.
Whichever phase of the study you are in, you continue to have treatment until your cancer starts to get worse, or any side effects become too severe.
While you are having treatment, you fill out a diary to record the medication you take, the time you eat and anything else you would like the study team to know.
Hospital visits
If you take part in this study, you will make regular visits to hospital. The number of times you go to hospital and the tests you have will depend on the group you are in, and in some cases, if your doctor thinks you need them. The study team will tell you more about the visits and tests you need to have.
Before you start the study you have some tests which include
Physical examination
Blood tests
Urine test
Bone scan (if needed)
Heart trace (ECG)
Heart ultrasound (ECHO) or MUGA scan
You see the doctor regularly during treatment. You also have regular tests including
Physical examination
Heart traces
Blood and urine tests
CT scan or MRI scan
When you finish treatment you may have
A physical examination
Heart traces
Blood tests
CT scan or MRI scan
Side effects
As E7449 is a new drug that hasn't been tested in people before, there may be side effects we don't know about yet. The possible side effects include
A drop in blood cells causing an increased risk of infection, bleeding problems, tiredness and breathlessness
Tiredness (fatigue)
Weakness
Decrease in blood pressure
Increase in heart rate
Increased sensitivity to sunlight, causing a skin rash – the team will tell you which precautions you should take to protect your skin
You can find out more about side effects of temozolomide, carboplatin and paclitaxel in our cancer drugs section.
How to join a clinical trial
Please note: In order to join a trial you will need to discuss it with your doctor, unless otherwise specified.
Please note - unless we state otherwise in the summary, you need to talk to your doctor about joining a trial.
Supported by
Eisai
Experimental Cancer Medicine Centre (ECMC)
NIHR Clinical Research Network: Cancer
CRUK internal database number:
Please note - unless we state otherwise in the summary, you need to talk to your doctor about joining a trial.
Charlie took part in a trial to try new treatments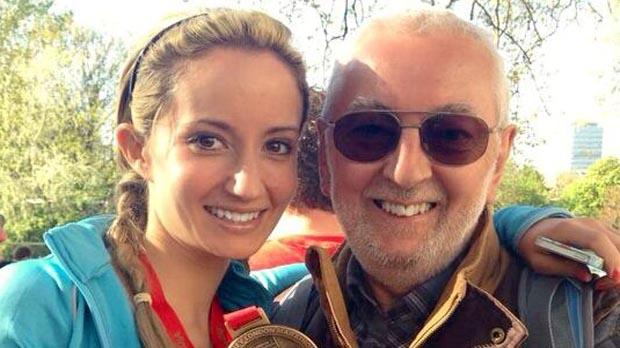 "I think it's really important that people keep signing up to these type of trials to push research forward."