A study looking at a drug called BMN 673 in people with a solid tumour that has spread, or has come back after treatment
Please note - this trial is no longer recruiting patients. We hope to add results when they are available.
This study is learning more about a new drug called BMN 673, which hasn't been tested in people before. It is for people who have a solid tumour that has spread or come back after treatment. A solid tumour is any type of cancer, except for leukaemia or lymphoma.
When cells divide, mistakes sometimes happen in their DNA. DNA is the genetic code that tells cells how to behave. If the mistakes are not repaired, the cell will usually die. If these cells survive, and collect enough of these genetic mistakes, they may eventually become cancer cells.  
Some cancer cells rely on a protein called PARP to repair their DNA and help them survive. This study is looking at a new drug called BMN 673 that can stop PARP from working, so these cancer cells should die. But so far it has only been tested in the laboratory. This study is the first time it will be tested in people, so the research team do not know how BMN 673 may affect them.  The main aims of this study are to
Find the highest, safe dose of BMN 673 that you can have daily
Measure the levels of BMN 673 in your bloodstream
See if BMN 673 causes any change to your cancer
You will not get any direct benefit from taking part in this study, but the results will be used to help people with cancer in the future.
Who can enter
You may be able to enter this trial if
You have any type of solid cancer
You have not been able to have standard treatment for your cancer for any reason, or you have had all the standard treatment you can have for your cancer, but it has continued to grow
Your hospital has stored a sample of your cancer from when you were diagnosed
You have cancer that can be measured in some way by your doctor, for example on a scan or with a blood test
You are well enough to carry out all your normal activities, apart from heavy physical work (performance status of 0 or 1)
You have satisfactory blood tests
You are willing to use reliable contraception, from when you start the study until 30 days after you finish taking the study drug, if there is any chance that you or your partner could become pregnant
You are at least 18 years old
You cannot enter this trial if you
Have cancer that has spread to your brain or spinal cord (central nervous system)
Are still recovering from side effects from previous cancer treatment – if you have hair loss you may still be able to take part
Have had treatment with a type of biological therapy called a PARP inhibitor (this would stop you taking part in Part 2 of the study) – you can check this with your doctor
Had major surgery, radiotherapy, chemotherapy or other immune suppressing drug less than 4 weeks ago (or 6 weeks if you had a nitrosourea chemotherapy or mitomycin c)
Have had a high dose chemotherapy with a bone marrow transplant or stem cell transplant
Have a stomach ulcer
Have a disease of your digestive system that makes it difficult for your body to absorb food, drink or medication
Need to be fed through a drip into a vein
Have a bowel disease that causes inflammation such as Crohn's disease or ulcerative colitis that is uncontrolled
Have any heart condition that is a cause for concern
Have taken part in any clinical trial looking at drugs or medical devices in the last month
Are pregnant or breastfeeding
Have any other disease or condition that would make you unwell if you took part, or could affect the results of the study – you can check this with your doctor
Trial design
This phase 1 study is split into 2 parts. It will recruit about 110 people altogether.
Part 1 of the study is to find the best dose of BMN 673 to give. The first few people taking part will have the lowest dose of BMN 673. If they don't have any serious side effects, the next group will have a higher dose. And so on, until they find the best dose to give. This is called the dose escalation part of the study.  
Part 2 will look at the best dose found in part 1, in a further group of people. This is called the dose expansion part of the study. So the dose of BMN 673 you have will depend on when you join the study.
If you are taking part in the dose escalation study, you take BMN 673 on the first day, followed by a 6 day break. You then take BMN 673 for 4 weeks, followed by a 1 week break.  
For the rest of the study, or if you are taking part in part 2, you take BMN 673 every day. You continue to take BMN 673 for as long as your doctor feels it is helping you.
You cannot eat for 6 hours before and 1 hour after taking BMN 673. Everyone taking part will record when they take BMN 673 in a diary, to show the research team.
The team may ask you to give 2 tissue samples (biopsies) for the study. They will tell you more about what this would involve. You do not have to give these if you don't want to. You can still take part in the rest of the study.
These samples will be used to look at genes, DNA and protein. One test will look for changes to 2 genes called BRCA1

and BRCA2

. Changes to these genes can be passed down in families and may lead to cancer. If you have BRCA gene changes, the team will ask if you wish to see a specialist to discuss what this means for you and your family.
Hospital visits
Before you join the study, you will see the doctor and have some tests, including
Physical examination
Blood tests
Heart trace (ECG)
Giving a study sample (biopsy) of your cancer, if you agree
If you are in part 1 of the study (dose escalation) you will come to hospital at least 12 times in the first 6 weeks. You will have lots of blood tests during this time, as well as urine tests and heart traces (ECGs). Because of the timings of some of these tests you may need to stay in hospital overnight several times – the team will tell you more about this.
If you are in part 2 (dose expansion) you will come to hospital 7 times during the first month, for blood and urine tests and a heart trace (ECG).  
For both parts of the study, you will visit the hospital about 4 to 5 times per month until you finish the study. You may have blood or urine tests and will have a number of CT or MRI scans. If you are not having side effects, you may not need to come to the hospital so often.
When you finish the study, you have a visit within 10 days of your last dose of BMN 673, and have
Physical examination
CT scan, MRI scan or X-ray
Blood tests
Urine test
Heart trace (ECG)
Within 30 days of finishing BMN 673 you will see the doctor for a final visit, physical examination, blood and urine tests.
Side effects
BMN 673 has only been tested in a small number of people before. So there may be side effects the team don't know about yet. Side effects we know about include
A drop in blood cells causing an increased risk of infection, bleeding problems, tiredness and breathlessness
Breaking wind more often (flatulence)
Muscle cramps
Dizziness
An infection in your blood if the level of white blood cells you have drops very low
If you agree to have study biopsies, side effects may include
Discomfort and bruising where the biopsy was taken
Severe bleeding and infection (this is not common)
The risk of a cancer biopsy depends on the size and type of cancer you have, and where it is.
You will be exposed to some radiation from the CT scans in this study. We are all exposed to a very small amount of radiation during the course of a normal day (background radiation). The amount of radiation you would have if you took part in this study for a year would be similar to about 69 years worth of background radiation. There is a very small risk with radiation exposure that a second cancer may develop. You can talk to your study doctor more about this.  
For each CT scan you will have a contrast injection

into a vein. This injection can be uncomfortable. It may also make you feel hot, sick and give you slight pain and redness where you have the injection.
You can find out more about CT scans and MRI scans in our cancer tests section.
How to join a clinical trial
Please note: In order to join a trial you will need to discuss it with your doctor, unless otherwise specified.
Please note - unless we state otherwise in the summary, you need to talk to your doctor about joining a trial.
Supported by
BioMarin Pharmaceuticals Inc.
Experimental Cancer Medicine Centre (ECMC)
CRUK internal database number:
Please note - unless we state otherwise in the summary, you need to talk to your doctor about joining a trial.
Cara took part in a clinical trial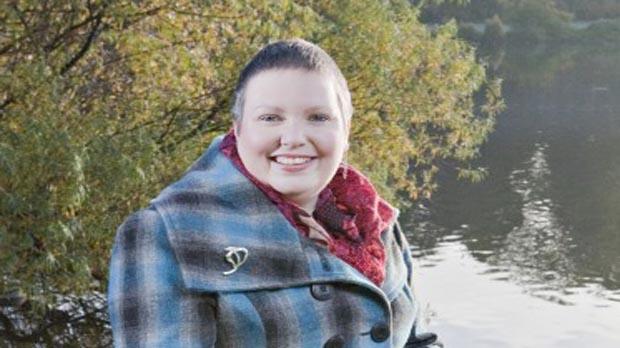 "I am glad that taking part in a trial might help others on their own cancer journey."