A study looking at DNA in the bloodstreams of women with a family history of breast cancer
Please note - this trial is no longer recruiting patients. We hope to add results when they are available.
This study is looking at pieces of DNA (genetic material) in the bloodstream, to see if they could be used to help diagnose breast cancer, and choose and monitor its treatment.
The genes in all body cells contain 'DNA'. Genes control growth, development and how the body works. Differences in genes between people are due to variations in the genetic code in DNA. These differences may affect our risk of developing certain diseases, or how we respond to a particular drug.
We all have low levels of DNA in our bloodstream as well as in our cells. Doctors call this circulating DNA. In some women with advanced breast cancer this DNA shows changes linked to their breast cancer. These changes give the DNA an individual look, or 'signature'.
Doctors want to see if they can find these, or similar DNA signatures in women with a strong family history of breast cancer who are either having mammograms or MRI scans as screening tests for breast cancer, or have already been diagnosed.  They hope that finding useful signatures may lead to developing a blood test to measure them. And, that this blood test may in future help doctors diagnose breast cancer or decide on the best treatment.  
You will not have any direct benefit from taking part in this study, and it is unlikely to change any treatment plan in any way. But the results of the study will be used to help women in the future.
Who can enter
This study is for women going to the genetics clinic at the Leicester Royal Infirmary. If it is possible for you to join this study, one of the study team will ask if you would like to take part. Women taking part will either
Have a strong family history of breast cancer and be due to have a screening mammogram or MRI scan
Or
Have had breast cancer
Have a strong family history of breast cancer
Be over 18, but under 73
You cannot enter this study if you cannot easily understand English, or you may have problems communicating with the study team for any other reason.
Trial design
This study will recruit 250 women into 2 groups, depending on whether or not they have had breast cancer. The groups simply help the researchers to separate the results.  
Everyone taking part will give a sample of blood (about 4 teaspoons). You will also give the study team permission to look at your medical notes and results from your breast screening.
If blood tests you have had in the past have shown that you carry a faulty BRCA1 or BRCA2 gene, the team will ask if you would be willing to give further blood samples for the study. If you agree, you give a sample every 4 months over the next 2 years. You do not have to give these extra samples if you don't want to. You can still take part in the rest of the study.
Please note that the team will not tell you the results of your study blood tests. This is because they would not be sure what any finding would mean for you at this early stage of research.
Hospital visits
Everyone will make one extra hospital visit for the study blood test.
If you agree to give the extra samples, you will make 6 extra visits over the next 2 years for this.
Side effects
You may have a small bruise where you gave your blood sample.
How to join a clinical trial
Please note: In order to join a trial you will need to discuss it with your doctor, unless otherwise specified.
Please note - unless we state otherwise in the summary, you need to talk to your doctor about joining a trial.
Supported by
Experimental Cancer Medicine Centre (ECMC)
Hope against cancer
University Hospitals of Leicester NHS Trust
CRUK internal database number:
Please note - unless we state otherwise in the summary, you need to talk to your doctor about joining a trial.
Caroline took part in a clinical trial for breast cancer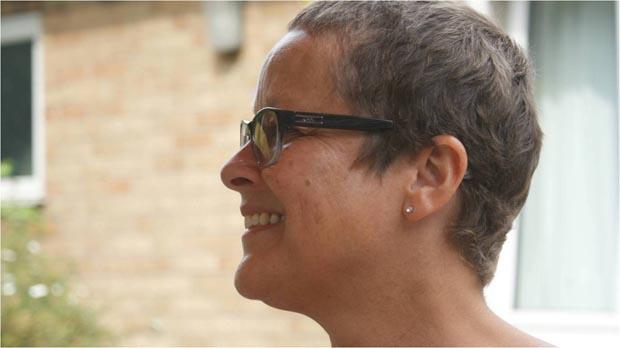 "I had treatment last year and I want to give something back."