A study looking at circulating tumour cells to find out whether they can predict how neuroendocrine tumours respond to treatment (CALM-NET)
Please note - this trial is no longer recruiting patients. We hope to add results when they are available.
Cancer type:
Neuroendocrine tumour (NET)
This study is looking at circulating tumour cells to find out whether they can be used to predict how well treatment will work for neuroendocrine tumours.
Neuroendocrine tumours (NETs) are rare tumours that develop in the cells of the neuroendocrine system. This is a system of nerve and gland cells that make hormones and release them into the bloodstream.
More about this trial
Some people have a NET that produces extra hormones and causes symptoms, such as diarrhoea and flushing of the skin. Doctors can treat this type of tumour with drugs called somatostatin analogues.
It is possible that small parts of the NET tumour break away, travel in the bloodstream and grow into new tumours in other parts of the body. These cells are called circulating tumour cells (CTCs) and the new tumours are called secondaries or metastases.
Research into other types of cancer show that the number of CTCs in the bloodstream may predict how likely it is that treatment will be successful. In this study, researchers will test your blood for CTCs at regular intervals while you are having treatment with a somatostatin analogue called lanreotide.
Taking part in this study will not affect your treatment and you will not benefit directly from taking part. But the results may help other people with NETs in the future.
The aim of this study is to find out if circulating tumour cells can be measured in neuroendocrine tumours.
Who can enter
You may be able to join this study if all of the following apply.
You have been diagnosed with a neuroendocrine tumour (NET) of the small bowel
You have a NET that produces extra hormones and is causing symptoms such as diarrhoea and flushing of the skin (this is called a functioning NET)
Your doctor recommends that you have treatment with a somatostatin analogue 
You are willing to use reliable contraception during treatment  if there is any chance that you or your partner could become pregnant
You cannot join this study if any of these apply. You
Have a NET that your doctor thinks is growing very quickly
Have a NET that has spread to your brain
Have an infection that needs treatment
Have any other serious medical condition or mental health problem that the trial team think could affect you taking part
Have had treatment in a trial in the last 4 weeks
Have had interferon or chemotherapy or treatments called chemoembolisation or radionuclide treatment in the last 3 months
Need any other treatment (apart from the somatostatin analogue) for your NET symptoms
Are allergic to the drugs used in this trial, anything they contain, or to similar drugs
Have had treatment with a drug called octreotide in the last 2 weeks, or a single dose of somatostatin analogue in the last 6 weeks
Are pregnant or breastfeeding
Trial design
This study is a phase 4 trial. The researchers need 50 people to join the trial.
You have lanreotide as an injection under your skin every 4 weeks. You will have this treatment whether you are taking part in this study or not.
The study team will follow you for about a year during your treatment and collect information about you each month when you go to your routine hospital appointment.
At 5 hospital visits during the year, you have some extra blood and urine tests as part of this study. One of the blood tests will measure the number of circulating tumour cells in your bloodstream and check whether the level changes during your treatment. The results of these tests will be compared to other blood and urine tests used routinely for people with NETs.
The researchers will ask for a sample of your NET that may have been removed when you had surgery or a biopsy

. If you have further biopsies during your treatment, the trial team will ask your permission for a sample of each biopsy, so that they can carry out more tests on these. You don't have to agree to this part if you don't want to. You can still take part in the main trial.
During this study, you call a free telephone number and record your experiences of diarrhoea and flushing. This is an automated telephone system. The recorded voice asks you how many times you have had diarrhoea and flushing and how severe the flushing is. You are only asked to record what has happened on that day and perhaps the day before. Your answers are recorded and put in a document so that a trial doctor can see them later.
Before you start treatment, you telephone and record your symptoms every day for at least 7 days. Once you have started treatment, you telephone every day for 4 months, then you call the number every day for between 1 to 2 weeks of each month.
The study team will ask you to fill out a questionnaire before you start treatment, then after 3 months, 6 months and 12 months (the end of the study). The questionnaire will ask about side effects and how you've been feeling. This is called a quality of life study.
Hospital visits
You see the doctors and have some tests before you start treatment and then every month during your treatment. Each month the doctor or nurse will examine you, take some blood tests and measure your blood pressure

and heart rate.
You will have a CT scan or MRI scan before you start treatment (unless you have already had one in the last 6 weeks), then again at 6 months and 12 months.
Most of these tests would be done anyway because you are having treatment. Where possible, the extra blood tests and urine tests you have as part of the study will be arranged during your routine appointments.
Side effects
You may have some bruising and bleeding at the site where you have your blood tests.
The side effects of lanreotide include
Loss of appetite
Feeling sick
Feeling bloated
Stomach pain
Fatigue (tiredness)
Soreness at the injection site
It is quite common to have diarrhoea for a few days following your first 2 to 3 injections of lanreotide. This usually becomes less of a problem as the injections continue.
If you were having treatment with a somatostatin analogue before taking part in this study, you need to stop this 2 to 6 weeks before starting treatment with lanreotide.  Symptoms such as diarrhoea and flushing could return or get worse during this time.
How to join a clinical trial
Please note: In order to join a trial you will need to discuss it with your doctor, unless otherwise specified.
Please note - unless we state otherwise in the summary, you need to talk to your doctor about joining a trial.
Supported by
Experimental Cancer Medicine Centre (ECMC)
Ipsen
NIHR Clinical Research Network: Cancer
CRUK internal database number:
Please note - unless we state otherwise in the summary, you need to talk to your doctor about joining a trial.
Around 1 in 5 people take part in clinical trials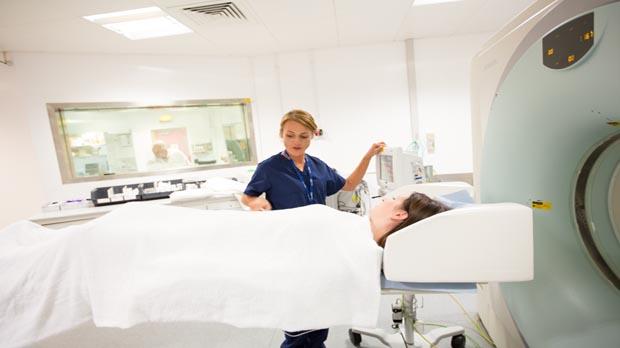 Around 1 in 5 people diagnosed with cancer in the UK take part in a clinical trial.