A study looking at capecitabine after surgery for cancer of the pancreas (CAP 001)
Please note - this trial is no longer recruiting patients. We hope to add results when they are available.
This study is to find out how well the body absorbs capecitabine chemotherapy after surgery for pancreatic cancer that includes removing part of the small intestine.
If you have surgery to treat your pancreatic cancer, you may have chemotherapy afterwards. Doctors call this 'adjuvant' treatment, and use it to try to stop cancer coming back.
We know from research that the 5FU chemotherapy helps to treat pancreatic cancer. This study is looking at a chemotherapy drug called capecitabine, which is a tablet form of 5FU. Capecitabine is already used to treat a range of cancers. It has fewer side effects than 5FU and because it is a tablet, you can take it at home.
Because you take capecitabine by mouth, your digestive system

needs to absorb it before it can work. Doctors think that capecitabine may be absorbed in the small intestine

. But pancreatic cancer surgery often involves removing part of the small intestine. So this may affect how capecitabine is absorbed in people who have had this type of surgery. The main aim of this study is to
Find out how quickly capecitabine is absorbed in people who have had part of their small intestine removed for pancreatic cancer
Compare these results with existing information about people with pancreatic cancer who have taken capecitabine but not had surgery
Who can enter
You can enter this study if you
Have the most common type of pancreatic cancer (ductal adenocarcinoma) or a cancer of the pancreas with cells that look very abnormal under a microscope (the cancer cells are 'poorly differentiated' or 'undifferentiated ')
Have had surgery to remove all of your cancer (complete resection)
Had a 'Whipple's operation'
Had your surgery at least 4 weeks ago
Have fully recovered from your surgery, and your scars are healed
Are well enough to carry out all your normal daily activities, apart from heavy physical work (performance status less than 2)
Have satisfactory blood tests
Are willing to use reliable contraception from 4 weeks before the study to 6 months after the study, if there is any chance that you or your partner could become pregnant
Are at least 18 years old
You cannot enter this study if
Your surgeon was not able to remove all the cancer they could see
Your cancer has spread to your liver or the sheet of tissue surrounding your abdominal organs (peritoneum), or to other parts of your body
You have a collection of fluid (ascites) inside your tummy (abdomen)
You have any condition where your body cannot properly use the food you eat or medication you take ('malabsorption disorder') – if this is caused by your pancreas surgery you can still take part
Have a condition where your heart has a poor blood supply (ischaemic heart disease)
Have a condition where your heart can't pump blood quickly enough (congestive heart failure) or any other heart condition which severely affects your daily activities
You have had a serious reaction to capecitabine or 5FU (chemotherapy drugs called fluoropyrimidines )
You are taking the blood thinning tablet warfarin (if you can have a blood thinning injection instead you can still take part)
You have hepatitis B, hepatitis C or HIV
You have an uncontrolled infection
You have any other condition that would make you unwell if you took part – you can check this with your doctor
You are pregnant or breastfeeding
Trial design
This study will recruit 12 people. After your pancreatic cancer surgery, which is not part of the study, you will take a course of capecitabine chemotherapy.
You take capecitabine twice a day for 2 weeks, and then don't take any tablets for a week. This 3 week period is called a cycle of treatment. You have 8 cycles of capecitabine altogether. You take capecitabine tablets half an hour after food, and swallow them whole with water (not fruit juice).
On the first days of cycles 1 and 3 you go to hospital for a series of study blood tests. These are to learn more about how quickly the body absorbs capecitabine and how long it stays in the bloodstream. These tests are called 'pharmacokinetic' or 'PK' studies.
You should not eat anything from midnight before these visits, and should bring your morning dose of capecitabine to the hospital. The study team will arrange for you to have a simple breakfast at hospital. It is important that everyone in the study has the same foods for breakfast before they give their study blood samples. This reduces the risk that different foods may affect people's blood sample readings. You can eat and drink normally after about the first 4 hours of these 2 visits.
After breakfast, the nurse will put a small plastic needle (cannula) into one of your veins. This will stay in all day, so you don't have to have lots of needles. They will take a blood sample, and you then take your morning dose of capecitabine. They will take a number of blood samples over the next 8 hours. On these 2 days only, you do not take your evening dose of capecitabine. The morning following these long days, you go back to hospital to give another blood sample before you restart your capecitabine.
Before you start the study you will have some blood tests. The team will ask if they can take an extra sample. They will look at DNA and proteins to see if they can learn more about whether these affect your disease, or your response to treatment. They hope that what they learn will help patients in the future. You do not have to agree to this extra sample if you don't want to. You can still take part in the study.
Hospital visits
Before you start the study you will see the doctor and have some tests. These tests include
Physical examination
Heart trace (ECG)
Blood tests (including the extra DNA and protein study sample if you agree)
Stool sample test
Urine test
Pregnancy test (if appropriate)
The treatment part of this study will last for about 24 weeks. On the first day of each cycle of treatment you will see the doctor and have a blood and urine test.
At the beginning of cycles 1 and 3, you have 2 long days at hospital. And you go back for a blood test the next morning.
When you finish the study, you will see the doctor and have a stool and blood test. One month after this you will see the study team for a final visit so they can find out how you are getting on. After you finish treatment you continue to see your regular cancer doctor in the same way as you did before the study.
Side effects
You may have a small bruise where you had your blood test.
Side effects of capecitabine chemotherapy include
A drop in blood cells, causing an increased risk of infection, bleeding problems, tiredness and breathlessness
Sensitivity to the sun
How to join a clinical trial
Please note: In order to join a trial you will need to discuss it with your doctor, unless otherwise specified.
Please note - unless we state otherwise in the summary, you need to talk to your doctor about joining a trial.
Supported by
Cambridge University Hospitals NHS Foundation Trust
Cancer Research UK
Experimental Cancer Medicine Centre (ECMC)
NIHR Cambridge Biomedical Research Centre
Roche
CRUK internal database number:
Please note - unless we state otherwise in the summary, you need to talk to your doctor about joining a trial.
Around 1 in 5 people take part in clinical trials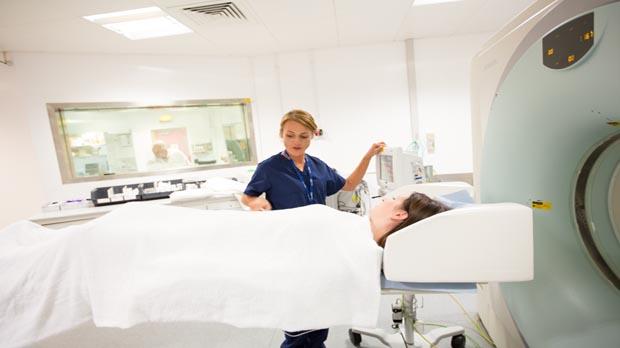 Around 1 in 5 people diagnosed with cancer in the UK take part in a clinical trial.