A study looking at blood samples to find out more about how chemotherapy and surgery affect cancer of the stomach or gastro oesophageal junction
Please note - this trial is no longer recruiting patients. We hope to add results when they are available.
This study is looking at the length of a structure called a telomere to see if it changes during a course of cancer treatment.
More about this trial
All body cells contain chromosomes

, contained in the control centre of the cell (the nucleus

). The chromosomes are made of DNA. This is the genetic code – the blueprint for a human being. DNA is a bit like an instruction manual for building the body and keeping it healthy.
This study is looking at structures at the ends of chromosomes called telomeres. Telomeres act as caps to protect the chromosome. We know from research that telomeres can be shorter than usual when someone has cancer. Researchers think that telomere length may also be important as a marker of how cancer cells might respond to chemotherapy. And of how cells age, which might be important in cancer treatment.
In this study, they will measure telomere lengths in blood samples of people having chemotherapy before and after surgery to treat their cancer. They will look at any changes in the telomeres. And try to see if any changes in these and other markers of ageing cells and cell damage help them understand how chemotherapy affects cancer.
You will not have any direct benefit from taking part in this study, and it is unlikely to change your treatment plan in any way. But the results of the study will be used to help people with cancer in the future.
Who can enter
You can enter this study if you
You cannot enter this study if you
Have any condition that would make it difficult or unsafe for you to give blood samples for the study
Have had radiotherapy or systemic anti cancer treatment in the last 6 weeks
Are pregnant or breastfeeding
Trial design
This study will recruit 153 people. Everyone will give an extra blood sample
At the start of the study
Before each cycle of chemotherapy you have before and after surgery
Before and after your surgery
At any follow up appointment you have after this
Hospital visits
You give the study blood samples when you are at the hospital for your treatment or follow up appointment. So you will not need to make any extra visits to take part.
Side effects
You may have a small bruise where you gave your blood sample.
How to join a clinical trial
Please note: In order to join a trial you will need to discuss it with your doctor, unless otherwise specified.
Please note - unless we state otherwise in the summary, you need to talk to your doctor about joining a trial.
Supported by
Experimental Cancer Medicine Centre (ECMC)
Greater Glasgow and Clyde Health Board
NIHR Clinical Research Network: Cancer
CRUK internal database number:
Please note - unless we state otherwise in the summary, you need to talk to your doctor about joining a trial.
Cara took part in a clinical trial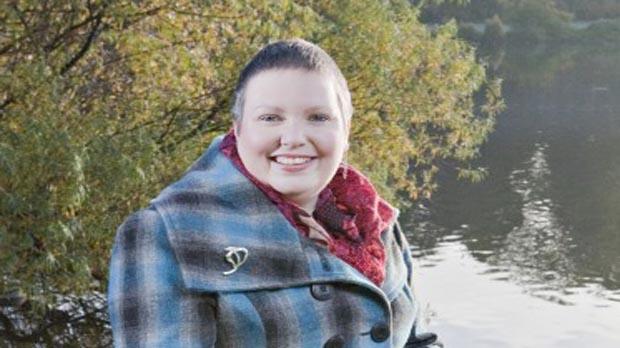 "I am glad that taking part in a trial might help others on their own cancer journey."