A study looking at why people don't take up the offer of bowel cancer screening (The ASCEND project)
Cancer type:
Bowel (colorectal) cancer
This study carried out discussion groups and interviews to find out what people thought of the bowel screening programme. 
More about this trial
Bowel screening is a test you do at home. You are sent a stool testing kit (faecal occult blood test

). You collect samples of poo on a special card and send this off to be checked for hidden traces of blood – a possible sign of bowel cancer.
The bowel cancer screening programme aims to find bowel (colorectal) cancer at an early stage when treatment is more likely to work. In England, people aged between 60 and 74 years old are sent a kit every 2 years. People aged over 74 can request a kit.
We know from recent research that just over half of those offered screening take it up. And this varies a great deal between different areas.
This study was part of a project called ASCEND. The researchers wanted to learn more about the views of people who choose not to have bowel cancer screening. This was done by carrying out
discussion groups involving people from a variety of backgrounds
interviews with people from South Asian communities
They hoped the results would help them suggest ways to increase the number of people who do bowel screening in the future.
Summary of results
The study team highlighted key reasons why some people did not carry out their stool testing kit.
Discussion groups
128 people from London and Yorkshire took part in the discussion groups. There were a similar number of men and women. These groups included a range of people 
from different social and economic backgrounds
from different ethnic groups
In this study, a person's social and economic background was based on whether they worked in a professional role or a non professional role.
The groups also included people who had and had not taken part in the bowel screening programme.
People gave the following reasons for not doing the stool testing kit.
Reluctance to collect samples of poo
People did not want to handle their poo or leave samples in the bathroom.  They said this was embarrassing, degrading and not hygienic.
Bowel screening was seen as separate from the GP
People felt unsettled that they were asked to do this test at home. Some said that they would have been more likely to do the test if the invitation came from their GP.
Not wanting to know the results of bowel screening
People were so frightened or worried about the results, they decided it was best not to do the test at all. They feared that a positive result could lead to other tests such as a colonoscopy and the possibility of having bowel cancer.
Feeling well
People felt that this test was not relevant to them because they were well and had no symptoms. Some people thought that they were unlikely to have bowel cancer because they led a healthy life and did not have a family history of bowel cancer.
A delay in doing the test
People working in professional jobs said they delayed doing the test and, as a result, didn't get round to doing it. This was not a reason given by people from non professional backgrounds. 
Apart from a delay, all the other reasons were not influenced by social or economic background.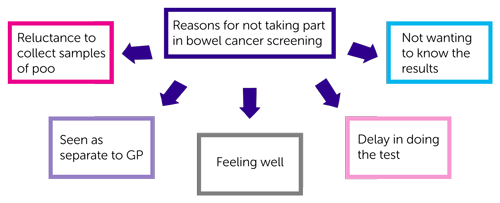 The researchers wanted to know why some people
did not do the test when first asked
but decided to take part when they had further screening invitations
They found that people changed their mind following conversations with friends and family. Friends and family often encouraged them to do it following their own experience of the test, or a diagnosis of cancer.
The researchers thought there were 3 ways to help increase the number of people taking part in bowel screening.
Encourage people to talk about bowel screening
The researchers felt that if more people talk about bowel screening, it would become a normal part of life. And no longer a subject that can't be discussed.
Link the bowel screening programme to the GP
The researchers felt that a more obvious link between bowel screening and the GP might make it more acceptable to people. They may also take their invitations more seriously.
 The study team tested this by adding a sentence to the invitation letter to say that the test is supported by the GP. This showed that people were more likely to do the test if their GP endorsed it.
Simplify the test  
The existing test asks people to collect 3 samples of poo. The Bowel Screening Programme has looked at whether a new stool test is better than the current test. This only needs 1 sample of poo. This may be introduced over the next few years.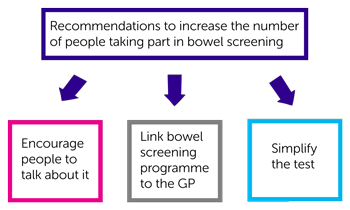 Interviews
16 people from South Asian faith communities were interviewed. These were mainly faith leaders, community leaders and GPs from the Muslim, Hindu and Sikh communities.
They were asked why they thought members of their community did not carry out the stool testing kit. Reasons included
a limited understanding of bowel screening information written in English
reluctance to telephone the helpline for translated information
a preference to hear information from another person, rather than written information
reliance on younger family members to translate and who may have played down the importance of the screening
poor awareness of bowel cancer and screening
reluctance to handle poo
The researchers concluded that the awareness of bowel cancer and bowel cancer screening needs to improve in these communities. Ways to do this could be
face to face practical demonstration of using the kit
give people information in a familiar place such as faith settings and community settings
promote bowel screening through South Asian TV and radio
simplify the test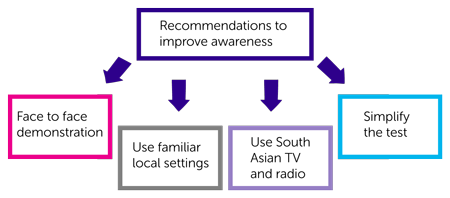 These ideas could be used in future projects.
We have based this summary on information from the research team. The information they sent us has been reviewed by independent specialists (peer reviewed

) and published in a medical journal. The figures we quote above were provided by the trial team who did the research. We have not analysed the data ourselves.
How to join a clinical trial
Please note: In order to join a trial you will need to discuss it with your doctor, unless otherwise specified.
Please note - unless we state otherwise in the summary, you need to talk to your doctor about joining a trial.
Supported by
NIHR Clinical Research Network: Cancer,
NIHR Programme Grant for Applied Research (PGfAR)
University College London (UCL)
CRUK internal database number:
Please note - unless we state otherwise in the summary, you need to talk to your doctor about joining a trial.
Alan took part in a clinical trial for bowel cancer patients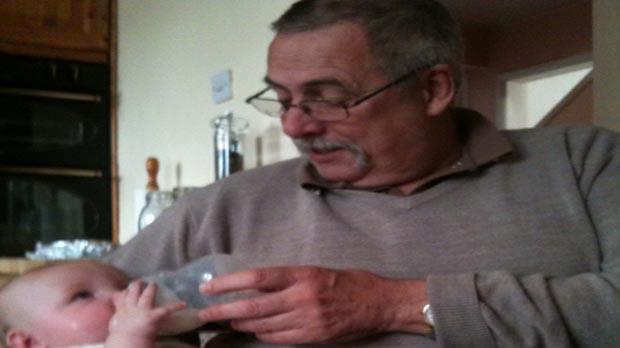 "I think it's essential that people keep signing up to these type of trials to push research forward."