A study looking at using mpMRI scans in staging and treatment decisions for ovarian cancer (MROC)
Please note - this trial is no longer recruiting patients. We hope to add results when they are available.
This study is for women who might have ovarian cancer and some women who have ovarian cancer. The women with cancer are having chemotherapy and may go on to have surgery.
It is for women who have or might have
These cancers are treated in a similar way. When we use the term ovarian cancer in this summary, we are referring to all 3.
More about this trial
Surgery is the usual treatment for ovarian cancer. A CT scan is used to check where the cancer is in the body and helps doctors to know if surgery would be a suitable treatment choice. 
But sometimes the CT scan can't 
tell the difference between disease that is not cancer (benign) and cancer (malignant disease)
always show how far the cancer has spread (the stage of the cancer)
show when it is best to have an operation
This means that some women have surgery and don't need it because they don't have cancer. And some women go for an operation and are then unable to have the cancer removed because it has spread too far. 
A multi parametric or mpMRI scan is a high definition scan. It might be better than a CT scan at showing what is cancer and what is healthy tissue. 
Doctors want to see if an mpMRI scan is better than a CT scan before surgery in showing who needs an operation and how big the operation should be. They want to see if an mpMRI scan should either replace or be used as well as a CT scan. 
Who can enter
The following bullet points list the entry conditions for this study. Talk to your doctor or the study team if you are unsure about any of these. They will be able to advise you. 
You may be able to join this study if
You have suspected ovarian, fallopian tube or primary peritoneal cancer OR
You are having chemotherapy for ovarian, fallopian tube or primary peritoneal cancer and you are due to have surgery for the first time
And the following apply. You
Are fit enough to have surgery  
Are at least 18 years old
You cannot join this study if any of these apply. You
Can't have an MRI scan for any reason – this could be because you are not able to lie flat, have metal (iron) implants or a pacemaker in your body, or you cannot cope with small spaces (claustrophobic)
Can't have a CT scan for any reason such as your kidneys do not work well enough to flush through the contrast medium or you are allergic to the contrast
Have any serious medical condition or mental health problem that the study team think could affect you taking part
Are pregnant
Trial design
Doctors need 645 women to take part in this study. 
You have a CT scan of your chest and abdomen if you have not already had one.  
Within a few days of joining the study you have an mpMRI scan. 
After you have had both the CT scan and the mpMRI scan your doctors will look at the results and discuss the best treatment for you. 
If you are going to have surgery the surgeon will use the CT scan to plan your surgery. But the mpMRI scan might give the doctors extra information about your cancer or suspected cancer. They will tell your surgeon before your operation if they find anything that would change your treatment.
Taking part in this study will not delay any treatment you have. 
The study team will send copies of the images of your scans to 2 other hospitals. They record what treatment they would give you if you were patient there. The study team do not send the hospitals any details about you. No personal details are on the images (they are anonymised). 
You won't be told what these hospitals decide. The purpose of this part of the study is to see what decisions doctors make based on looking at CT and mpMRI scan images. And if these decisions are the same. 
Tissue samples
Some hospitals in the study are looking at tissue samples taken during surgery. You might be asked if you are willing for a sample of your tissue to be used in this research.
Hospital visits
You have your scans in the hospital. You should not need to stay overnight. 
Where possible the study team will arrange your mpMRI scan on the same day as you are visiting the hospital. 
The mpMRI scan takes about 40 to 50 minutes. Before the scan:
you must not eat for 4 hours
30 to 60 minutes before you will be asked to drink 1 litre of pineapple juice, this reduces the brightness of the contents of the bowel and makes it easier to look for any areas of cancer
you have a small tube (a cannula) put into your hand or arm, this is so you can have a drug (buscopan) to relax the muscles of your bowel, this helps make the scan images clearer
If you are not able to drink all the pineapple juice you can still take part in the study. 
Side effects
The contrast injection for the CT and MRI scan may cause an allergic reaction. These reactions are usually mild. The staff caring for you during your scans will be able to treat your reaction if this happens to you.
Having a CT scan exposes you to some radiation. The radiation is kept to the minimum and won't make you feel unwell. The risk of the radiation causing any problems in the future is very small.
How to join a clinical trial
Please note: In order to join a trial you will need to discuss it with your doctor, unless otherwise specified.
Please note - unless we state otherwise in the summary, you need to talk to your doctor about joining a trial.
Other information
Experimental Cancer Medicine Centre (ECMC)
Imperial College London
NIHR Clinical Research Network: Cancer
NIHR Health Technology Assessment (HTA) programme
CRUK internal database number:
Please note - unless we state otherwise in the summary, you need to talk to your doctor about joining a trial.
Charlie took part in a trial to try new treatments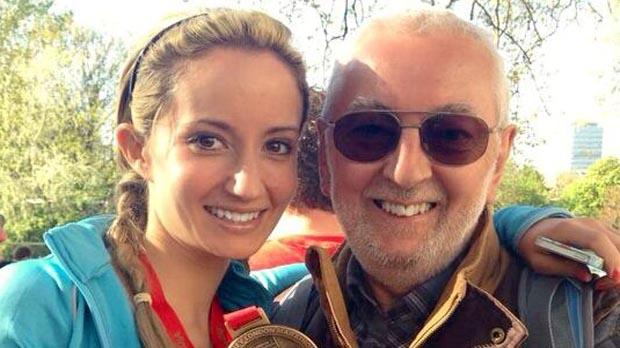 "I think it's really important that people keep signing up to these type of trials to push research forward."