A study looking at tamoxifen for people with myeloproliferative disorders (TAMARIN)
Coronavirus and cancer
We know it's a worrying time for people with cancer, we have information to help. If you have symptoms of cancer contact your doctor.
Please note - this trial is no longer recruiting patients. We hope to add results when they are available.
This study is for people with a type of blood disorder that causes the bone marrow to produce too many blood cells. This includes:
These conditions are also called myeloproliferative neoplasms.
More about this trial
Most treatments for myeloproliferative disorders (MPDs) aim to control the number of blood cells in the blood. This reduces the risk of blood clots and bleeding and helps with symptoms, such as pain.
Many people with MPDs have changes (mutations) to certain genes

 found in blood cells. These are the JAK2 gene and the CALR gene.
The JAK 2 gene makes a protein that controls how many blood cells are made.
The CALR gene produces a protein which influences what other proteins are made in the blood cell. Some of these proteins affect the way a cell grows and divides.
There are already some treatments that reduce the number of cells that have these gene changes. For example, interferon and ruxolitinib.
They have been useful for people with MPDs. But some people can't cope with the side effects of these treatments. And they are not available to everyone with an MPD.
Tamoxifen is a drug currently used to treat breast cancer. Laboratory research has shown that it is able to reduce the number of abnormal blood cells. And this happened most in the blood cells carrying the JAK2 and the CALR gene changes.  But we don't know if this will happen in people with MPDs.
In this study, people will have tamoxifen alongside the usual treatment for their MPD. Doctors want to see if adding tamoxifen helps to reduce the number of cells carrying genetic changes.
Who can enter
The following bullet points list the entry conditions for this study. Talk to your doctor or the study team if you are unsure about any of these. They will be able to advise you.
You may be able to join this study if all of the following apply.
You have had polycythaemia vera (PV), essential thrombocythaemia (ET), or myelofibrosis (MF) for 6 months or longer
You have the JAK2 or CALR gene change and these cells are 20% or more of your blood cell counts (the study team will check this)
If you have PV or ET- your blood cell count has responded to your treatment for the last 6 months and you have not had any new treatment during this time
If you have MF- your condition has not got any worse in the last 6 months (disease progression) and you have not had any new treatment during this time
You are having treatment to reduce your blood cell count (cytoreductive therapy)
You have satisfactory blood results
You are well enough to be up and about for at least half the day (performance status 0, 1 or 2)
Women must be post menopausal  and men must be willing to use reliable contraception during the time of treatment and for up to 2 months after finishing treatment if there is any possibility their partner could become pregnant
You are aged 60 or older. Men with an MPD aged between 50 to 59 may be able to take part- the study team would confirm this
You cannot join this study if any of these apply.
Your MPD has signs that it is changing or it has changed to acute myeloid leukaemia  
You have a lot of immature cells called blasts in your blood
You have had treatment with interferon alpha, a JAK inhibitor such as ruxolitinib or any experimental treatment in the 6 months before starting treatment in this study
You have had a stem cell transplant
You are due to have surgery during the time you have treatment on the study apart from dental surgery or low risk eye surgery (such as a cataract operation)
You are taking any drugs that would interfere with the way tamoxifen works
You have ever had a blood clot, such as a clot in your lung (pulmonary embolism), a blood clot in the vein (a deep vein thrombosis), a mini stroke (TIA), stroke, or a heart attack
You have a condition that causes high levels of fats in your blood (hypertriglyceridemia)
You have had a cancer in the last 5 years apart from carcinoma in situ of the cervix or non melanoma skin cancer that was successfully treated
You have any other serious medical or mental health problem that the study team think could affect you taking part
You are allergic or sensitive to tamoxifen or any of its ingredients
Women are not able to take part if
You have had womb cancer, growths (polyps) in your womb, or thickening of your womb lining (hyperplasia)
You are taking hormone replacement therapy
Trial design
This is a phase 2 study. The doctors need 42 people to take part. They would like at least:
15 people with polycythaemia vera (PV)
10 people with essential thrombocythaemia (ET)
5 people with myelofibrosis (MF)
You have your MPD treatment as usual. As part of the study you also have tamoxifen as a tablet. You take 1 or 2 tablets every day for 24 weeks (6 months).
At the end of 24 weeks you might be able to continue taking the tamoxifen if it is helping you.
Blood samples for research
To help the doctors understand more about how tamoxifen works on the blood cells with gene changes you need to have some extra blood tests. You have these:
before you start treatment
at 3 months
at 6 months
You have these blood tests at the same time as your routine blood tests.
Questionnaires
You complete a short questionnaire about any symptoms you have from your MPD. This is completed:
before you start treatment
at 6 months
Hospital visits
You see the doctor and have some tests before starting treatment:
a physical examination
blood tests (including a test to see if you have high levels of fats in your blood - a lipid profile test)
an ultrasound scan to check the size of your spleen
You see the study doctors and have a physical examination and blood tests regularly during the time you have tamoxifen.
You have another lipid profile test at:
At the end of 6 months of your tamoxifen treatment you have a bone marrow test and an ultrasound of your spleen.
The bone marrow test is so the doctors can learn more about how the tamoxifen has worked on your MPD. It might also help them to know who would benefit most from having tamoxifen.
When you complete treatment in the study, the study doctors will continue to collect information about your health for the next 28 days. This is so any side effects you have are recorded for the study. 
Side effects
As this is the first time tamoxifen is being used to treat MPDs there may be some side effects which are not known about. The study doctors and nurses will monitor you during the time you have treatment.
The most common side effects of tamoxifen include:
itching around your genitals
a discharge or bleeding from your vagina
headache
feeling light headed
feeling sick (nausea)
bone pain
fluid build up causing your ankles or fingers to swell
leg cramps
increased risk of blood clots
changes to your eyesight, cataracts  or changes in the back of the eye (retina)
We have more information about tamoxifen.
How to join a clinical trial
Please note: In order to join a trial you will need to discuss it with your doctor, unless otherwise specified.
Please note - unless we state otherwise in the summary, you need to talk to your doctor about joining a trial.
Chief Investigator
Professor Claire Harrison
Supported by
Bloodwise TAP
University of Birmingham
CRUK internal database number:
Please note - unless we state otherwise in the summary, you need to talk to your doctor about joining a trial.
Around 1 in 5 people take part in clinical trials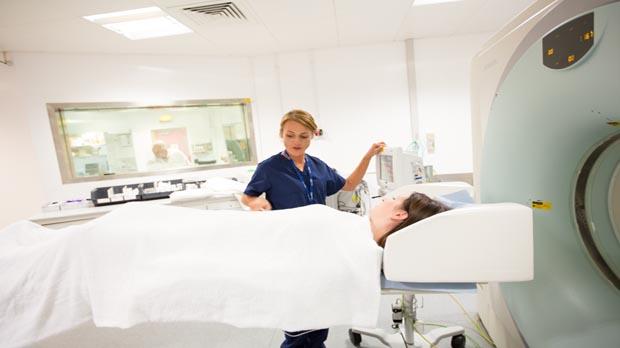 Around 1 in 5 people diagnosed with cancer in the UK take part in a clinical trial.