A study looking at physical activity during chemotherapy for breast cancer
This study looked at whether moderate exercise helped women having chemotherapy for breast cancer.
More about this trial
Treatment for breast cancer may include chemotherapy. A common side effect of chemotherapy is tiredness (fatigue). It can also affect how you feel emotionally.
Some people also notice changes to their memory, concentration and how quickly they can work things out. Doctors call this cognitive functioning.
Researchers wanted to see if moderate exercise could help. In this study, they looked at incorporating walking into people's daily routine.
The aim of the study was to see if physical activity improved cognitive functioning and how people felt during chemotherapy for breast cancer.
Summary of results
The study team found that physical activity could improve how people felt during chemotherapy.
50 women took part in this randomised study

. They were put into 1 of 2 groups.
25 women did 12 weeks of moderate walking along with usual care
25 women had usual care only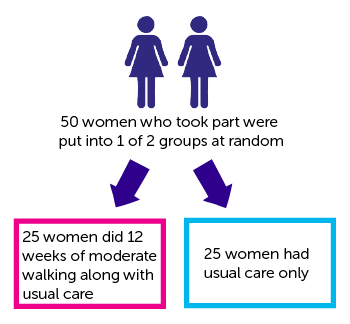 The women who did the moderate walking had:
a pedometer to record how far they walked
to set goals
a diary to record their daily walk such as how long it was
Everyone filled in a few questionnaires:
before starting chemotherapy
after completing 2 cycles of chemotherapy
12 weeks after finishing 6 cycles of chemotherapy
The questions asked about:
their physical activity
how fit they were
how tired they felt
how anxious or depressed they felt
how they felt about themselves
their feelings and moods
Researchers compared the answers of both groups. They found the women who had done the moderate walking had significant improvement in their:
level of physical activity
tiredness
self esteem
mood
depression
The team concluded that during chemotherapy a programme of moderate exercise managed at home can help improve not just physical activity but also how women feel.
We have based this summary on information from the research team. The information they sent us has been reviewed by independent specialists (peer reviewed

) and published in a medical journal. The figures we quote above were provided by the trial team who did the research. We have not analysed the data ourselves.
How to join a clinical trial
Please note: In order to join a trial you will need to discuss it with your doctor, unless otherwise specified.
Please note - unless we state otherwise in the summary, you need to talk to your doctor about joining a trial.
Chief Investigator
Kajal Gokal
Deborah Wallis
Fehmidah Munir
Supported by
Loughborough University
University Hospitals of Leicester NHS Trust
CRUK internal database number:
Please note - unless we state otherwise in the summary, you need to talk to your doctor about joining a trial.
Caroline took part in a clinical trial for breast cancer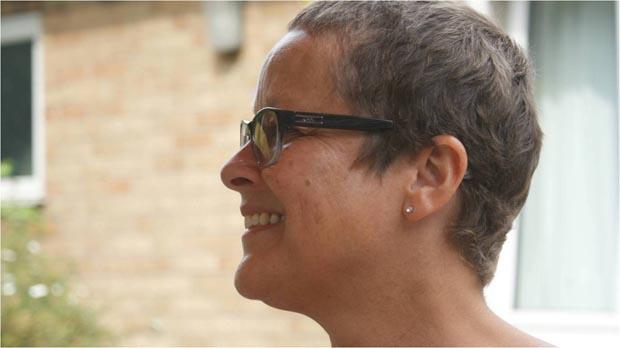 "I had treatment last year and I want to give something back."