A study looking at optical biopsy to monitor people with Barrett's oesophagus (Boost)
Coronavirus (COVID-19)
We know that this is an especially worrying time for people with cancer and their family and friends. We have separate information about coronavirus and cancer. Please read that information alongside this page. We will update that information as guidance changes.
Please note - this trial is no longer recruiting patients. We hope to add results when they are available.
This study is trying to find out if optical biopsy is useful in monitoring people with Barrett's oesophagus.
Barrett's oesophagus is a condition where the cells in the lining of the food pipe (gullet or oesophagus) change and become abnormal. People with Barrett's oesophagus have a small increased risk of developing oesophageal cancer. The more abnormal the cells, the greater the risk of developing cancer.
More about this trial
People with Barrett's oesophagus usually have regular tests called endoscopies to check that the cells in the food pipe have not changed. This is called surveillance. During an endoscopy the doctor will normally take between 10 to 20 samples of tissue (biopsies) from the lining of your food pipe. They send biopsies to the laboratory where specialists examine them. The results come back about 3 weeks later.
The researchers in this study have developed a new technique called the optical biopsy system. It may be able to tell doctors straight away if there are very abnormal cells, or if cancer is present. The researchers have shown that the optical biopsy system can pick up abnormalities, but this needs to be proven in a large number of patients in a trial.
The study aims to find out if an optical biopsy provides as much, or even better information, when compared to a standard biopsy. If it is helps, it may mean that people in the future may need fewer biopsies, have immediate results and the endoscopy will take less time.
Who can enter
You can enter this study if you
Have Barrett's oesophagus and you are due to have a 'surveillance' endoscopy with one of the consultants running this trial
You cannot enter this study if
There is a medical reason why you cannot have an endoscopy or biopsy
You are pregnant
You do not speak English
Trial design
This trial aims to recruit about 2000 people who have Barrett's oesophagus.
If you are due to have an endoscopy at one of the recruiting hospitals, you will be invited to take part by letter. Your doctor will then discuss the trial with you when you go for your endoscopy appointment.
If you are not a patient at one of the recruiting hospitals but are interested in taking part and think you may be eligible, talk to your own consultant. If appropriate, your consultant can refer you to the trial investigator.
The doctor will pass the endoscope tube down your throat into your food pipe, as they would normally do.
They might put a very thin fibre called an optical fibre down into the endoscope. A short flash of white light is sent down the fibre. As the light reflects back up the fibre information is fed into a computer. This is the optical biopsy.
Or the team might film the procedure and then look at the still photographs or videos. They use this to identify where the abnormalities are in comparison to the biopsies.
The doctor will then take biopsies as part of a standard endoscopy. For the purposes of this study, you have about 4 extra biopsies. The doctor also uses a tiny soft brush to collect some of the cells from the lining of the food pipe. When they become available, the results of the biopsies and brush samples will be compared to the information from the optical biopsy.
You might be asked to provide a small sample of blood and, or saliva. The doctor looks for changes in these samples to see if they relate in any way to the biopsy results.
You will get your results as you normally would, either by telephone or by visiting the clinic. The doctor or specialist nurse will discuss the results with you and recommend treatment if necessary.
If your results are normal, you continue to have regular endoscopies to monitor your condition (surveillance). These will either be at the study centre hospital or your own hospital if you were referred from another hospital. These will be arranged on an individual basis. The researchers will contact your doctor to collect information about these endoscopy results.
Hospital visits
Taking part in this trial will not involve any extra visits to your hospital. You will go to the endoscopy unit as normal. The optical biopsy means that your endoscopy will take a few minutes longer than it normally would.
Side effects
The optical biopsy carried out during your endoscopy will not cause you any extra discomfort. The power of the white light is so low that it does not affect you in any way.
The side effects of an endoscopy may include short term chest discomfort and soreness when you swallow.
How to join a clinical trial
Please note: In order to join a trial you will need to discuss it with your doctor, unless otherwise specified.
Please note - unless we state otherwise in the summary, you need to talk to your doctor about joining a trial.
Chief Investigator
Professor S Brown
Professor L Lovat
Supported by
Experimental Cancer Medicine Centre (ECMC)
NIHR Clinical Research Network: Cancer
University College London (UCL)
Questions about cancer? Contact our information nurses
CRUK internal database number:
Please note - unless we state otherwise in the summary, you need to talk to your doctor about joining a trial.
Cara took part in a clinical trial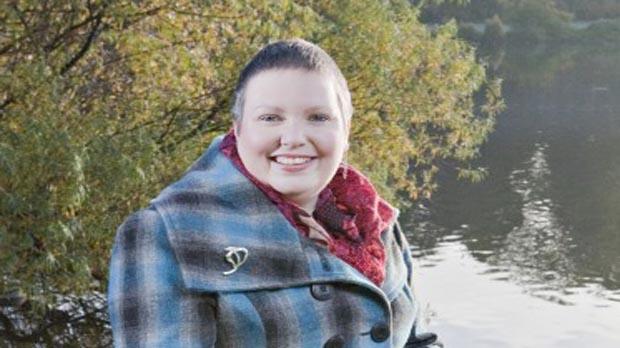 "I am glad that taking part in a trial might help others on their own cancer journey."