A study looking at ibrutinib for older people with mantle cell lymphoma (ENRICH)
Please note - this trial is no longer recruiting patients. We hope to add results when they are available.
This study is comparing 2 treatments, ibrutinib and rituximab with chemotherapy and rituximab. It is for people aged 60 or older with mantle cell lymphoma. And it is for people who have not had any treatment.
Mantle cell lymphoma is a rare type of non Hodgkin lymphoma (NHL). This study is supported by Cancer Research UK.
More about this trial
Treatment for fit people who have mantle cell lymphoma and are under 65 years old is usually intensive chemotherapy followed by a transplant using your own stem cells.
But this is tough treatment and most older people are not able to have it. People who can't have this treatment will have chemotherapy such as R-CHOP. But doctors are always looking to see if they can improve treatment.
In this study they are comparing 2 treatments.
Ibrutinib and rituximab (Mabthera)
Rituximab and chemotherapy
Ibrutinib is a type of biological therapy. It is a cancer growth blocker. It stops signals that lymphoma cells use to divide and grow.
Research has shown that ibrutinib can be used to treat mantle cell lymphoma when used with either chemotherapy or other drugs.
The main aim of this study is to see which treatment keeps the lymphoma under control the longest.
Who can enter
The following bullet points list the entry conditions for this study. If you are unsure about any of these speak with your doctor or the study team. They will be able to advise you.
You may be able to join this study if all of the following apply.
You have been diagnosed with mantle cell lymphoma
You have stage 2-4 lymphoma which can be measured on a scan and that needs treatment
You have not had any treatment for your mantle cell lymphoma apart from the following treatments to control symptoms radiotherapy to one area of your body or 1 weeks course of steroids
You are well enough to be up and about for at least half the day (performance status 0, 1 or 2)
You have satisfactory blood results
Your heart is working well enough to cope with one of the chemotherapy drugs called doxorubicin. You may be checked for this
You are willing and able to take medication to prevent a certain type of pneumonia
You are aged 60 or older
If you are a man taking part in the study, you must be willing to use reliable contraception during treatment if there is any chance that your partner could become pregnant.
You cannot join this study if any of these apply. You
Are considered well enough to have a stem cell transplant
Have lymphoma that has spread to the brain or spinal cord
Are currently having treatment with an experimental drug
Have had major surgery within 2 weeks of starting the study treatment
Have had a live vaccine within 4 weeks of starting the study treatment
Have had any other type of cancer in the last 2 years apart from basal cell skin cancer, squamous cell skin cancer or a type of cancer that was given a stage of being in situ such as carcinoma in situ of the cervix
Have an infection that needs treatment
Have Hepatitis B, Hepatitis C or HIV
Have any other serious medical condition or mental health problem that the study team think could affect you taking part
Trial design
This is a phase 2/3 study. The researchers need 400 people to join. Half will have ibrutinib and rituximab and half will have chemotherapy and rituximab.
It is a randomised study. The people taking part are put into treatment groups by a computer. Neither you nor your doctor will be able to decide which group you are in.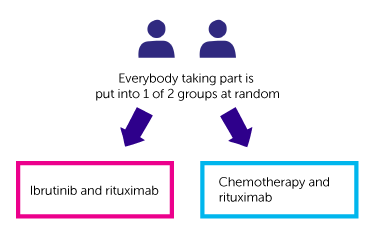 Ibrutinib and rituximab (IR)
Ibrutinib is a capsule. You take 4 once a day. You take ibrutinib everyday you are in the study unless your mantle cell lymphoma gets worse.
You have rituximab as a drip into the vein once every 3 or 4 weeks for 6 months. After this you will probably have this as an injection into the skin every 2 months for 2 years. You may have it as a drip into the vein if your doctor thinks this is better for you.
Chemotherapy and rituximab
There are 2 possible chemotherapy treatments that can be given with the rituximab.
CHOP (cyclophosphamide, doxorubicin, vincristine and prednisolone)
Your doctor will explain which one they think is best for you and why.
CHOP and bendamustine are given at different rates. You have
Rituximab and CHOP (R-CHOP) every 3 weeks
Bendamustine and rituximab every 4 weeks
Each 3 or 4 week period is called a cycle of treatment. You have up to 8 cycles of R-CHOP and up to 6 cycles of bendamustine and rituximab.
The chemotherapy drugs and rituximab are given as a drip into the vein. Prednisolone is a tablet. 
When you finish all the chemotherapy treatment you continue to have rituximab as an injection into the skin every 2 months for 2 years. You may have it as a drip into the vein if your doctor thinks this is better for you.
Everyone taking part in the study will be asked to complete a questionnaire on 4 different visits. The questionnaire will ask about side effects and how you've been feeling. This is called a quality of life study.
You will also be asked if you are willing to give some extra blood and bone marrow samples. These are for researchers to look at the number of lymphoma cells present before, during and after treatment. This is called Minimal Residual Disease (MRD) monitoring.
In the future it might help doctors know who would benefit from intensive treatment. You do not have to give these extra samples if you don't want to. You can still take part in the study.
Hospital visits
You will see the doctors and have some tests before you start treatment. The tests include
Blood tests
Physical examination
Heart trace (ECG)
You have both rituximab and chemotherapy in hospital but you shouldn't need to stay overnight.
You have your 1st dose of rituximab quite slowly and you may be in the clinic for most of the day. You usually have subsequent doses over a shorter time and so won't need to be at the hospital so long.
You see the doctors and have regular blood tests throughout your treatment.
And you have a CT scan
After 3 months of treatment
At the end of 6 months of treatment
Then every 6 months
You will have additional bone marrow tests if you have agreed to give extra bone marrow samples or you have mantle cell lymphoma in your bone marrow. The study team will tell you more about this.
When you have completed all the study treatment, you see the doctors every 3 months until you need further treatment.
Side effects
The most common side effects of ibrutinib are
Tiredness (fatigue)
Muscle and joint pain
A drop in blood cells causing an increased risk of infection, bleeding problems, tiredness and breathlessness
Bruising
Cough
Sore mouth
High blood pressure
Swelling of your hands and feet (peripheral oedema)
High temperature (fever)
Dizziness
Constipation
Headache
Shortness of breath
We have information on
How to join a clinical trial
Please note: In order to join a trial you will need to discuss it with your doctor, unless otherwise specified.
Please note - unless we state otherwise in the summary, you need to talk to your doctor about joining a trial.
Supported by
Cancer Research UK
Experimental Cancer Medicine Centre (ECMC)
Haematological Malignancies Diagnostic Service (HMDS)
Janssen Pharmaceutical Companies
NIHR Clinical Research Network: Cancer
Peninsula Clinical Trials Unit, Plymouth University
University Hospitals Plymouth NHS Trust
Other information
This is Cancer Research UK trial number CRUK/14/026
CRUK internal database number:
Please note - unless we state otherwise in the summary, you need to talk to your doctor about joining a trial.
Around 1 in 5 people take part in clinical trials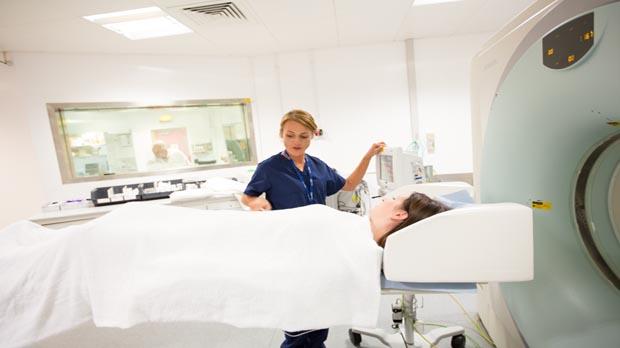 Around 1 in 5 people diagnosed with cancer in the UK take part in a clinical trial.