A study looking at giving olaparib with chemoradiotherapy for head and neck cancer (ORCA-2)
Coronavirus and cancer
We know it's a worrying time for people with cancer, we have information to help. If you have symptoms of cancer contact your doctor.
Please note - this trial is no longer recruiting patients. We hope to add results when they are available.
This study is looking at whether giving olaparib with chemoradiotherapy makes this treatment work better. It is for people with squamous cell cancer of their head and neck that is locally advanced. This study is supported by Cancer Research UK.
More about this trial
Treatment for locally advanced head and neck cancer is usually a combination of chemotherapy and radiotherapy. This is called chemoradiotherapy or chemoradiation. Some chemotherapy drugs help to make the cells more sensitive to the radiotherapy. The most common drug doctors use is cisplatin. You have it once a week while you are having radiotherapy.
Chemoradiotherapy can work well but sometimes the cancer can come back (recur). So doctors are always looking for better treatments.
Olaparib is a PARP inhibitor. PARP is a protein that helps damaged cells to repair themselves. Olaparib stops PARP working. By blocking it, cancer cells may not be able to repair themselves after chemoradiotherapy and this may make the treatment work better.
The aims of this study are
To find the best dose of olaparib and number of days to give it with chemoradiotherapy
Find out more about the side effects of having olaparib with chemoradiotherapy
Who can enter
The following bullet points list the entry conditions for this study. If you are unsure about any of these speak with your doctor or the study team. They will be able to advise you.
You may be able to join this study if all of the following apply. You
Have been diagnosed with locally advanced squamous cell cancer of your head and neck
Would be offered chemoradiotherapy using cisplatin as a treatment
Are able to swallow tablets
Have satisfactory blood results
Are well enough to carry out all your normal activities, apart from heavy physical work (performance status of 0 or 1)
Are willing to use reliable contraception during treatment and for 6 months afterwards if there is any chance that you or your partner could become pregnant
Are aged 18 years or older
You cannot join this study if any of these apply. You
Have one of the following types of head and neck cancer
     - Nasopharyngeal cancer
     - Paranasal sinus cancer
     - A cancer of your mouth (oral) cavity
​     - Low risk Human papilloma virus (HPV) positive oropharyngeal cancers
Have cancer spread to another part of your body (metastatic or secondary cancer)
Have already had treatment with chemotherapy or radiotherapy for your head and neck cancer
Have had treatment with a PARP inhibitor
Have had chemotherapy, immunotherapy or radiotherapy in the last 4 weeks
Have had any other cancer apart from carcinoma in situ of the cervix, breast or prostate, or basal cell or squamous cell skin cancer that was successfully treated at least 3 years ago
Have a myelodysplastic syndrome or acute myeloid leukaemia
Have an infection which is causing symptoms and is not controlled with medication
Have any problems with your digestive system that could affect how you absorb olaparib
Significant numbness and tingling in your hands and feet (peripheral neuropathy)
Significant problems with your hearing or tinnitus (ringing in your ears)
Have a problem with the rhythm of your heart or a family history of problems with heart rhythm
Have hepatitis B or hepatitis C
Have HIV or any other condition that can reduce how effective your immune system is
Take any medication that affects body substances called CYP enzymes
Are allergic to olaparib or any of its ingredients
Have any other medical and mental health problems that the trial team think could prevent you taking part
Are pregnant or breastfeeding
Trial design
This is a phase 1 study. The doctors need up to 70 people to take part. Everybody will have olaparib and chemoradiotherapy.
Everyone taking part has
Radiotherapy once a day from Monday to Friday over 7 weeks
Cisplatin chemotherapy once a week during the 7 weeks. You have this as a drip into a vein, it usually takes around 1 hour to have
There are 2 parts of the study for the olaparib. This means that the first few patients taking part have a low dose of olaparib. Then if they don't have any serious side effects, the next few patients will have a higher dose. And so on, until they find the best dose. This is called a dose escalation study. In the second part everyone will have the best dose of olaparib found in part 1.
Olaparib is a tablet. You take it twice a day and will start it the week before you start radiotherapy. You might have the tablets for 3, 4 or 5 days in a row. How often you take the tablets will depend on when you join the study.
You will be given a diary card to note down when you take the tablets and any side effects you have.
The researchers may ask for a sample of your cancer (a biopsy) before, during and after your treatment. If you don't want to give the samples for research, you don't have to. You can still take part in the study.
They may also ask if you would have an extra MRI scan. Again this is for research and you don't have to have it. You can still take part in the study.
Hospital visits
You will see the doctors and have some tests before you start treatment. The tests include
Blood tests
Physical examination
Heart trace (ECG)
A hearing test (only if you already have problems with your hearing)
Before you start your radiotherapy you will need to have 1 or 2 visits to plan your treatment.
You have the radiotherapy treatment once a day Monday to Friday and chemotherapy once a week.
During the first week of treatment you need to give some extra blood samples. These are to see how olaparib works in your body.
Throughout treatment you see the study team regularly and have blood tests.
You see the doctors after you finish your treatment at
3 weeks
6 weeks
9 weeks
3 months
4 ½ month
6 months
And then every 3 months for up to 2 years.
3 weeks after finishing treatment you need to give a couple of extra blood samples for research. At the 3 month visit you have an MRI scan to check how well the treatment has worked.
Side effects
As this is a new combination of treatments there may be some side effects that are not known. You must tell the study team if you are worried about anything.
The most common side effects of cisplatin are
A drop in blood cells causing an increased risk of infection, bleeding problems, tiredness and breathlessness
Tummy pain
Tiredness (fatigue)
Problems with your hearing (especially hearing high pitched sounds)
Numbness and tingling in your hands and feet (peripheral neuropathy)
Kidney problems. You have fluids into your vein before and after your treatment to prevent kidney damage.
Pain and redness around the place where the drip goes into the vein
The most common side effects of radiotherapy to your head and neck are
Changes to your skin (redness, rash, itching)
Sore mouth
Difficulty swallowing
Loss of appetite
Weight loss
Taste changes
Changes to your voice (it may become hoarse or husky)
Hair loss (in the area where the radiotherapy is given)
Dental problems
The most common side effects of olaparib are
A drop in blood cells causing an increased risk of infection, bleeding problems, tiredness and breathlessness
Feeling or being sick 
Sore mouth
Diarrhoea
Tummy pain
Indigestion
Loss of appetite
Dizziness
Headaches
We have more information on
How to join a clinical trial
Please note: In order to join a trial you will need to discuss it with your doctor, unless otherwise specified.
Please note - unless we state otherwise in the summary, you need to talk to your doctor about joining a trial.
Supported by
Astra Zeneca
Cancer Research UK
Experimental Cancer Medicine Centre (ECMC)
University College London
Other information
This is Cancer Research UK trial number CRUK/D/14/011.
CRUK internal database number:
Please note - unless we state otherwise in the summary, you need to talk to your doctor about joining a trial.
Around 1 in 5 people take part in clinical trials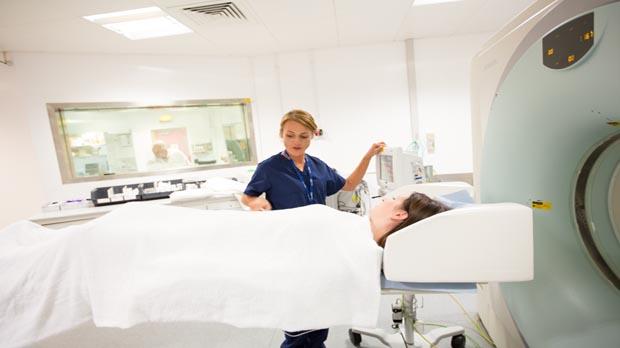 Around 1 in 5 people diagnosed with cancer in the UK take part in a clinical trial.