A study looking at curcumin to help prevent bowel cancer or stop it coming back
Cancer type:
Bowel (colorectal) cancer
This study looked at the possibility of giving curcumin capsules to people with bowel cancer or bowel polyps to help prevent bowel cancer developing, or coming back after surgery. This study was supported by Cancer Research UK.
Bowel cancer is one of the most common cancers in the UK. Curcumin is a natural substance found in the spice turmeric, a spice used in curries. Cultures that use a lot of turmeric in their cooking seem to have a low amount of bowel cancer in the population. The curcumin in turmeric may be one reason for this.
Laboratory studies

have also shown that curcumin may help stop bowel cancer cells growing.
Doctors are always looking for ways to stop bowel cancer developing, or coming back after surgery and they thought curcumin may help. In this study, researchers gave curcumin capsules to people who had a test to look for bowel polyps or had surgery to remove bowel cancer. The aims of the study were to find out
How much curcumin was absorbed by the body
If taking 5 capsules of curcumin a day was acceptable to people
Summary of results
The study team found that curcumin was safe to take and that most people would accept taking 5 capsules a day.
This was a pilot study. It recruited 26 people who either had a test (colonoscopy or sigmoidoscopy) to look for bowel polyps or surgery to remove bowel cancer. Everyone was to have 5 capsules (½ teaspoon) of curcumin daily for 2 weeks.
Of the 26 people, 24 completed the 2 weeks of curcumin. The study team took samples of their urine and blood to look for curcumin. They found it in all of the 24 urine samples and 9 of the blood samples.
23 of these 24 people also had tissue samples (biopsies

) taken when they had surgery or the test. The team found curcumin in all 23 of these tissue samples.
The most common side effects reported were
Diarrhoea
Wind (flatulence)
Tummy (abdominal) pain
After completing the curcumin, 3 people said that 5 capsules may be too many to take and 4 said the size of the capsules could be a problem. 16 said they would continue taking them long term if they proved helpful.
The study team concluded that curcumin at the dose used in this study, about ½ teaspoon, was safe and acceptable.  
We have based this summary on information from the team who ran the trial. The information they sent us has been reviewed by independent specialists (peer reviewed

) and published in a medical journal. The figures we quote above were provided by the trial team. We have not analysed the data ourselves.
How to join a clinical trial
Please note: In order to join a trial you will need to discuss it with your doctor, unless otherwise specified.
Please note - unless we state otherwise in the summary, you need to talk to your doctor about joining a trial.
Supported by
Cancer Research UK
Experimental Cancer Medicine Centre (ECMC)
National Institute for Health Research Cancer Research Network (NCRN)
St Mark's Hospital
University Hospitals of Leicester NHS Trust
Other information
This is Cancer Research UK trial number CRUK/07/034.
CRUK internal database number:
Please note - unless we state otherwise in the summary, you need to talk to your doctor about joining a trial.
Alan took part in a clinical trial for bowel cancer patients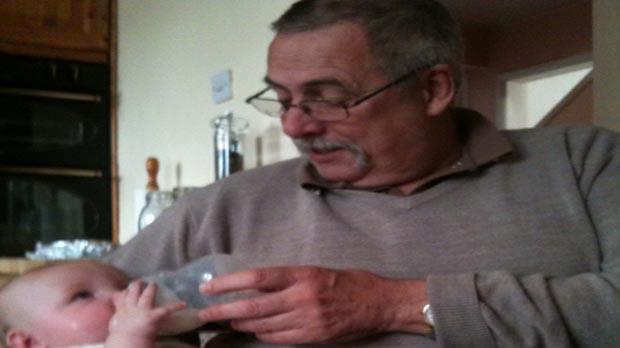 "I think it's essential that people keep signing up to these type of trials to push research forward."