A study looking at an exercise programme before surgery for bowel cancer (EDICT)
Coronavirus and cancer
We know it's a worrying time for people with cancer, we have information to help. If you have symptoms of cancer contact your doctor.
Please note - this trial is no longer recruiting patients. We hope to add results when they are available.
Cancer type:
Bowel (colorectal) cancer
This study is for people who are due to have an operation to remove their bowel cancer.
More about this trial
Being active can reduce the risk of developing a number of health conditions, including heart problems, diabetes and some types of cancer. But less is known about the effects of exercise in people who have cancer.
Researchers think that exercise could reduce the rate at which cancer cells grow. But we don't know this for sure.
In this study, people will be part of an exercise programme for 2 weeks before they have surgery for bowel cancer.
The researchers carry out various tests during the programme as well as looking at blood samples and samples of cancer following surgery. They will look to see whether exercise has caused any changes in certain biomarkers in the body. Biomarkers are substances in the body that can be measured. Some biomarkers can help doctors predict how a cancer may develop.
The aim of this pilot study is to find out whether people are willing to join this study and carry out the exercise programme.
If this is successful, the researchers hope to organise a trial involving more people. The researchers will then look at the effects of exercise on bowel cancer.
Who can enter
The following bullet points list the entry conditions for this study. Talk to your doctor or the study team if you are unsure about any of these. They will be able to advise you.
You may be able to join this study if all of the following apply.
You have bowel cancer (colorectal cancer)
Your doctor has recommended that you have surgery to treat your bowel cancer
Your doctor thinks you are fit and well enough to do the physical activity involved in this study
You are at least 18 years old
You cannot join this study if any of these apply.
Your cancer is causing a blockage in your bowel (bowel obstruction )
You are having hormone therapy
You are due to have chemotherapy before your surgery (neo adjuvant chemotherapy )
You are already taking part in a diet and exercise programme
You have type 1 or type 2 diabetes
You have or have had an eating disorder such as bulimia or anorexia nervosa
You are taking a large amount of laxatives
You have an inflammatory bowel disease such as ulcerative colitis or Crohn's disease
You have coeliac disease
You have, or have had, another type of cancer
You have a strong family history of bowel cancer, for example you have more than one first degree relative who was diagnosed with bowel cancer under the age of 55 (a first degree relative is a parent, brother or sister, son or daughter)
You have any first degree relative that have a condition called familial adenomatous polyposis
You have a significant problem with cardiac ischaemia, a condition where the arteries narrow, affecting the blood supply to the heart
You have heart problems, such as heart failure or you have had a heart attack in the past
Your kidneys don't work well for any reason
You are pregnant
Trial design
This is a pilot study. The researchers need 20 people to join.
Cardiopulmonary test
You have a test called a cardiopulmonary test, or CPET. This measures your level of fitness.
You have this test at hospital on 2 separate occasions:
before your start the exercise programme
when you have finished it (before your operation)
You cycle on an exercise bike for 8 to 12 minutes. A member of the study team will explain what you need to do and they monitor you throughout the test.
You wear a soft rubber mask so the air you breathe out is measured by a machine called a breath gas analyser. This is a routine test that is often used to assess a person's level of fitness before their operation.
Your heart is monitored during the CPET by an ECG (electrocardiogram

) or heart trace.
The study team also measure your level of breathlessness and leg tiredness. The test takes about 1 hour.
Exercise programme
You have 3 exercise sessions per week, for 2 weeks (6 sessions in total).
You have these sessions at the hospital gym under the supervision of a personal trainer. These sessions are tailored to your level of fitness, using the results of the cardiopulmonary test.
All exercise takes place on the exercise bike. You do 2 minutes of high intensity cycling, followed by 3 minutes of moderate cycling. You repeat this for 30 minutes. You also have a 5 minute warm up and 5 minute cool down. Each session takes 30 to 40 minutes.
During each session your heart rate and oxygen levels are recorded to make sure you are exercising at a safe level. This involves wearing a small clip on your finger.
You may be asked to wear an armband during the 5 days before you start the exercise programme. This armband records your activity levels. It gives the researchers an idea of how active you are in normal life.
Blood tests
You have an extra sample of blood taken before and after your planned surgery. Where possible, these are taken at the same time as your routine blood tests.
The study team will use these samples to look at:
how quickly cells grow
how quickly cells divide and form new cells
This will give the researchers an idea of how you are responding to the exercise programme.
Samples of your bowel cancer
The study team will look at:
stored samples from your colonoscopy  when you were first diagnosed
samples of bowel cancer removed during your operation
You don't have any extra biopsies

 of your bowel as a result of taking part of this study. The study team will use a sample of tissue that has already been removed.
The researchers use these samples to look for changes in biomarkers

that may have happened as a result of your exercise.
Questionnaires
You fill in questionnaires on 2 different occasions during the study. You do these
before your exercise programme
about 6 weeks after your operation
These ask you about your lifestyle, any activity you do and how motivated you feel.
Hospital visits
Your exercise programme takes place 2 to 4 weeks before your surgery. Taking part in this study will not delay your operation.
You go to hospital at least 8 times as part of this study. This includes a final follow up visit about 6 weeks after your surgery. At this appointment you have your second blood test and fill in questionnaires. The study doctor or nurse will ask you about side effects and about any physical activity you are doing.
Side effects
Taking part in this study is unlikely to cause any side effects. You are monitored closely during your exercise sessions to make sure you exercise at safe levels.
You may have some temporary bleeding and bruising at the site of your blood test.
How to join a clinical trial
Please note: In order to join a trial you will need to discuss it with your doctor, unless otherwise specified.
Please note - unless we state otherwise in the summary, you need to talk to your doctor about joining a trial.
Supported by
The Royal Bournemouth and Christchurch Hospitals NHS Foundation Trust
CRUK internal database number:
Please note - unless we state otherwise in the summary, you need to talk to your doctor about joining a trial.
Around 1 in 5 people take part in clinical trials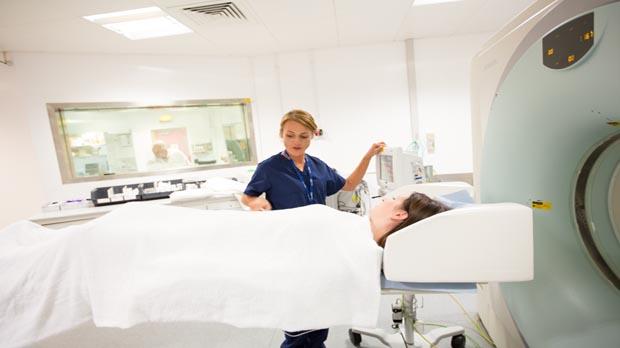 Around 1 in 5 people diagnosed with cancer in the UK take part in a clinical trial.