A study looking at acupuncture and moxibustion to improve well being and quality of life for people with lymphoedema
Coronavirus (COVID-19)
We know that this is an especially worrying time for people with cancer and their family and friends. We have separate information about coronavirus and cancer. Please read that information alongside this page. We will update that information as guidance changes.
This study aimed to find out if acupuncture and moxibustion could help to relieve symptoms for people who had lymphoedema as a result of treatment for breast cancer or head and neck cancer.
Lymphoedema is swelling caused by a build up of lymph fluid in the body. It mainly affects the arms and legs, causing discomfort, pain and difficulty moving. It sometimes occurs in people who have had cancer treatment such as surgery or radiotherapy. There is no cure for lymphoedema, but there are treatments to relieve symptoms.
Acupuncture and moxibustion

are both complementary therapies. Acupuncture uses fine sterile needles which are put just under the skin at particular points on the body. Moxibustion is used in traditional Chinese medicine.  It involves heating herbs to warm the acupuncture points.
In this study, people had acupuncture and moxibustion alongside other treatments for lymphoedema. The researchers wanted to find out if acupuncture and moxibustion was safe and if it improved the quality of life for people with lymphoedema.
Summary of results
The researchers found that acupuncture and moxibustion was safe and the people taking part in this study reported some improvement in their symptoms.
The study recruited 35 people who had finished cancer treatment at least 3 months earlier
27 had had treatment for breast cancer and had been going to the lymphoedema clinic for at least 3 months
8 had had treatment for head and neck cancer and had been going to the clinic for at least 2 months
Everybody taking part had acupuncture treatment once a week for 7 weeks. They could then choose whether or not to have 6 more treatments. 30 people had all 13 treatments.
Some people had acupuncture on its own, some had both acupuncture and moxibustion. The acupuncturist decided which was most appropriate for each patient. They did not put acupuncture needles into the area of the body affected by lymphoedema.
A specialist nurse took measurements of each person's lymphoedema. For women with breast cancer, she measured their swollen arm before starting acupuncture, and then after the 7th and 13th treatment. For people with head and neck cancer, she made a visual assessment of their lymphoedema at their regular clinic appointments.  This confirmed that nobody's lymphoedema got worse during the study.
The people taking part filled out a number of questionnaires before, during and after the acupuncture treatment. These asked which symptoms people found most troublesome and how bad they thought these symptoms were, as well as asking about their general health and wellbeing and how people felt (their mood).
Women with breast cancer found the most troubling symptoms to be things related to their lymphoedema such as heaviness, aching, pain and swelling. For people with head and neck cancer, the most troubling symptoms were pain and restricted movement. The researchers analysed the answers people gave at different times and found that everybody reported some improvement in symptoms after having acupuncture.
Women with breast cancer also reported an improvement in wellbeing and activity levels. There was some improvement in these for people with head and neck cancer, but the differences could have happened by chance (they were not statistically significant

).
The most common side effect of the acupuncture treatment was minor bleeding or bruising where the needles are put in. But this only happened occasionally. Less common side effects were tiredness, headache and dizziness.
The researchers concluded that acupuncture and moxibustion is safe for people with lymphoedema, especially when needles are not put into the area affected by lymphoedema. They suggest more research is needed to see how much it could help to improve symptoms.
We have based this summary on information from the team who ran the trial. The information they sent us has been reviewed by independent specialists (peer reviewed

) and published in a medical journal. The figures we quote above were provided by the trial team. We have not analysed the data ourselves.
How to join a clinical trial
Please note: In order to join a trial you will need to discuss it with your doctor, unless otherwise specified.
Please note - unless we state otherwise in the summary, you need to talk to your doctor about joining a trial.
Supported by
East and North Hertfordshire NHS Trust
Lynda Jackson Macmillan Centre
National Institute for Health Research Cancer Research Network (NCRN)
Questions about cancer? Contact our information nurses
CRUK internal database number:
Please note - unless we state otherwise in the summary, you need to talk to your doctor about joining a trial.
Charlie took part in a trial to try new treatments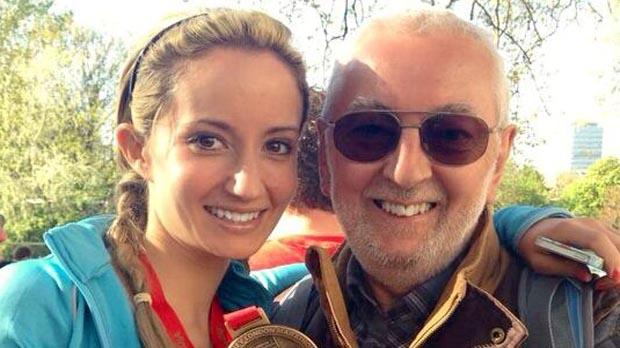 "I think it's really important that people keep signing up to these type of trials to push research forward."