A study comparing anetumab ravtansine (BAY 94-9343) with vinorelbine for people with mesothelioma
Coronavirus and cancer
We know it's a worrying time for people with cancer, we have information to help. If you have symptoms of cancer contact your doctor.
Please note - this trial is no longer recruiting patients. We hope to add results when they are available.
This study is open to people who have advanced mesothelioma that has continued to grow despite treatment with pemetrexed and platinum based chemotherapy. Platinum based chemotherapy includes the drugs cisplatin and carboplatin.
To take part in the study you also need to have a raised level of a protein called mesothelin. To find this out the doctors test a sample of tissue (a biopsy

). The sample can be one taken in the past but if this is not available then you will need to have a biopsy.
More about this trial
Vinorelbine is a common treatment for people with mesothelioma. In this study doctors want to compare it with a new drug, anetumab ravtansine (BAY 94-9343).
Anetumab ravtansine belongs to a group of anti cancer drugs called antibody drug conjugates (ADC). This is a combination of chemotherapy and a monoclonal antibody.
Anetumab ravtansine works by binding with a protein on the mesothelioma cells. This protein is mesothelin. Most mesothelioma cells have large amounts of mesothelin. Anetumab ravtansine works by attaching itself to mesothelin. This means it can deliver the chemotherapy straight to the cancer cells.
The aim of the study is to see if anetumab ravtansine is better than vinorelbine at controlling mesothelioma.
Who can enter
The following bullet points list the entry conditions for this study. Talk to your doctor or the study team if you are unsure about any of these. They will be able to advise you.
You may be able to join this study if all of the following apply. You
Have mesothelioma that has spread locally, such as to your chest wall, or it has spread to another part of your body (metastatic mesothelioma)
Are not able to have surgery to remove your mesothelioma
Have had a sample of your mesothelioma tested and have high levels of mesothelin
Have had treatment with pemetrexed and either cisplatin or carboplatin and your mesothelioma has continued to grow
Have none of your last treatment in your system. The doctors will work this out based on the type of drugs you had.
Have an area of mesothelioma that can be measured on a scan
Have satisfactory blood test results
Have adequate heart function measured by how well your heart is pumping blood (left ventricular ejection function - LVEF)
Are well enough to carry out all your normal activities, apart from heavy physical work (performance status of 0 or 1)
Are willing to use reliable contraception during treatment and for up to 4 months afterwards if there is any chance that you or your partner could become pregnant. If you are a man having vinorelbine and your partner could become pregnant you must use reliable contraception for up to 6 months after treatment.
Aged 18 years or older
You cannot join this study if any of these apply. You
Have mesothelioma spread to your brain or spinal cord. You may be able to take part if you had treatment for this more than 6 months ago and there is no sign on a scan of mesothelioma still being present or the mesothelioma in the brain or spinal cord is not causing any symptoms
Have had any other type of treatment for your mesothelioma apart from pemetrexed and platinum based drugs
Have had treatment with anetumab ravtansine or any other similar drug
Have had treatment with vinorelbine or any other similar drug
Have had major surgery, a tissue sample where the doctors had to make a cut to remove the tissue (an open biopsy) or a significant injury within 28 days of joining the study
Have ever had a stem cell or bone marrow transplant
Have any serious side effects from previous treatment apart from hair loss. You may be able to take part if you have low red blood cells (anaemia)
Have or have had any other type of cancer in the last 5 years. Apart from carcinoma in situ of the cervix,  non melanoma skin cancer or superficial bladder cancers  that was successfully treated
Have certain eye conditions such as corneal epitheliopathy
Have a heart problem such as congestive heart failure. Or have newly diagnosed angina or angina that medication is not controlling. Or had a heart attack in the last 6 months or any problem with the rhythm of your heart which you need to take medication for
Have high blood pressure which is not controlled by medication
Have had a stroke or mini stroke (a TIA) or clot in your lung (pulmonary embolism) in the last 6 months or a clot elsewhere in the last 3 months
Have a tendency to bleed (bleeding diathesis)
Have had a large bleed (a haemorrhage) in the last 4 weeks
Need to have dialysis for kidney failure
Have fits (seizures) which you take medication for
Have an active infection
Have a wound, ulcer or bone fracture that is not healing
Have HIV
Have chronic hepatitis B or C
Are sensitive or allergic to anetumab ravtansine or vinorelbine or any of their ingredients
Have any other serious medical condition that the study team think could affect you taking part
Are pregnant or breastfeeding
Trial design
This is an international phase 2 study. The doctors need around 210 people in 16 countries to take part.
It is a randomised study. Neither you nor your doctor will be able to choose the group you are in as a computer chooses the group your put into.
One group have anetumab ravtansine
The other group have vinorelbine
There will be twice as many people in the anetumab ravtansine group.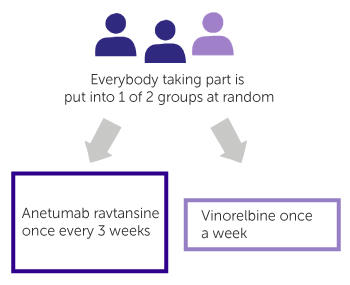 You have anetumab ravtansine through a drip into a vein over about 1 hour.  You have it once every 3 weeks. Each 3 week period is called a cycle of treatment.
You have vinorelbine as an injection into the vein over about 10 minutes. You have it once a week. Each 3 weeks of treatment is a cycle of treatment.
You have treatment for as long as it is helping you.
You also complete some questionnaires during the time you are on the study. These are to find out about how you've been feeling and how treatment affects your daily life.  This is a quality of life study.
During the study you have scans (either a CT or MRI scan) so the doctors can check on how well the treatment is working. If it looks like the treatment is working well the doctors may ask if they can take a biopsy. This sample is for further research into the treatment of mesothelioma. 
You do not have to have the biopsy if you don't want to, you can still continue with the study.
Hospital visits
You see the doctors and have some tests before you start treatment. The tests include
a physical examination
blood tests
urine test
heart trace (ECG )
heart scan (echocardiogram  or MUGA scan )
CT or MRI scan
eye tests
You have all of these tests again during the time you are in the study and some of them when you finish treatment.  The study team will tell you which tests you need and how often you have them.
You go to hospital to have your treatment. You should not need to stay overnight. You see the study team. They will examine you and you can tell them how you are feeling.
When you finish treatment you see the doctors 1 month later. How often you see them after this depends on how long you have had treatment but you will see them at least every 3 months.
Side effects
Anetumab ravtansine is a new drug and there may be some side effects we don't know about yet. Your doctors and nurses will monitor you closely during the time you are on the study and you should let them know about any side effects you have.
The most common side effects are
Tiredness (fatigue)
Weakness
Numbness and tingling in your hands and feet (peripheral neuropathy)
Blurred vision and problems with your cornea (the front part of your eye)
The most common side effects of vinorelbine are
A drop in blood cells causing an increased risk of infection, bleeding problems, tiredness and breathlessness
Leg weakness
Changes to your reflex reactions and touch
Tiredness (fatigue)
Weakness
High temperature (fever)
Pain and inflammation along the vein where you have the injection
Darkening or discoloration of the vein where you have the injection
Temporary changes to the way your liver works
How to join a clinical trial
Please note: In order to join a trial you will need to discuss it with your doctor, unless otherwise specified.
Please note - unless we state otherwise in the summary, you need to talk to your doctor about joining a trial.
Supported by
Bayer AG
Experimental Cancer Medicine Centre (ECMC)
CRUK internal database number:
Please note - unless we state otherwise in the summary, you need to talk to your doctor about joining a trial.
Around 1 in 5 people take part in clinical trials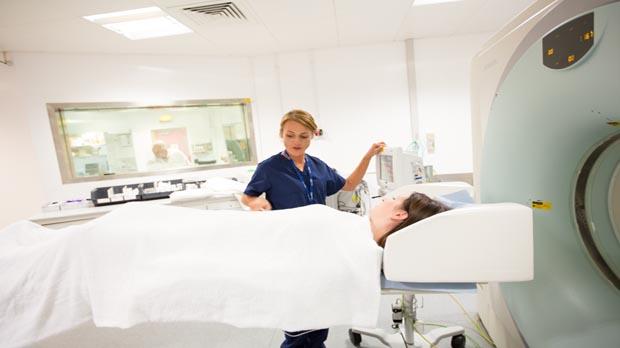 Around 1 in 5 people diagnosed with cancer in the UK take part in a clinical trial.