Past research into children's and young people's cancers
Our strategy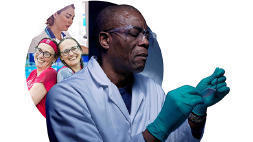 For the past 120 years, we've been making discoveries that have saved countless lives. But we have so much more to do. Our strategy sets out how we'll accelerate progress towards a better future.
Our milestones
Our scientists have made vital contributions to finding new and better ways to treat children's and young people's cancers to improve survival and reduce long-term side effects. Below are a few of our most important discoveries.
1970s – Our researchers show that there are different types of childhood leukaemia, boosting understanding of the disease. This leads to the development of more targeted and effective treatments, helping more children survive.
1988 – Our scientists develop a test for children with an inherited form of retinoblastoma, a type of eye cancer, meaning they can be treated early. This helps boost survival for the disease – now almost every child survives.
1994 – Our researchers identify 2 genes that are often faulty in children and young people with synovial sarcoma, a cancer that develops around joints and tendons, improving how easily the disease can be detected.
2007 – Our scientists discover that faults in a gene called PALB2 cause a particular form of Fanconi anaemia, an inherited syndrome that increases the risk of children developing cancer. This can help doctors predict how it might progress in patients and to tailor their treatment more effectively.
2010 – Our scientists identify 2 faulty genes linked to Wilms tumour, a type of childhood kidney cancer. This could identify children whose cancer is harder to treat and lead to the development of new treatments for these patients.
2016 – Our scientists discover why some types of medulloblastoma brain tumours respond better to treatment, and which could help them make other types that are harder to treat more sensitive to chemotherapy.
1978 – Our scientists help revolutionise the treatment of Hodgkin lymphoma, playing a key role in the development of combination chemotherapy that dramatically boosted survival in children and young adults with the disease.
2003 – Our work leads to a new treatment option for children with medulloblastoma, a type of brain tumour. We show that adding chemotherapy to radiotherapy can improve the quality of life for children living with the disease.
2007 – We show that using chemotherapy instead of radiotherapy cuts long-term side effects in children with ependymoma, through a clinical trial we fund together with the Brain Tumour Charity.
2008 – We are involved in a 10-year study that improves survival for children with neuroblastoma. This is helping change the way that young children with this disease are treated, both in the UK and across Europe. 
2008 – Large clinical trials we fund help improve survival and reduce side effects of chemotherapy for children and young people with different types of lymphoma. 
2010 – We help fund a ground-breaking trial of a drug called mitoxantrone, showing how it could dramatically improve survival in children whose acute lymphoblastic leukaemia (ALL) has returned. This revolutionised the way some children with ALL are treated. 
2017 – Our research shows a more effective way to treat children with some types of neuroblastoma. An international clinical trial we funded finds using two chemotherapy drugs that we helped develop, busulphan and melphalan, improves survival in children with more aggressive forms of the disease and caused fewer side effects than the previous treatment children were given.
1977 – Our scientists carry out pioneering early research that helps revolutionise stem cell transplants – a life-saving treatment for some young patients with blood cancers. Their work on bone marrow stem cells has helped develop better treatments for many types of cancers, boosting survival.
1997 – We carry out the first UK clinical trials in children with the bone cancer Ewing sarcoma and help to bring about dramatic improvements in survival.
2004 – We help support a trial that dramatically improves survival for children with hepatoblastoma, the most common childhood liver cancer. The trial helps to define the best combination and sequence of surgery and chemotherapy.
2006 – Our decade-long trial that we funded shows that giving chemotherapy before surgery to children with Wilms tumour makes treatment for children with this type of kidney cancer kinder. And in 2016, further results from the trial show that some children can also safely be given less chemotherapy after surgery, reducing the risk of long term side effects for these young patients. 
2009 – Our researchers show that testing for a faulty version of a gene called MYCN helps doctors identify children with less aggressive forms of neuroblastoma, sparing them unnecessary treatments.
2018 – The SIOPEL-6 clinical trial, which we helped support, shows that giving sodium thiosulfate with cisplatin chemotherapy almost halves the risk of hearing loss for young patients with hepatoblastoma, a type of liver cancer.