Our research in Oxford
Established in 2010, the CRUK Oxford Centre is a network and partnership between Oxford University, Oxford University Hospitals NHS Trust and Cancer Research UK, based on the University's Translational Biomedical Research Campus.
The Centre harnesses Oxford's world-leading cancer research, supporting and connecting people working across a range of disciplines with the aim to facilitate research collaboration on a local, national and international scale to speed up translation from scientific discovery to treatments in patients.
Improving treatment for prostate cancer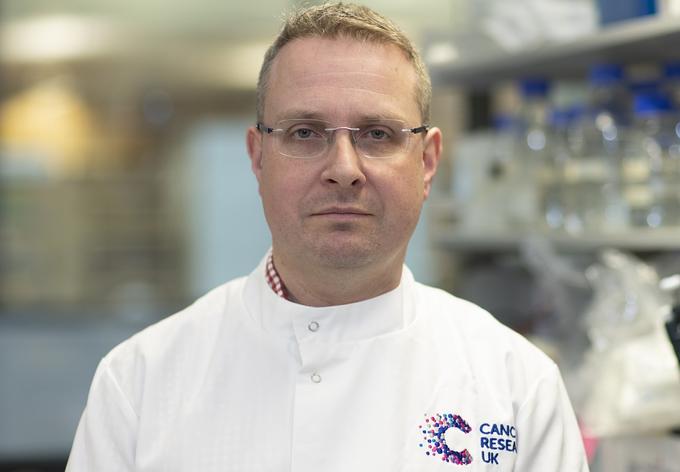 Professor Richard Bryant is combining radiotherapy, surgery and immunotherapy to try and improve treatment success for people with prostate cancer.
Developing techniques to predict oesophageal and gastric cancer behaviour
Surgeon Mr John Findlay is developing new techniques to better predict cancer behaviour and patient outcomes from treatment.
New dual-action cancer-killing virus
Dr Kerry Fisher and his colleagues at Oxford have trained a virus that can kill cancer cells within solid tumours.
What we're doing now
The dedicated team in Oxford is made up of experts in a wide range of disciplines, including clinical trials and early detection. Our scientists in Oxford have particular expertise in oesophageal, bowel, brain and pancreatic cancers.
Dr David Church is investigating the interaction between tumours and the immune system to understand more about how bowel and womb cancers develop. When womb cancers are littered with genetic mutations, people tend to have an excellent prognosis. This is potentially because the immune system has such a strong reaction to all these faults. Further study will help doctors understand how best to diagnose and treat people with these cancers.
Professor Vincenzo Cerundolo is harnessing the power of vaccines to prevent cancer returning. Some people with bladder cancer are given the BCG vaccine into the bladder, which activates the immune system to help prevent their cancer coming back. Professor Cerundolo is studying exactly how the vaccine works and why some people don't respond to the vaccine, in the hope his work could lead to new interventions for these patients.
Professor Freddie Hamdy is using imaging techniques to make prostate cancer surgery more precise. It's sometimes difficult for surgeons to see and remove all cancer cells during surgery. So, some can get left behind and this can lead to the cancer coming back. By tagging prostate cancer cells with fluorescent dye, Professor Hamdy hopes to make them easier to see, remove and examine during surgery, helping surgeons remove all cancer cells to stop the cancer returning.
Dr Felix Zhou is addressing two key problems in oesophageal cancer using computational methods and AI. He's working with researchers across Oxford to improve early detection of oesophageal cancer and to address the issue of poor patient response to treatments.
Dr Elizabeth Mann is working to identify new treatments for bowel cancer by increasing our understanding of the intricate roles of the immune system and microbiome in cancer, so that they can target these to improve treatment.
Our Senior Research Nurse in Oxford facilitates the delivery of high-quality clinical trials and studies, getting new treatments into the clinic sooner.
The Oxford Experimental Cancer Medicine Centre (ECMC) is a unique partnership between CRUK and the National Institute for Health Research in England to bring together lab scientists and cancer doctors to speed up the flow of ideas and new treatments from the lab to the clinic.
In Oxford
3,600 people were diagnosed with cancer each year in Oxford.

58% of cancers are diagnosed early.

We spent around £20m in 2020/21.
We receive no government funding for our research. Our life-saving work relies on the money you give us.
From cutting edge science and debunking myths to patient stories, read the latest news, analysis and opinion on our news site.
Our strategy to beat cancer sooner
Our vision is to bring forward the day when all cancers are cured.Our new strategy will give us the foundations we need to tackle the challenges ahead.