Volunteer in our shops
Search for a role near you
1 in 2 of us will get cancer in our lifetime. But we can all support the research that will beat it. Every shirt you steam, book you sell, hour you donate, or shopper you serve – we all have a part to play. Together we will beat cancer.
To find a shop volunteering role, click 'search' below and enter your town or postcode.
Try something new and support vital life-saving research
If you have a passion for fashion or may be clued up on the latest page-turners and trending films then we want you.
Cancer Research UK are always looking for new volunteers. So If you have an eye for a bargain and want to help customers find pre-loved gems, why not give shop volunteering a go?
Reasons why you should volunteer with us
Volunteering with Cancer Research UK can build skills and experience, and enhance employability. You can even work towards an NVQ in Retail with Derby College, and we'll provide you with a reference
Grow your confidence - our friendly CRUK team will be there to support you all the way
Make new friends, reduce isolation and improve overall well being
Volunteering with us is easy and flexible and can be designed to fit around your personal and work commitments
By volunteering, you're helping people affected by cancer, as well as building your own skills. It can also sometimes lead on to paid work in retail, customer service or other sectors
You need to be 18 or over to register to volunteer online
If you are aged between 16 and 17 you may still be able to volunteer in our shops but you must be on a recognised scheme, for example the Duke of Edinburgh. All you need to do is pop into your local store and speak to the shop manager. 
If you're not part of a scheme, you can still support us by volunteering at an event or by setting up your own fundraising project. All our opportunities will give you the chance to learn plenty of new skills.
Get a taste of the action
After filling in your form and speaking to us, we will ask you to come into your chosen shop for a tasters session. The taster sessions take between 30 minutes to an hour to complete, making it easy to fit into your diaries. It's a great time to see if this is the best role for you, or how you can see yourself becoming one of our amazing volunteers in trading.
You will meet the shop manager and other amazing volunteers, all like-minded individuals supporting the same cause
You will learn more about the shop volunteer role, what to expect on a 'normal' day 
Chat about your availability and what to expect so it feels right for you, please let the shop team know how we can accommodate you!
Find out how shops support local communites and are a vital part of being able to reach our goal - together we will beat cancer!
How you'll spend your time with us
Volunteering in our shops is varied, exciting and rewarding. No two days are the same and you have the chance to flex different skills regularly. While this list is not exhaustive, it gives you a flavour of some of the typical tasks in our charity shops:  
Talking to our customers, helping with queries and making them feel welcome in the shop.
Sorting, steaming and tagging amazing donations to get them 'shop floor ready'.
Serving at the till to process those all-important sales of clothing, accessories, books and homeware.
General housekeeping, display tidying, stock rotation and working on shop window displays to keep the shop looking its best.
We're safely reopening Cancer Research UK's shop doors
We have new health and safety measures in place to keep you safe. Find out more about how we're keeping our volunteers safe.
We Care About Keeping You Safe When You Volunteer. Together We Will Beat Cancer.
Hear from our volunteers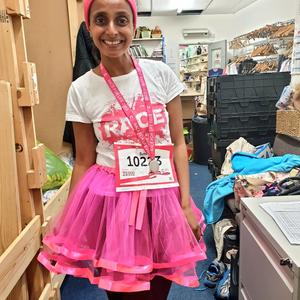 Sumi Michie – Chester Foregate Assistant Shop Manager
"I wanted to volunteer as I have lost people to cancer, and I want to help find the best cure to put an end to it. Sumi volunteers five days a week at our Chester shop as an Assistant Manager. "It's ace to volunteer! You can progress yourself and learn new skills, all whilst helping a great cause." 
Shop manager Jo adds: "My shop wouldn't run as smoothly as it does if Sumi wasn't here. She goes above and beyond every day for Cancer Research UK. I could go on and on about all the things Sumi does for our shop, but the list is endless! I couldn't imagine being here without her."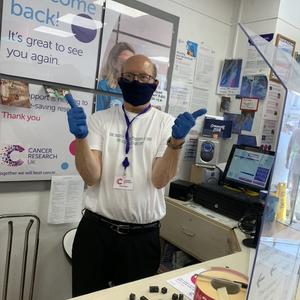 Paul Harris - Blackheath Shop Assistant
"I started volunteering because I wanted to keep busy, but also to help support a charity who continue to change the lives of so many. My day-to-day activities include serving at the till, sorting through donations and signing customers up to gift aid, to name a few!    
"I would encourage anybody thinking about volunteering to give it a go. You'll have the chance to make lifelong friends and learn new skills, whilst knowing you're personally making a difference. Our shop is such a busy and vibrant place to be and I absolutely love being part of the team."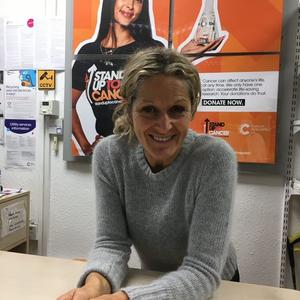 Margaret Cooney – Shoreham Shop Assistant
"I didn't know I was going to end up in a charity shop when I went out on my bike that day. I just walked in and asked if they needed more volunteers, they signed me up and I had a trial day two days later. It's the best thing I've done for a long time."
"Everyone who volunteers in the shop puts in so much effort and it's great to know I'm making their day a little easier by dedicating my time. It's a really friendly and supportive environment, which I think many of us need at the moment. I've also learnt so much about retail and about the brilliant work CRUK does."
If the charity shop you're interested in appears on the dropdown menu in the application form, they currently need volunteers. If you'd like to sign up for a taster session, complete the form and you'll be phoned or emailed within 3 working days to arrange a date and time for your taster session.
If the shop you're interested in does NOT appear on the dropdown menu in the link above, the shop currently isn't recruiting volunteers. Please check back again soon though, as new shops are added regularly.
You can call the shop manager and ask them to remind you of the date and time. Use the find a shop tool to find out the shop's phone number.
If struggling with this please email volunteerenquiry@cancer.org.uk and our central volunteering team will aim to respond in 2 working days to help you with your query.