Your Cancer Treatment Record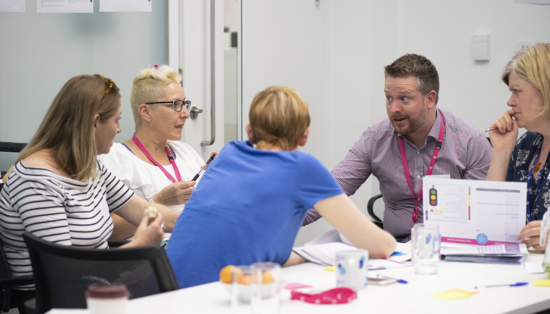 How involvement made a difference
Involving the audiences that will use the records was at the heart of this project. We consulted people affected by cancer to ensure the records would be relevant and reassuring, whilst empowering them to be better informed. Because we know healthcare professionals are often stretched, we also asked them what information it would be most practical and realistic to record.
In the initial stages, we consulted our patient sounding board to test our assumption that a record would be worthwhile. The sounding board are a group of 12 people affected by cancer that we work closely with on early-stage projects. The group shared their experiences of going through treatment and helped us understand the information gaps and challenges. They told us that a treatment record would be useful and where it could make the most difference. 
Deepening our understanding
The Sounding Board session gave us confidence in the project, but we wanted to hear more perspectives. We ran two surveys to get more insight. Through these surveys we involved 151 people affected by cancer and 188 healthcare professionals. Again, the responses confirmed the need for a resource in this space. Of the people who participated:
26% of patients received a treatment record.
31% of patients made their own record as they needed somewhere central to record key details.
80% of healthcare professionals indicated they would use a record with their patients if one was available.
"Having one made me feel as though I was involved in what was happening to me. It came in very useful when I was admitted to hospital at 2am – I gave the Doctor my book with all mine and the oncologists notes and he said it was really useful to assist treating me. You forget the side effects if you don't write them down because there is so much going on. It helped me also with my GP to get the correct medications for the side effects I was experiencing."
The surveys developed our understanding of how patients and professionals use treatment records. They told us what was most helpful about having one, what information could be recorded, and about the barriers to using them effectively. This was invaluable in helping us to identify and prioritise what information should be included and informed our prototype.
From here, gaining specific feedback on the format and content was a vital next-step. We ran further consultations in person and over email, which helped us review and improve:
the language used,
the level of detail,
the imagery and;
the presentation of information.
Ensuring the record was clear and assessible was a real priority for us. The feedback shared at this stage was essential to helping us achieve this. As Kate Highlights below, all of the feedback received helped determine the shape of the final book.
"The involvement for the Your Treatment Record has truly adapted the way we thought about putting the book together. It has helped us understand key issues such as whether the most important information is easy to find and has shaped the tone of voice and our use of images. Gaining feedback was essential as we wanted the record to be assessible to a wide audience, not just those with higher literacy skills." Kate Firestone, Patient Information Web team
Piloting the record
Now that the record is printed, we want to spread the word to ensure it reaches as many patients as possible. We launched it last Autumn at the UKONS (UK Chemotherapy Nurse Society) and BOPA (British Oncology Pharmacy Association) annual conferences, where it was positively received. It's now free to order on our online publications page.
To help healthcare professionals use the record effectively with their patients we've created a guidance video for them. This idea came about because only 30% of patients involved in our survey felt the purpose of their treatment record was clearly explained to them by their medical team.
Evaluating the record's impact is our current priority. We'll be asking people to tell us about their experience of using it to check that it's supporting patients and healthcare professionals to have more meaningful conversations.
Thank you to everyone involved in helping us to get to this stage! 
Get involved
Take a look at our current opportunities to get involved and make a difference to people facing cancer.