Meet Steve
Steve is a surveyor living in London with his wife and three children. When he was 45, he was diagnosed with bowel cancer.  At first, he ignored his symptoms as he had been diagnosed with IBS many years previously.  But then, after a little persuasion, he went to the doctor.
Steve says,"If there is one message that I would like to share it would be that early diagnosis is so important." 
He tells us his story, and how he's helping to share this message with others.
"We need a kick to get checked out, and my wife was the one who sent me to the doctor after I told her all my symptoms. I was lucky as the cancer was caught early and it had not spread. I needed surgery but did not have to have chemotherapy or radiotherapy. I spent some time at home recovering from the surgery, supported by my family and started a phased return to my work just a few months later."
"I want to share my story and I have spoken at different events, getting involved with the Lord Mayor's Show and with a Get to Know Cancer campaign at Tottenham Hotspur FC too. I want people to hear the message and maybe one person will hear it and take action.
"I want to raise awareness with everyone, but particularly men. We are notorious at not going to the doctor and I ignored my symptoms at first too. I spoke at the BME headquarters too – there are taboos in different groups that need to be tackled – we need to break those, whether it's men, or different cultures to get more people looking after their health."
"My motivation is to encourage people to be diagnosed early and also to talk about the psychological side too – you may get better physically but the mental side is a real challenge and things like the fear of it coming back are tough."
"When I was recovering from the surgery, I had to stay in hospital for a bit longer as I was getting stomach pains. On the second day, I was so down, and I had this thought 'When I get better, I will raise awareness and help others'. It was decisive and a feeling that I didn't want anyone else go through it. So that's what I have done."
"One of the first things I did was a charity abseil off a water tower– I felt that, after having cancer, I had no fear of anything any more. I had conquered the biggest fear. I remember standing at the top of the abseil but it didn't bother me!"
This year, Steve will celebrate seven years of clear, cancer-free scans. He has assisted with campaigns including World Cancer Day, Stand Up To Cancer and with our work with The Bobby Moore Fund for Cancer Research UK.
 
Share your story to help people understand cancer better and raise awareness about our research and campaigns.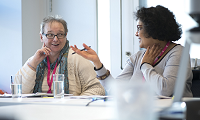 Read more stories from people affected by cancer who have choosen to get involved in our work; how it felt for them and the positive impact it has on our work.