Linda's story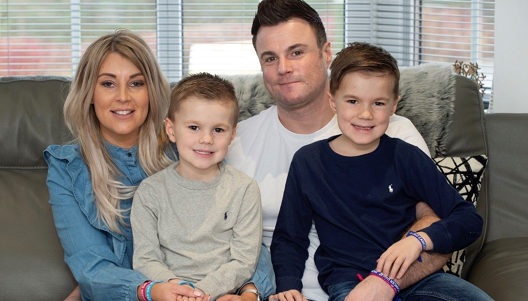 Linda is 35 and lives in Livingston, Scotland. She teaches children with additional needs and has two young children; Jacob, 8 and Isaac, 6. She was diagnosed with a rare form of cancer called extra skeletal myoxid chondrosarcoma in her spinal cord. Throughout her treatment, she received amazing support from the Western General Hospital, her husband Andrew, her parents and other friends and family. So, she wanted to give something back and raise awareness of her particular cancer as it is so rare.  
Linda has supported our work in a number of ways. She shared her story for World Cancer Day and supported Race for Life in Edinburgh this year, where she was asked to ring the bell to start the race. After becoming a member of Your Involvement Network, she's also shared her insight to shape a new social media volunteering opportunity.
She told us about her first experience of getting involved. 
How have you found your first experience of being involved in our work?
"It has been a pleasure to be involved with Cancer Research UK.
When I was diagnosed, it came as such a blow. I had a really sore back but other than that I was healthy. I had surgery to remove as much of the tumour as possible and then I was sent to Jacksonville, Florida for 12 weeks of proton beam therapy.
It's been a long road to recovery but two years on, I'm just back at work 2 days a week. I'm feeling well and building up strength every day. I have nerve damage which affects my right leg and I get back pain, but I have had such amazing support. I have scans every three months to keep an eye on things but so far everything is stable, so I couldn't be happier.
Sometimes at the end of treatment you feel a little 'lost'. These opportunities helped me to feel useful. I felt as though I was helping to raise awareness and show that even though it has been a tough couple of years, there is a positive story at the end of it."
What would you say to someone thinking about getting involved for the first time?
"Go for it! Even if you can only help with one thing, it's better than nothing and everything helps. It doesn't require a lot of time and there are so many ways you can help. There is no pressure. Everyone has different skills and talents and there may ways to use these to help."
Involvement opportunities
Use your experience of cancer to make a difference to other patients and their families.