What is the toughest challenge in cancer research?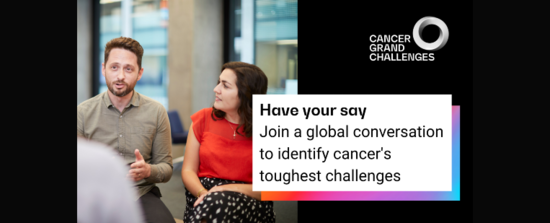 Thanks for your interest in this opportunity, unfortunately it's now closed. We've other exciting ways for you to get involved, these are listed on our opportunities page.
About Cancer Grand Challenges  
Founded by the two largest funders of cancer research in the world – Cancer Research UK (CRUK) and the National Cancer Institute (NCI)* in the US – Cancer Grand Challenges aims to make the progress against cancer we urgently need.  *The National Cancer Institute is part of the National Institutes of Health.
Cancer Grand Challenges supports a global community of diverse, world-class research teams with awards of $25m to come together, think differently and take on cancer's toughest challenges.  
These are the obstacles that continue to impede progress and no one scientist, institution or country will be able to solve them alone. Cancer Grand Challenges teams are empowered to rise above the traditional boundaries of geography and discipline. 
They involve people affected by cancer to ensure that their voices are represented across Cancer Grand Challenges. Then, through consultation, collaboration and partnership, determine how to successfully plan, deliver and evaluate the impact of these activities.