Suzanne's story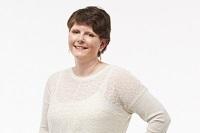 Our media volunteers help raise awareness of cancer and the work of CRUK. Here, Suzanne Harford explains why she volunteered to help, and how her involvement has given a real sense of achievement.
Why did you decide to be a media volunteer?
It was about three months after my treatment finished and I was just starting to feel a bit brighter. I wasn't ready to go back to work but I wanted to do something. I wanted to make something positive out of what had been a negative part of my life so I looked for volunteering opportunities on the Cancer Research UK website. I decided to apply to be a Media Volunteer as it would push me out of my comfort zone. I'd never wanted to be in the limelight before but now I felt like I had a second chance and thought it would give me more confidence.
What kinds of media work have you done?
I started off with local media, doing interviews with regional papers, then I took part in a photo shoot and filming for Stand Up To Cancer. I've started the Weston Race For Life twice, given a talk for CRUK Legacies, been interviewed live on radio and appeared in national magazines. After I've done something, even if it was a bit daunting at the time, I feel a real sense of achievement. For the Woman's Own photo shoot I had to organise my mum, my family and my friend Jo so we were all in the same place at the same time, but I'm quite bossy so I was happy to do that! My girls were very keen to take part as they know how important Cancer Research UK's work is so they want to do anything they can to help.
What have you enjoyed most?
It's hard to pick out one thing as really I've enjoyed everything but I did like coming to London for the Closer magazine photo shoot and having a makeover, which felt very glamorous.
What's been hardest?
I'm not naturally outgoing so speaking at Race For Life is quite daunting as there are so many people looking at you. And I was pretty nervous before the live radio interview as I knew there wouldn't be a chance to tweak things if I made a mistake. However I thought about the kinds of questions the interviewer would ask me and made myself a sort of crib sheet which helped me feel more prepared.
What have you gained from the experience?
It's been brilliant! Doing media work for Cancer Research UK has given me a confidence I never really had before. Talking about what's happened to me has been like a kind of therapy for me - some people pay hundreds of pounds but I got it for free! After one of the first articles I did for the local paper was published a woman got in touch with me to say she'd read my interview and thought the symptoms sounded familiar which prompted her to go to the doctor. Even if you can just help one person with cancer it's worthwhile.
What would you say to someone thinking about becoming a media volunteer?
I'd highly recommend that people take the plunge. Going through the cancer journey makes many people lose confidence as you become a person who has things done to them, who's looked at in a different way. That can have an impact even after treatment. Being a media volunteer has encouraged me to grab every opportunity that comes along and that new-found confidence has spilled over into other areas of my life as well. And to know that you're helping other people as well, that's a very powerful thing.
Share your story
Applying to be a media volunteer will take about 30 minutes. Before you start, please have details of your cancer experience, diagnosis, and treatments (as applicable) on hand.