Everything you need to know about fundraising safely
The legal bits
The information on this page is specifically intended to provide general guidance only, and to that scope the information provided is accurate.  
Cancer Research UK cannot accept responsibility for accidents, injuries, loss, or damages as a result of your event.  
Any fundraising materials you use should say: In aid of Cancer Research UK, Registered Charity Nos (1089464), (SC041666), (1103), (247)  
Plan ahead
Planning ahead will help you put on a safe, legal, and successful fundraising event.
If you're organising a mass participation event, you'll need to follow Government guidance and any social distancing guidelines for your area. It's also useful to liaise with your local safety advisory group within your local authority or council. 
Make your event safe
You'll need to complete a risk assessment for your event. A risk assessment will help ensure that you've thought of any potential hazards and have put measures in place to minimise any risk.  
You'll also need to ensure that suppliers of any goods or services are a reputable company with their own risk assessment. 
Get covered
You may decide to take out public liability insurance for your fundraising event. This will protect you if a member of the public is injured during your event. 
You should request to see the public liability insurance certificate of any suppliers you hire. This will ensure that they're covered in the event of an accident or incident with their equipment or service. 
Food and drink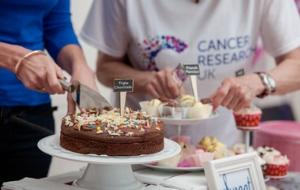 The Food Standards Agency provides guidelines for preparing, handling, and cooking food. If you're using a caterer, you'll need to ensure they have a Food Hygiene Certificate and public liability insurance.  
If you intend to serve alcohol, you'll need to obtain a license from your local council. 
First aid
Some events require you to have a first aider or first aid services present for potential emergencies.  
You should consider: 
the number of people 
type of event and risk involved 
type of people, including their ages 
location and type of venue 
how long the event lasts 
the weather 
proximity to local medical facilities 
what experience you have of similar events 
any welfare and first aid facilities are at the venue. 
Participants are responsible for ensuring that they're fit and well to take part.  
Children and vulnerable adults 
Children and vulnerable adults need to be considered as part of your risk assessment when employing suppliers for goods or services. 
You'll need to make sure that children are properly looked after during the event and have permission to participate from a parent and/or guardian.  
Adequate checks should be carried out on any adults employed to help as part of your event if children and vulnerable adults will be present. The Government's Disclosure and Barring Service (DBS) provides further information on how to do this.  
Many professional services follow a Code of Practice to ensure services are provided safely. The Face Painters Association provides useful information which can be used to validate face painters. The Health and Safety Executive and the Amusement Device Inspection Procedures Scheme (ADIPS) offer advice on what you need to know to hire and use bouncy castles. 
Collecting and handling money
If you're collecting and handling money as part of your event, you may need a license.
Door to door collections and collecting money in a public place or street require you to obtain a license. Licenses may be obtained from your local authority or council. They'll also provide you with any rules and guidance for your collection. 
If you intend to collect money on private properties, you must get permission from the land owner. 
You may be interested in...