Collaborating with people affected by paediatric cancers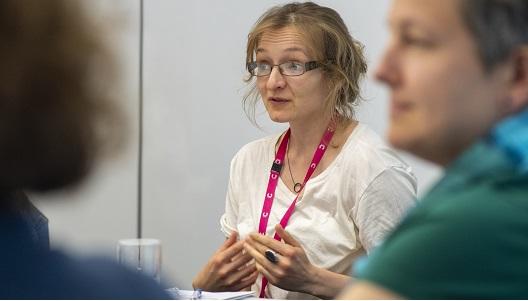 Through medical research, we aim to improve survival and long-term outcomes for children and young people with cancer. We're determined to increase awareness and overcome some of the different challenges presented by these cancers. 
This September, as part of Childhood Cancer Awareness Month, we're excited to share some updates on the work we've been doing in collaboration with parents and families as well as young people themselves.  Back in 2019, their input was vital in sharing Cancer Research UK for Children & Young People and our paediatric research strategy. Since then, we've been building on our work, hand-in-hand with the children and young people cancer community. Here are a few examples of how:
 
Addressing challenges in setting up paediatric clinical trials
Last November, the Experimental Cancer Medicine Centre (ECMC) Paediatric Network hosted a workshop investigating the challenges involved in paediatric clinical trial set up. Two patient representatives were recruited to attend alongside doctors, nurses, and industry personnel. A member from the organising team said, "The parent representatives played a vital role on the day, highlighting the critical strategic input people with lived experience can bring to discussions". 
Keeping the community at the heart of decision-making
As part of a consultation from the ECMC Paediatric Network, members of our panel for people affected by children's and young person's cancer (CYP panel) shared their views on how best to involve the community in the ECMC's work. They told us how passionate they were about helping us to make a difference and the need to involve a range of people in a variety of ways. 
As a result of this, in Spring this year a patient representative joined our ECMC Paediatric Network Strategy Group. Their aim is to develop strategic plans and support activities for the ECMC Network to improve access to trials. A patient representative was also recruited to the CRUK Children and Young People's Steering Group. A member of the team who recuited the patient representatives said, "We're confident that having recruited these representatives they will go on to provide important input into our future projects."  
Identifying the impact of the pandemic on clinical trials for children's and young peoples' cancers
This summer, CRUK undertook a rapid Clinical Trial Portfolio Review to understand the clinical and scientific impact of COVID-19 across the CRUK Clinical Trial Portfolio. This included looking at the impact of the pandemic on clinical trials for children's and young peoples' cancers. Two members of the CYP Patient Panel with clinical trial committee experience worked with a panel of clinical experts. Together they outlined the pandemic-associated challenges for delivery of CRUK funded trials and recovery towards pre-COVID-19 levels of cancer clinical research activity.
 
There is still so much to do, but none of this would have be achieved without the invaluable support and experiences of young people and parents of children affected by cancer. We'd like to thank and recognise them in particular for their tireless efforts in support of our work. 
Pictured above: Bethan, one of our new patient representatives. 
 
Get all the latest opportunities, sent to your inbox
Join our network and we'll send you our bi-weekly newsletter which lists all the latest opportunities to get involved in our work. We are looking forward to working with you.