Develop the cancer research leaders of tomorrow: our progress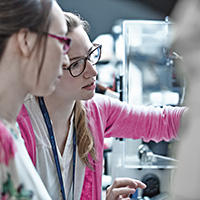 In our strategy we pledged to support researchers at every stage of their career: attracting and inspiring the next generation, training outstanding individuals and developing and recruiting the leaders of the future.
By working closely with the research community we've been able to identify skills gaps and evaluate our personal and training award schemes, and run networking and career meetings for different peer groups. Behind the scenes, and with invaluable input from the community, we conduct policy research, working with the government to ensure the UK remains an attractive environment for researchers.