Inspiring Leadership in Research Engagement Prize
This prize honours an individual and team members who have demonstrated significant commitment to public engagement with science and have embedded a culture of engagement within their institution or research group.
Key information
| | | |
| --- | --- | --- |
| | Awarded to | Established independent researchers and their teams |
| | Prize value | £5,000 |
| | Nominations open | TBC - Expected late 2018 |
|   | Nominations close | TBC - Expected spring 2019 |
The honorarium may be used to support, develop or extend public engagement activity, or to undertake training relating to public engagement.
The primary recipient will also be expected to give a public lecture or host a public engagement activity at a suitable event.
Make a nomination
This prize is awarded once every two years to an outstanding researcher nominated by his or her peers.
Nominations may be made on behalf of individuals who are living at the time of the nomination. An individual cannot nominate himself/herself.
Nominees need to be in receipt of, or have been supported either directly or indirectly by, Cancer Research UK funding.
There are no restrictions with regard to the race, gender, nationality, or religious or political views of the Nominee.
While the current geographical location of the Nominee does not affect their eligibility a significant proportion of their public engagement work should have taken place in the UK.
The Prize will be presented to an individual plus his/her team.
Institutions or organisations are not eligible for the Prize.
To nominate for this prize, the following materials must be submitted:
There is no restriction on how many candidates can be nominated by an individual. There is also no restriction on the number of nominators completing forms on behalf of a candidate/team.
Nominators are asked to maintain the confidentiality of the nomination process.
Nominations must be submitted electronically to engagementprizes@cancer.org.uk
Paper nominations will not be accepted. A nomination should not be considered submitted until Cancer Research UK has issued an email confirming this. Confirmations will be sent within five working days.
Please note that the deadline is final and we cannot accept nominations after 5 pm on the day of the deadline.
Make a nomination
Ready to nominate an outstanding communicator of research?
More Research Engagement Prizes
Winners of the Inspiring Leadership in Research Engagement Prize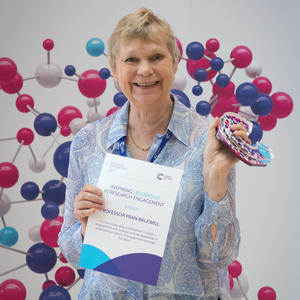 Prof Fran Balkwill OBE
Title: 2017 winner
Position: Professor of Cancer Biology
Affiliation: Barts Cancer Institute, Queen Mary University of London
Lab website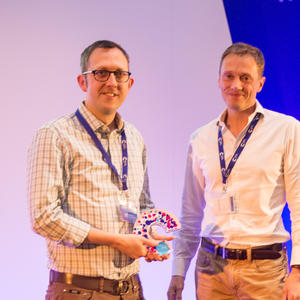 Dr Edd James
Title: 2015 winner
Position: Associate Professor in Cancer Immunology
Affiliation: University of Southampton
Lab website