Facts and figures about our research funding
In the financial year 2019/20 we funded research worth £455m.
We fund research through a variety of mechanisms, from supporting infrastructure, including our 4 world-class research institutes, to providing grants for investigator-led programmes, projects and training fellowships.
Our funding spans the research pipeline, and our diverse portfolio includes research into almost every aspect of cancer. In 2019/20 it included £86m into the fundamental biology of cancer, and £81m on research that underpins all cancers, including our network of centres and clinical trial units.
Here you can explore in more detail how and where we fund research, and how your own work fits in.
Since 2018/19, we report research support costs and the share of royalty income we pass on to other research organisations ('revenue share') separately in our breakdown of annual research activity. This explains why spending on certain cancer types may appear lower than in previous years.
If [the COVID-19] pandemic has underlined one thing, it is the necessity of research – collaborative, multidisciplinary, international research – to solve problems of human health, from external threats like infectious disease to complex phenomena like cancer...The years ahead will bring new challenges [but] our mission to support people affected by cancer through life-changing research remains absolutely critical.
     Professor Sir Leszek Borysiewicz, Cancer Research UK Chair, reflects on the impact of COVID-19 in his Chair's statement as part of our Annual Report.
Funding by disease type
Our network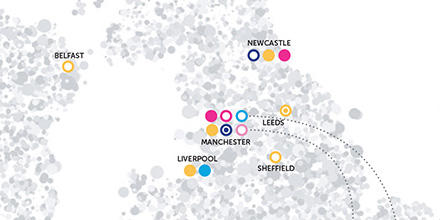 Our long-term investment in state-of-the-art facilities has helped to create a thriving network of research at 90 institutions in more than 40 towns and cities across the UK.
Our network includes Centres of Excellence to drive progress in priority areas such as brain tumours and lung cancer, CRUK RadNet to develop the UK's radiobiology and radiooncology community, and much more.
Funding across the research pipeline