Clinical Trials Unit Network Objectives
​Our network of core-funded Clinical Trials Units plays a key role in delivering against the strategic priorities set out in our Clinical Research Statement of Intent.
The CTUs already work closely together, and over the next five year funding cycle they will be working to a more formal set of shared objectives to maximise their progress against our strategic priorities.
Scientific Objectives
Maintain a broad portfolio that maximises patient impact
Manage early to late phase cancer clinical trials across the network
We are committed to supporting a portfolio of research that goes from bench to bedside – from discovery and preclinical research, through to translational and clinical research with direct patient benefit. A strong clinical trials pipeline that supports the development of early phase trials and progress into late phase trials, is an integral part of the delivery of the clinical research strategy. Individual units may support trials at all phases or specialise in trials at a particular phase.
Support a balance in paediatric, teen and adult cancer trials expertise, as well as population research
The CTU network should collectively support trials that benefit all demographics of the population, including a balanced portfolio of trials in paediatric, teen and adult cancers. We are also committed to supporting research in cancer prevention, early detection, diagnosis and screening, and the network should include expertise that can deliver these population-based studies.
Develop best in class expertise to manage the types of trials defined in the Clinical Statement of Intent
The review process will ensure that the configuration of our funded CTUs over the next quinquennium is strongly positioned to deliver the Clinical Statement of Intent. As well as expertise in early and late phase trials, the network should deliver in the other areas of the statement of intent such as supporting trials in a broad range of disease types, including cancers of unmet need and rare cancers, and a range of disease settings and treatment modalities. A focus on biomarker-driven and innovative trial designs is also expected across the network.
Enable trialists to learn as much as they can from the patients on their trials
Leverage the right expertise to manage innovative and scientifically-rich trials
CTUs should support trialists and investigators in ensuring they have the right expertise on trials and are able to leverage support from other key stakeholders, such as the NCRI Clinical Studies Groups and basic and translational researchers able to contribute to trial design and outcomes.
Encourage clinicians to undertake research and to learn as much as they can from the patients on their trials
CTUs should support the next generation of chief investigators by providing training and opportunities for clinicians to become involved in clinical trials research. Trialists should be encouraged to learn as much as they can from the patients on their trials, for example by considering opportunities for further research questions that can be explored with patient samples.
Operational Objectives
Maximise operational efficiency
Minimise duplication while retaining sufficient capacity across the network
There should be sufficient capacity and capability across the CTU network to deliver against the Statement of Intent and retain expertise in all areas. However, duplication of expertise or processes without a clear need or justification should be minimised where possible.
Seek opportunities for synergies and sharing of best practice to reduce inefficiencies in trial set up
CTUs should work collaboratively to identify common areas of delay to trial set up times and share best practice on how these delays can be minimised.
Develop overarching agreements to facilitate trial set up
The network should be proactive in its approach to reducing inefficiencies in trial set up, including finding ways to work more efficiently with trial delivery through development of common agreements or guidelines around trial delivery with sites including hospitals and Experimental Cancer Medicines Centres.
Engage industry partners to enhance set up of investigator-led trials
Develop a more coordinated approach to interacting with industry
As industry partners continue to play an integral role in the delivery of trials, CTUs should develop a more coordinated approach to working with industry and share this best practice with the network. 
Develop agreements with industry to speed trial set up times
Contract negotiations have been identified as a roadblock to setting up trials when working with industry partners. The network should therefore develop guidelines or template agreements that can be used to set out the expectations of partners when working with our CTUs to help expedite the trial set up process.
Proactively engage with CRUK and our brand
Perpetuate our brand within the clinical infrastructure and community
CTUs are an integral part of the research infrastructure that we support, and this support should be visible to the external community. All core-funded units should acknowledge and recognise this support in internal and external communications, such as through use of appropriate logos and branding.
Develop two-way relationships with us to help drive our clinical strategy and activity
We will hold bi-annual meetings with CTU Directors and Operational Directors, to act as a forum for communication and progressing the network objectives. We also expect to visit CTUs at least once a year, to be kept informed of each unit's activities and progress against the strategy. CTUs should work with us to drive forward the clinical strategy and wider organisational objectives.
Discover more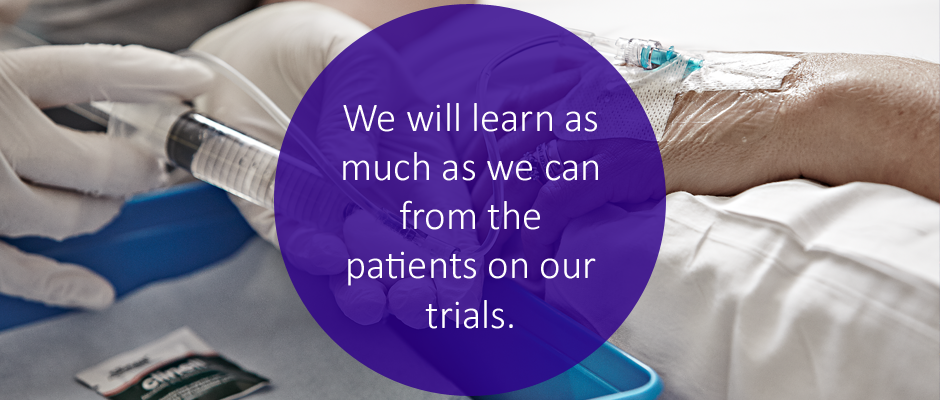 We support a broad portfolio of clinical and translational research through response mode funding, initiatives and investments in clinical infrastructure.
Designing a clinical trial or study is a complex task, with many practical and regulatory hurdles to cross. Our Funding Managers share 14 resources to help you find advice and navigate the complexities of your study design and application.