Your urgent suspected cancer referral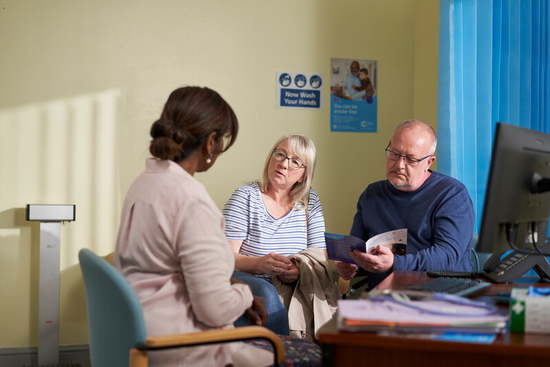 On this page you can read about
Your GP, nurse or dentist has arranged for you to have tests or see a hospital doctor (specialist). This is to investigate your symptoms, find out what is wrong and if it could be cancer.
Most people will not have cancer, but if you do, early diagnosis and treatment are important.
You will get your appointment as quickly as possible. Your first appointment may be over the phone or at the hospital. Staff at the hospital have made every effort to make sure it's a safe place to visit.
Ask your GP or nurse when you're likely to get an appointment.
It is normal to worry when you are urgently referred to see a specialist by your GP, nurse or dentist. However, more than 9 out of every 10 people (more than 90%) referred this way will not be diagnosed with cancer. 
You may get your appointment by post or over the phone. If you have a phone call, the number might not display. Please do answer.
It's very important that you go to all your appointments and tests. If you can't attend, contact the hospital as soon as possible to rearrange.
If your symptoms change, get worse or if new symptoms develop contact your GP surgery.
Handy hints 
Check your GP has your current contact details.
If you don't get your appointment details within a week contact your GP surgery. Tell them it's an urgent suspected cancer referral.
You may be sent straight for tests, or you might speak to a specialist first.
Do not attend if you have symptoms of COVID-19, or you have recently tested positive for COVID-19.
Handy Hints 
Make sure you know where you're going.
Check if you can take a family member or friend with you for support.
You should receive information about your tests and any preparations you need to make. You may need to have more than one test on different days.
You can find information about tests on our Cancer Tests pages. 
Handy hints
Ask how you will get your results and how long it will take.
The person testing you will not usually be able to tell you your results. You may have to wait to speak to your specialist.
The doctor who orders your test will explain your results. This is usually your specialist or someone in their team. You may need to have further tests.
Handy hints
If you've been waiting longer than expected for your results, contact your specialist's secretary.
If you don't have contact details, ask your GP surgery for advice. 
Don't be afraid to ask questions. It may help to write down questions beforehand to take with you. Sometimes it's difficult to know what to ask. Here are a few ideas that might make it easier:
If my symptoms get worse, who should I contact?
Should I make any changes to the medicines I'm taking?
What tests will I need to have?
How long will the tests take?
What are the benefits and risks of the tests?
Who will give me the test results?
What happens if I don't go to any appointments or tests?
If I have questions after the appointment, who should I ask?
There are waiting time targets to get a diagnosis and start treatment. These are slightly different depending on where you live in the UK. Unfortunately, due to COVID-19 this may take a bit longer. 
Find out about cancer waiting times.
We know this is a difficult and worrying time. There is help and support available for you and those close to you. You will be given lots of information by your healthcare team. Your hospital may have a support or information centre. They have people you can talk to and provide written information.
You can ask for details of local support groups and counselling services. 
For information about your diagnosis and treatment go to our About cancer pages.
If you are not diagnosed with cancer, it's still important that you pay attention to your body. Contact your GP if you notice any new or unusual changes or if your symptoms don't get better. A health scare makes some people think about improving their general health, for example, keeping a healthy weight or stopping smoking. These things reduce the risk of cancer. 
You can find out more on our health pages. You can also consider screening when you are invited.
For more information about local services in different parts of the UK, you can visit
You can also find this information as a leaflet on our publications page. This includes specific leaflets for those living in Wales or Scotland.