Tackling the global tobacco epidemic
Coronavirus (COVID-19)
Cancer Research UK supports GPs to deliver best practice. We have created a central resources hub for Health Professionals which hosts all of our CRUK resources and further materials to help with managing the pandemic. We are updating the information as guidance changes. There is also a page specifically for patients on our about cancer hub.
Cancer Research UK is the largest independent funder of cancer research in the world. Find out more about how we're beating cancer sooner on a global scale.
By 2030, it is predicted that tobacco will kill more than 8 million people a year worldwide, with 80% of these deaths coming from low and middle-income countries.  
Smoking causes at least 14 types of cancer, pulmonary and cardiovascular diseases. Non-smokers who are exposed to secondhand smoke are also at higher risk of serious health conditions.  Consider the devastation caused by smoking in high income countries, where universal health care is the norm.  In most low and middle-income countries, there is no universal health care, and access to treatment or palliative care is beyond the means of most people. 
These countries are growth markets for the tobacco industry.  In the absence of strong government policies and regulations in these countries, people do not have the same protections that have saved millions of lives in the UK.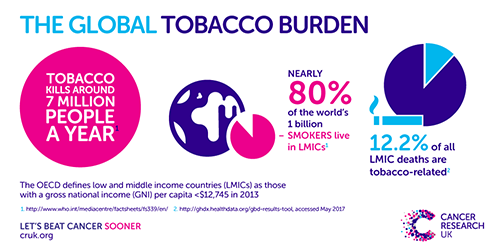 We know from our experience of influencing policy in the UK that the way to reduce tobacco consumption and save lives is through effective policy intervention. A global policy framework exists already in the form of the Framework Convention on Tobacco Control (FCTC), which sets out steps that governments need to take to reduce tobacco consumption and protect health.  Cancer Research UK's International Tobacco Control Programme aims to accelerate implementation of the FCTC in countries where progress has been slow or uneven.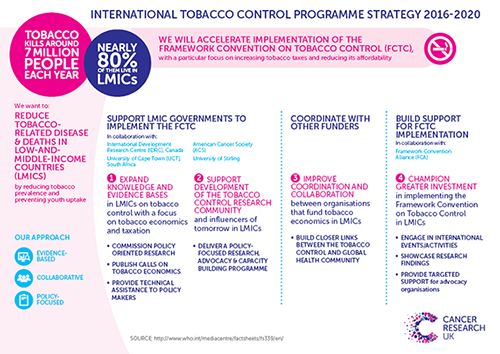 Download a copy of this strategy
Increasing excise taxes on tobacco, which leads to higher tobacco prices, is the most successful and cost-effective policy tool that exists. However, Article 6 of the FCTC, which calls for the use of price and tax measures to reduce demand for tobacco is not well implemented. This doesn't make sense as taxing tobacco would also bring a source of much-needed government revenue in lower-income countries.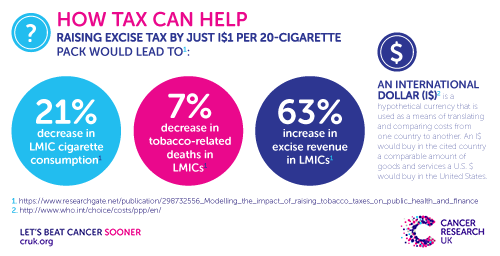 Funding research and advocacy can help counter tobacco industry arguments against taxation, demonstrate the economic rationale of tobacco control policies to decision makers, and boost political will to introduce policy and tax measures.
Cancer Research UK funds tobacco control researchers and advocates from low- and middle-income countries. Our primary goal is to promote evidence-based policy making.
Cancer Research UK's International Tobacco Control Programme is rooted in collaboration with many leading researchers and advocates, working to bring about change in countries where the tobacco is a significant public health threat.
The Cancer Research UK International Tobacco Advisory Group is a funding committee that considers project grants and advocacy proposals.
The grants fund policy and advocacy work to help implementation of the Framework Convention on Tobacco Control in low- and middle-income countries.