Honorary Fellowships - Trading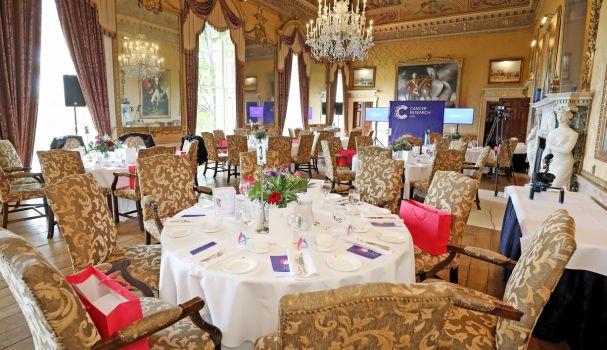 Flame of Hope Awards Honorary Fellowships
These are awarded to shop volunteers who have given at least 15 years of service. 
Find out more about our 52 incredible shop volunteers receiving an Honorary Fellowship this year...
Ann Clarke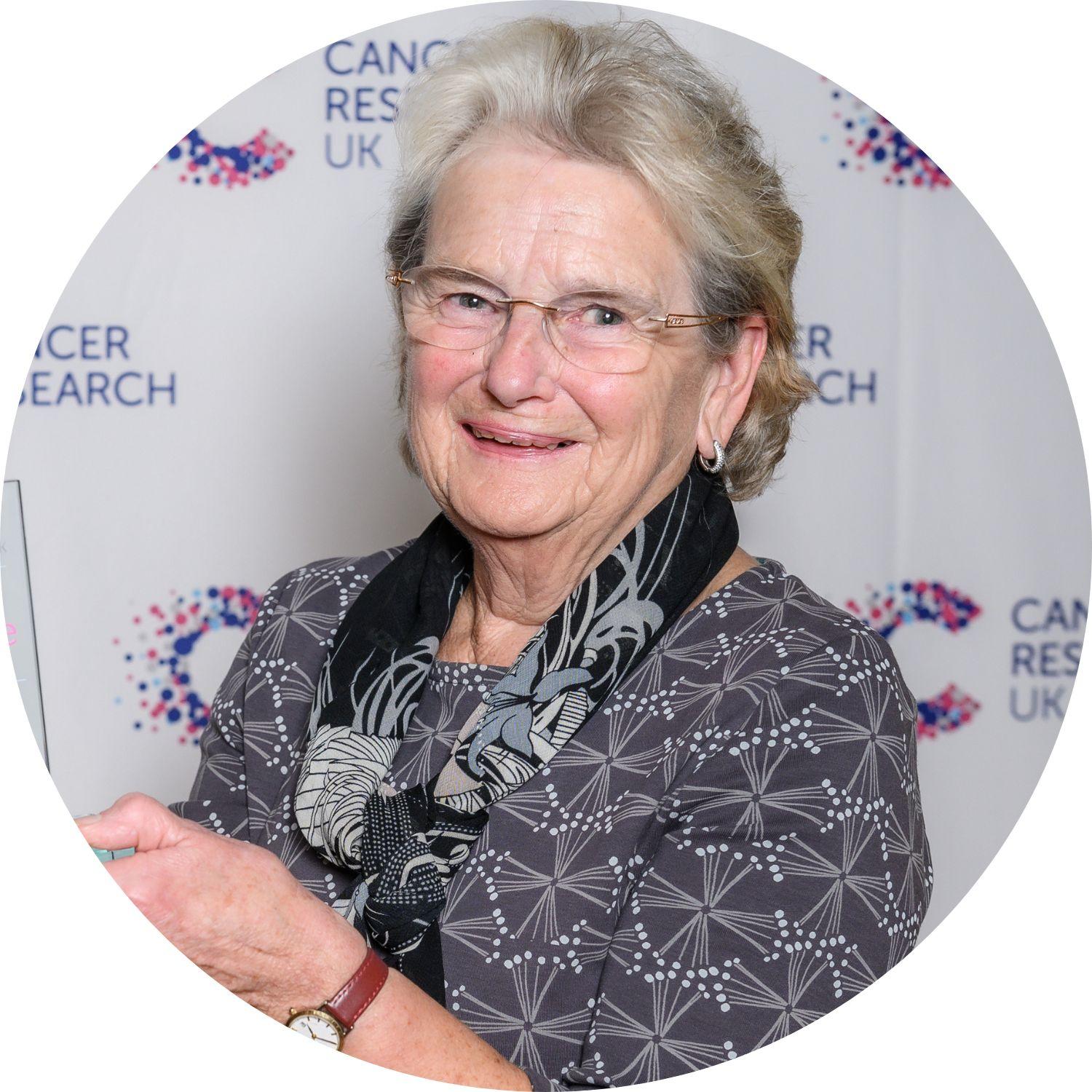 Volunteering for 21 years
''Ann has been with CRUK since 2002 and she works her volunteering in around her grandchild caring duties. She has helped to recruit and train new volunteers and provided cover to enable shop managers to have much needed time off whenever required.  Ann is consistently cheerful and a huge asset to the shop and CRUK. Her assistance has given us extra income from round up, raising nearly £142 since the start."
Ann Fraser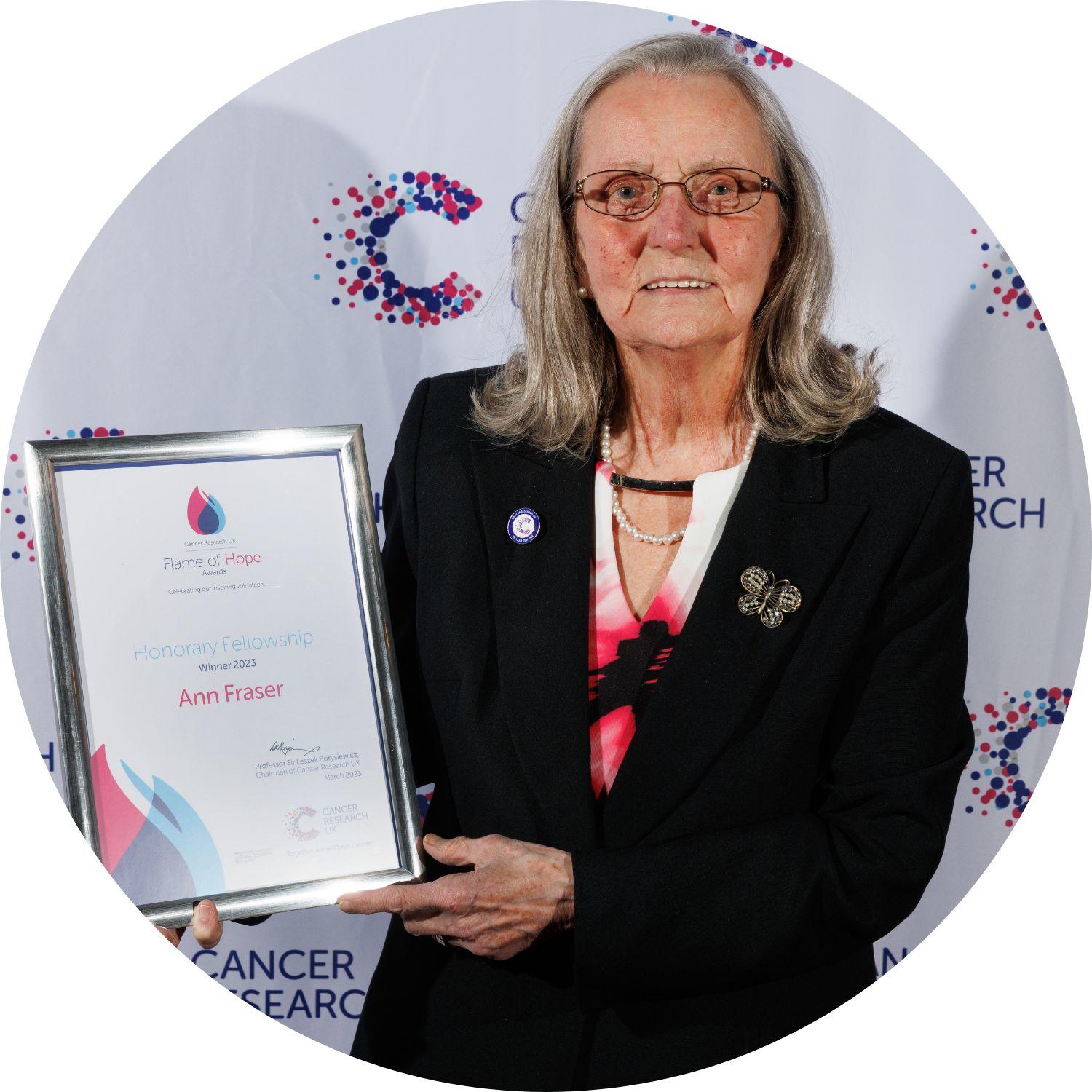 Volunteering for 32 years
''Ann has been part of the Kirkcaldy Shop team for an extraordinary 32 years! Whilst working full time, Ann volunteered in the shop every Saturday. Now in retirement, she helps out most afternoons, processing stock and helping to cash up. With brush in hand, Ann always ensures the back area is kept clean and tidy and is always one of the first to offer help with fundraising events – whether that's encouraging supermarket shoppers to try out the tombolo or standing on the cold high street in February for World Cancer Day. Ann's dedication is an inspiration to the whole team."
Ann McGinley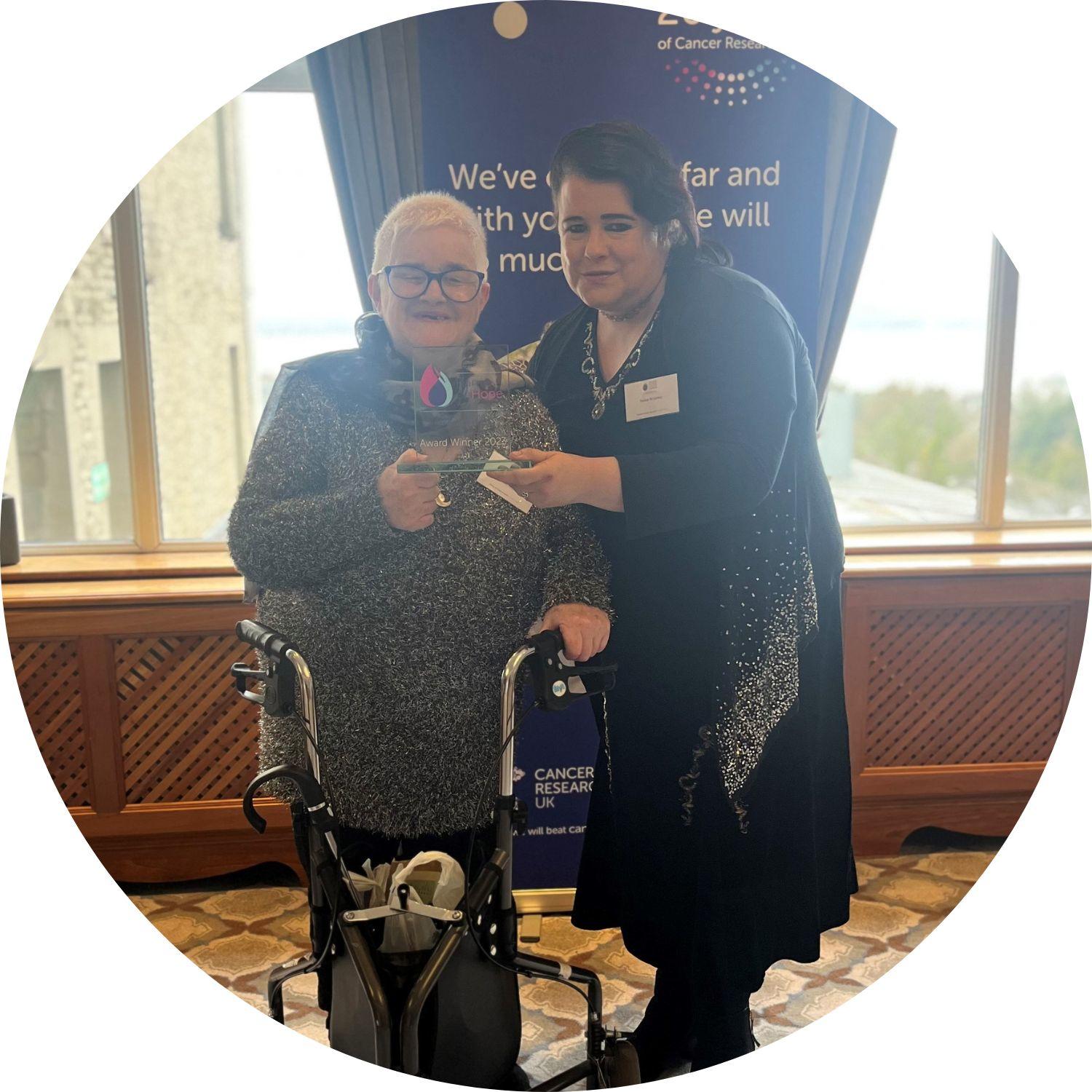 Volunteering for 20 years
"Having volunteered for 20 years, Ann is an absolute asset to the Armagh shop. She initially joined to help with her speech and confidence, and is now the life of the party every day she volunteers. She volunteers at least 4 to 5 days a week, and never fails to greet us with a smile and a story but is also always ready to get busy with her favourite job sorting books and dvds – plus sorting, tagging and putting out or culling stock. She knows almost everyone that crosses our threshold – 90% come in to chat to her while making their purchases! She is a pillar in the community and works above and beyond for the team. We would be truly lost without her."
Audrey Amphlett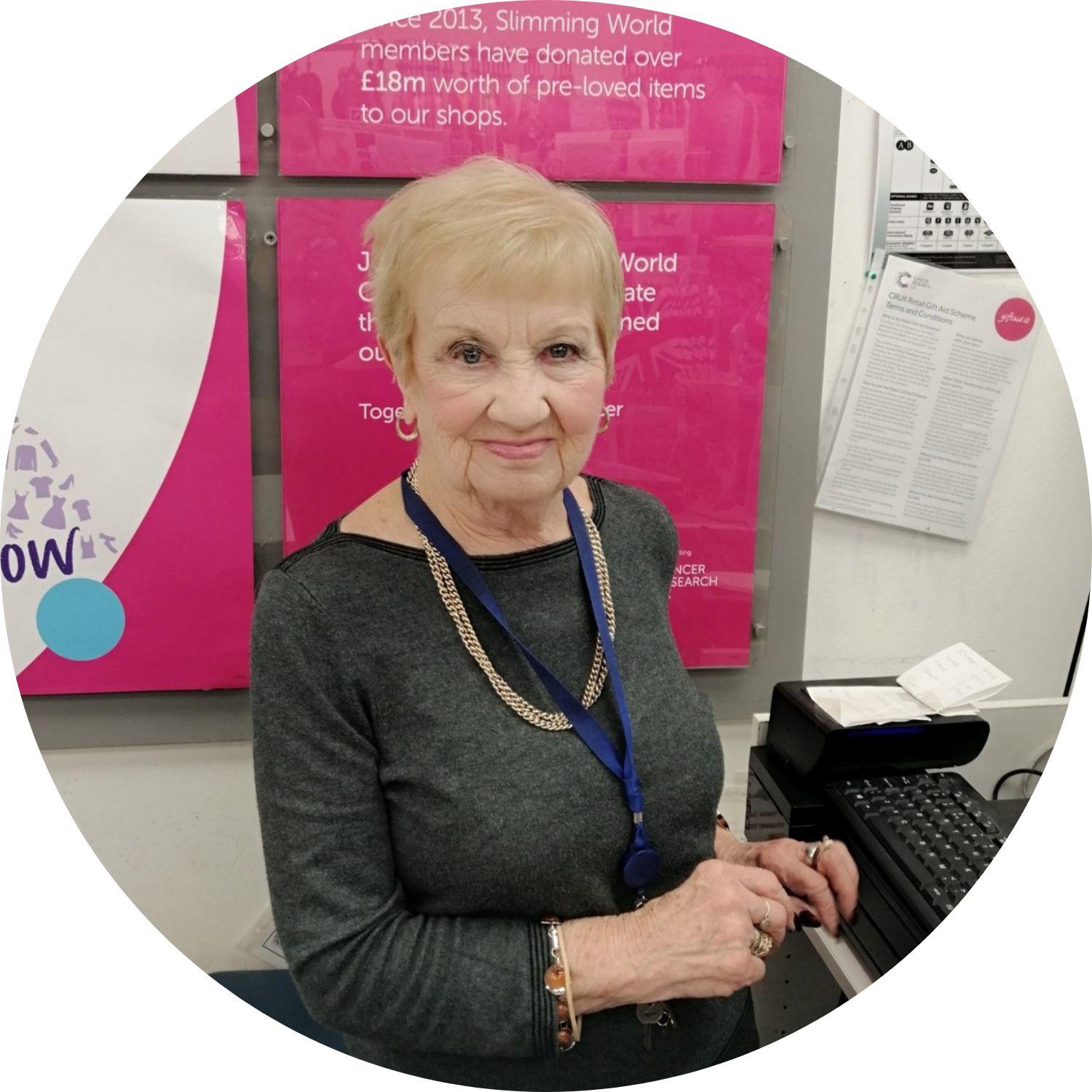 Volunteering for 18 years
"Audrey, at 85 years young is one of Worcester shop's longest serving volunteer.  Since 2005, she has volunteered for 3 days a week and is their fashion icon as well as a lottery ticket sales whizz. Charming the customers with her generous warmth, boundless energy and infectious giggle, she is happy to take on any tasks that are asked of her and is a great support to new team members. Always keen to return to the shop after each lockdown, Audrey played a vital part in keeping the shop open and thriving during a very difficult time."
Audrey Thickett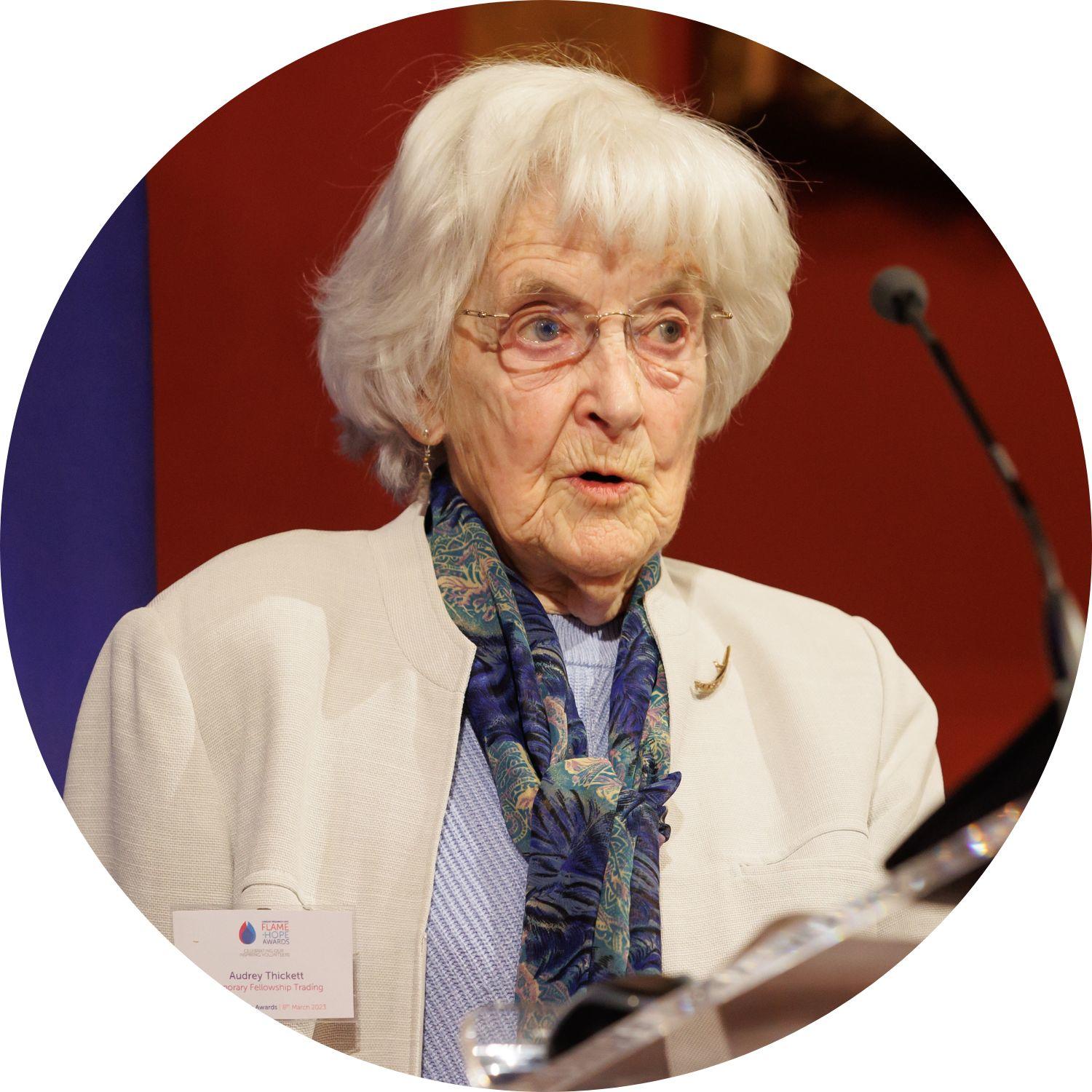 Volunteering for 29 years
"Audrey has volunteered at the Milngavie shop for an incredible 29 years, and currently comes in twice a week. She expertly takes charge of the bric-a-brac, ensuring that's it kept well stocked, appropriately priced, and wonderfully displayed. Audrey used to come in every single day to open the shop and clean the entire shop floor and back room. She shows a brilliant enthusiasm for fundraising, whether that's knitting Easter and Christmas decorations to sell or making her jam and marmalade for bake sales. She is a true inspiration to the whole Milngavie shop team."
Catherine (Rene) Downes
Volunteering for 20 years
''Rene is simply a fantastic volunteer. She has volunteered once a week with the Sheffield (Ecclesall Road) shop for the last 20 years. Her skills on the till are second to none and she is a vital member of the team. She is great with our customers, always helping and putting them at ease. In addition to volunteering in the shop, Rene supports our cash collections and with special fundraising events in the local area. Her valuable contribution to the running of our shop cannot be over-estimated."
Catherine Maguire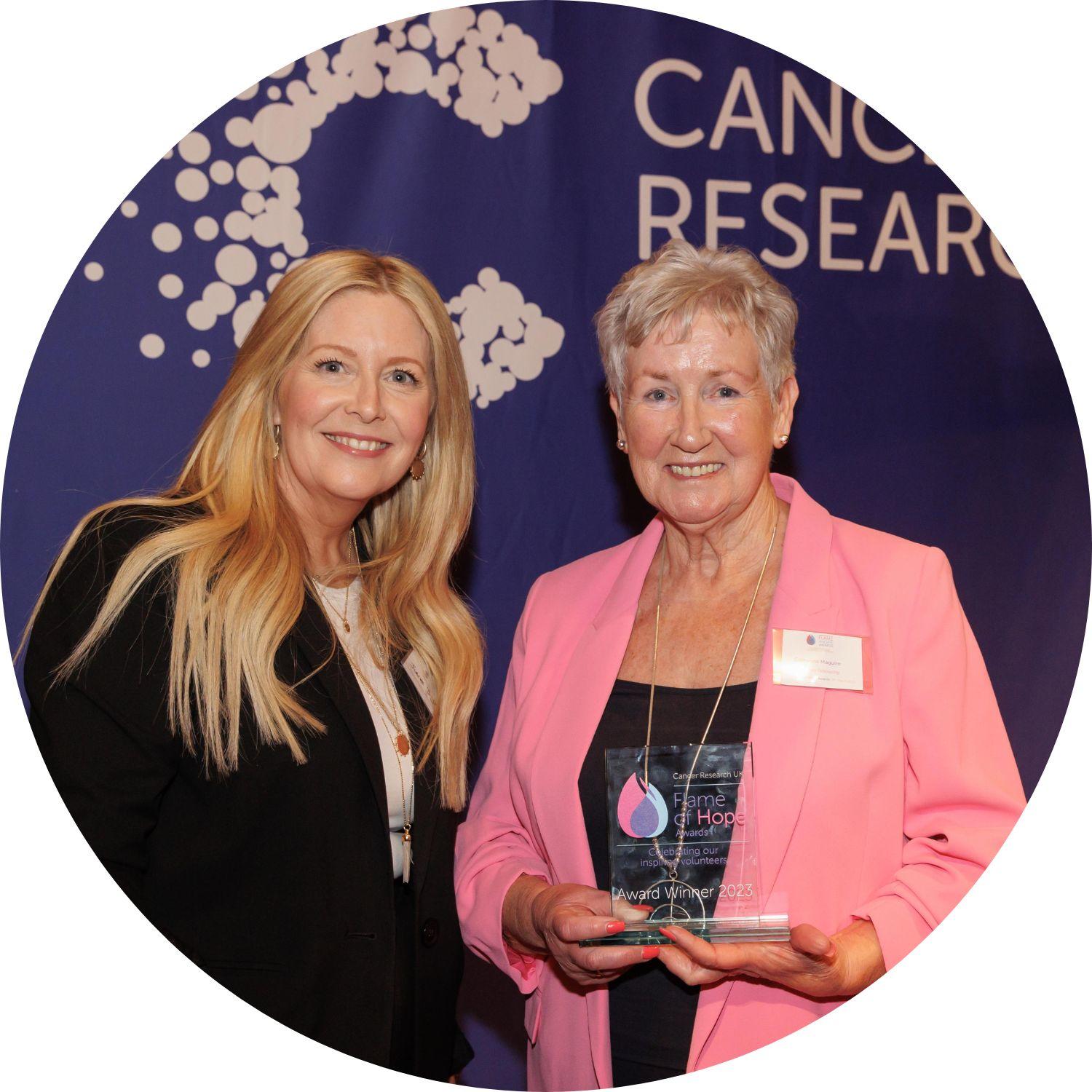 Volunteering for 17 years
''Cathy has volunteered at the Milngavie shop for 17 years. She has taken on many different responsibilities in the store, from banking and cashing up to looking after the book donations, which she does twice a week. Cathy enjoys supporting other volunteers, especially working with younger team members, and is fantastic at training them on new tasks. She is also an ardent fundraiser for Milngavie and supports campaigns in store."
Cath Mann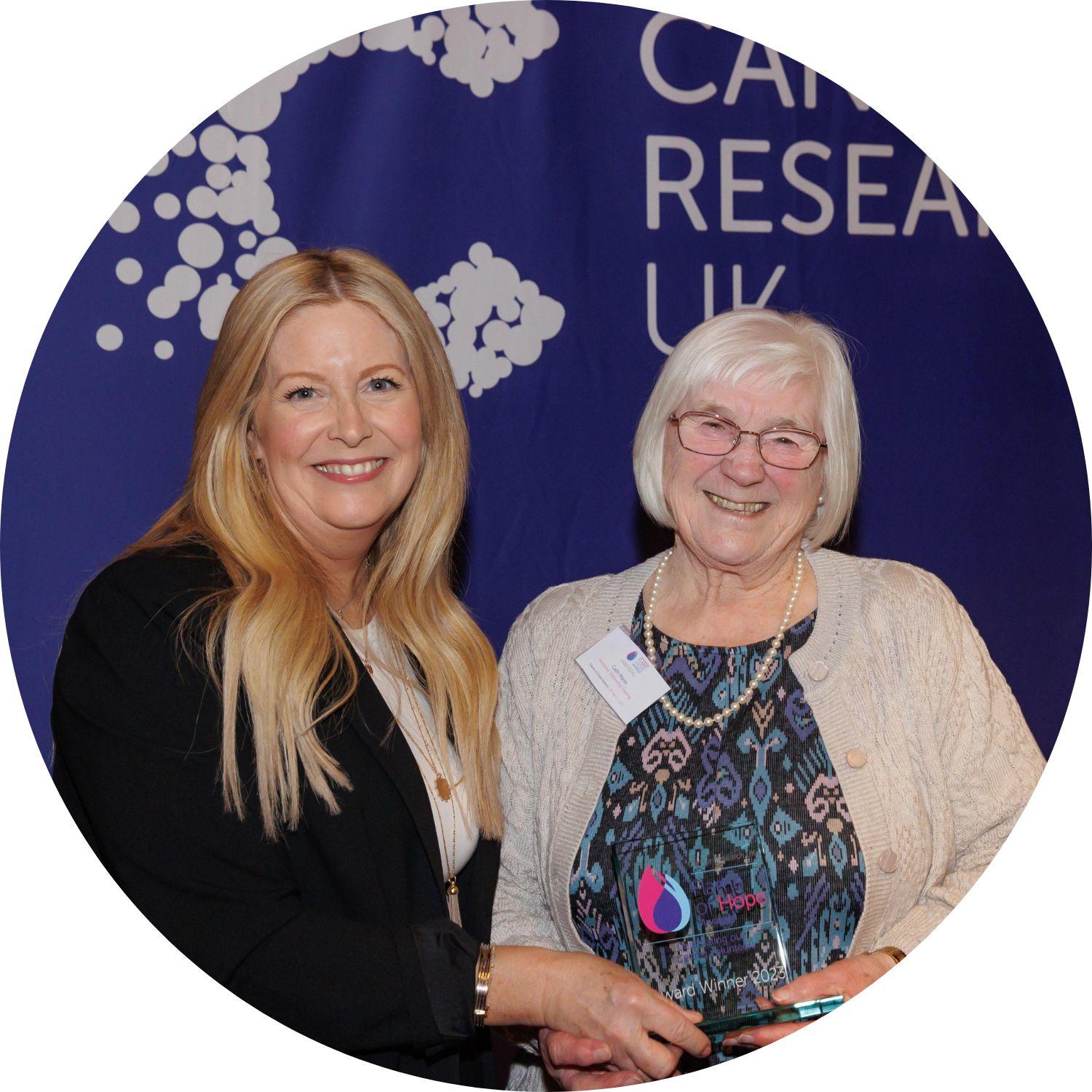 Volunteering for 33 years
''Loyal and supportive, Cath has been a huge part of the Davidsons Mains Shop team in Edinburgh ever since the shop first opened its doors 33 years ago. Always bringing a 'can-do' attitude, Cath's enthusiasm never fails to motivate and inspire the others in the team to keep going. Even with various changes in technology, Cath continues to learn and adapt, and will still help out on the till. She is always happy to take on an extra shift if needed and is a well-loved member of the Davidsons Mains volunteer team."
David Smith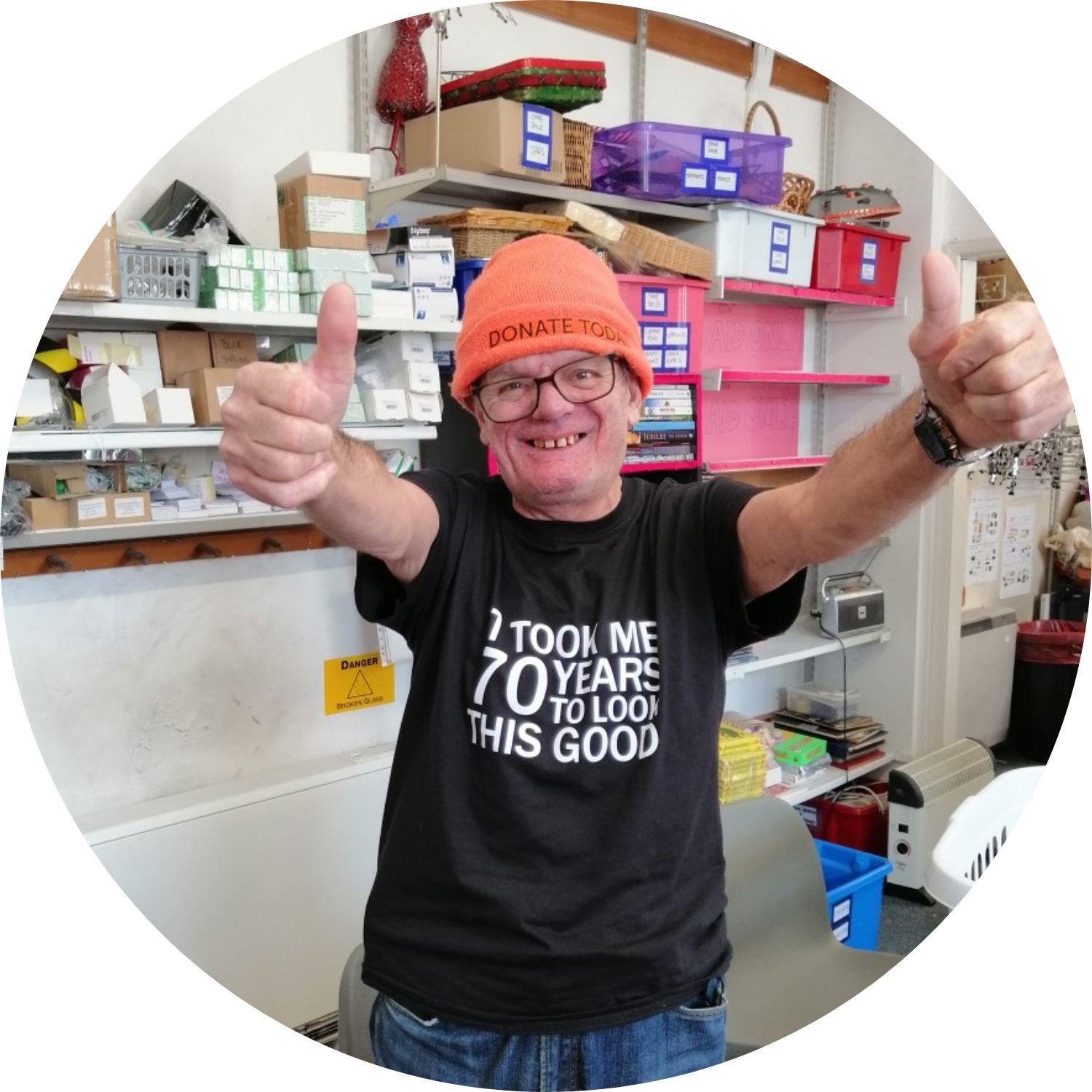 Volunteering for 15 years
"Volunteering for over 15 years, Dave can be found at the Worcester shop from Monday to Saturday every week and is described as a tonic and a complete joy to work with.  Dedicated, cheerful and kind, Dave is loved by staff, volunteers and customers alike.  As a key holder, he is often called upon in an emergency to open the shop, which he does without a moment's hesitation. Whether covering the till, taking the rubbish out or manning a cake stall, Dave rolls up his sleeves for any task thrown at him."
David Stringer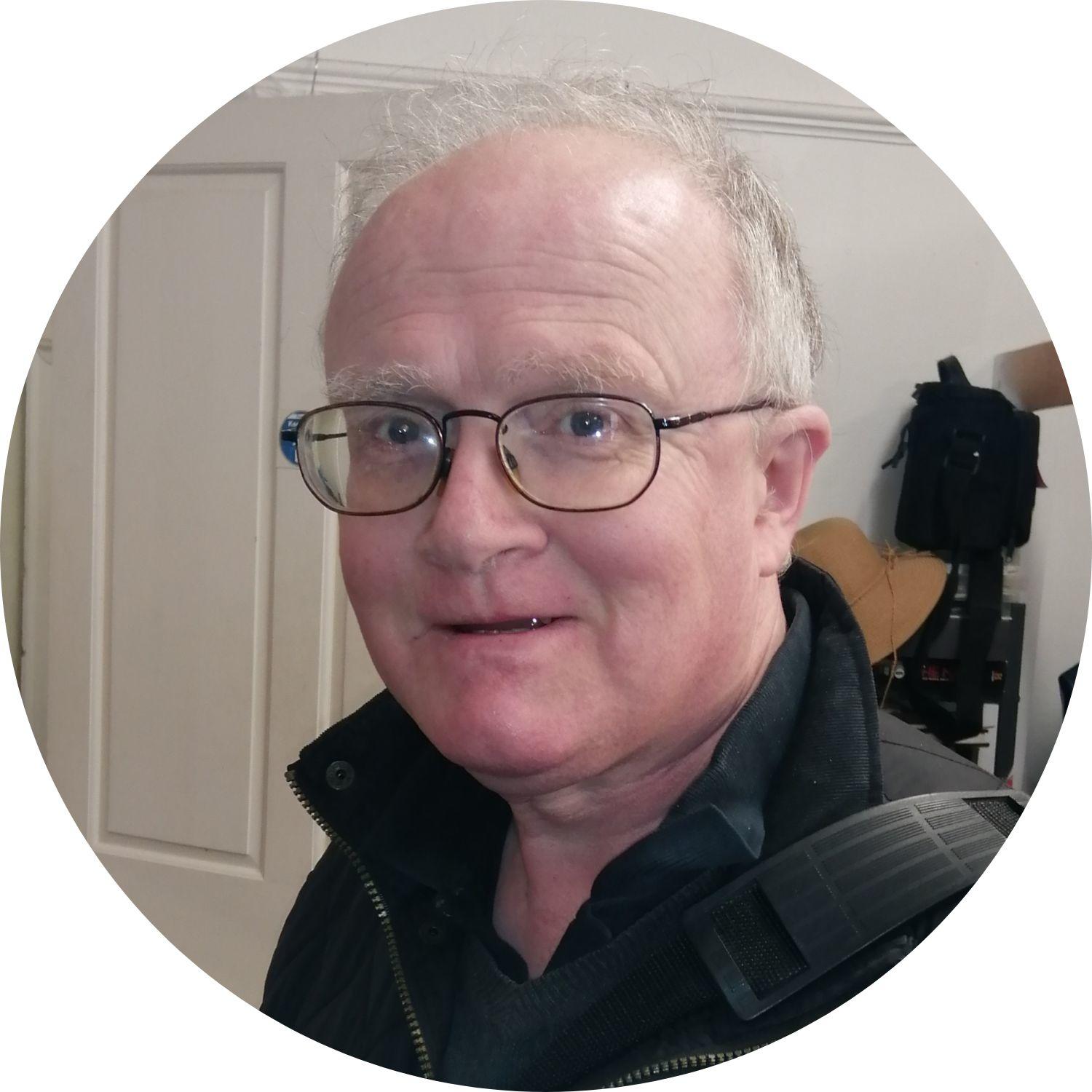 Volunteering for 18 years
"Clocking up over 23,000 hours, David has volunteered with the Chester Watergate Street shop for over 18 years. Always helpful and supportive, David will open and close the shop, cover holidays and get involved with fundraising activities as well as training new volunteers on the till. He has a great rapport with customers and his calm attitude is appreciated by the team who feel very fortunate to have found such a dedicated and loyal volunteer."
Eileen Baldwin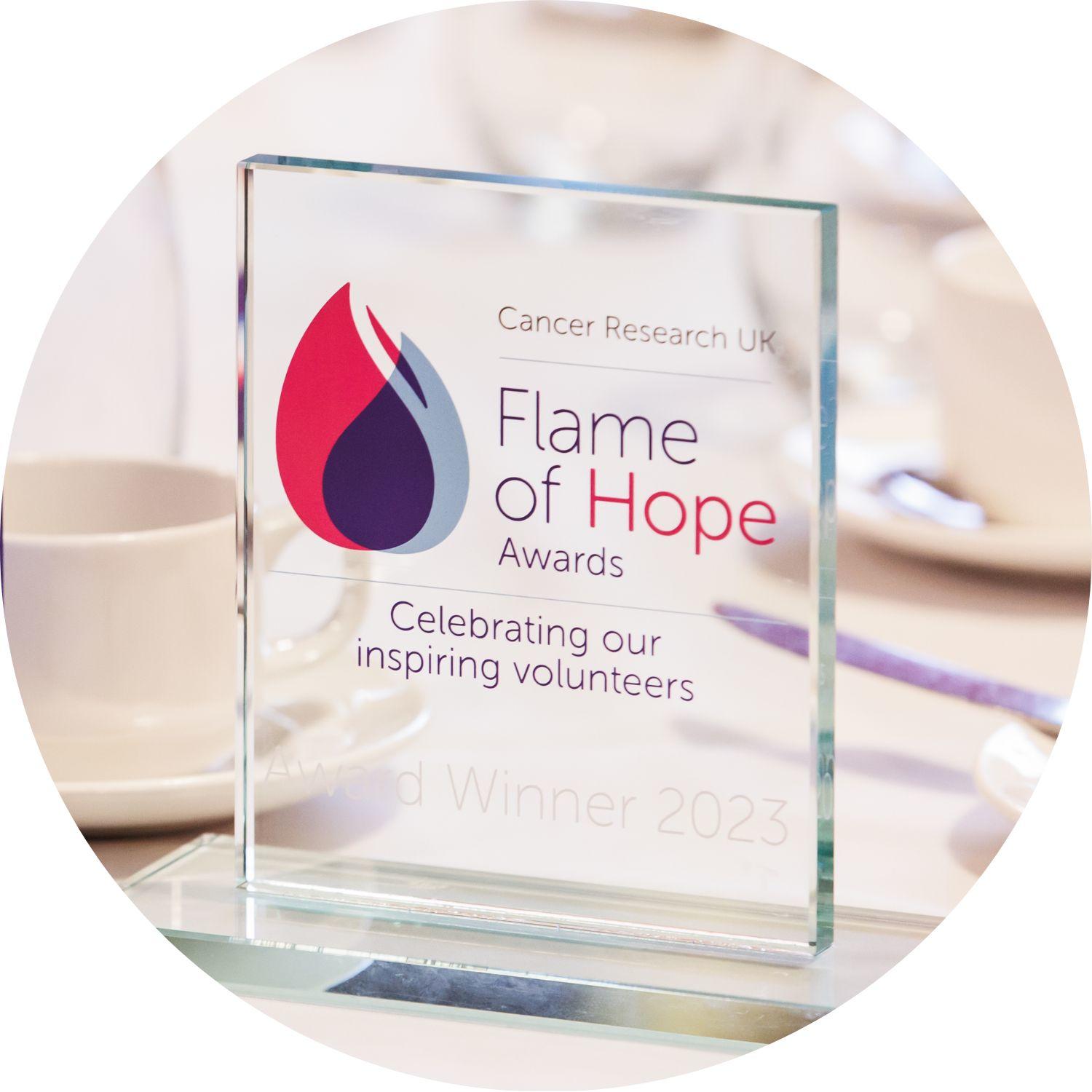 Volunteering for 25 years
''Eileen has volunteered in the Sudbury shop for 25 years. She is 83 years old and volunteers for two days every week. We call her the ''Queen of steam'' due to her expert steaming skills! Eileen will always offer to help at fundraising events and is great at finding new ways for the shop to raise money. She regularly collects donations from family, friends and neighbours. Eileen's commitment to the charity is fantastic."
Elaine Parker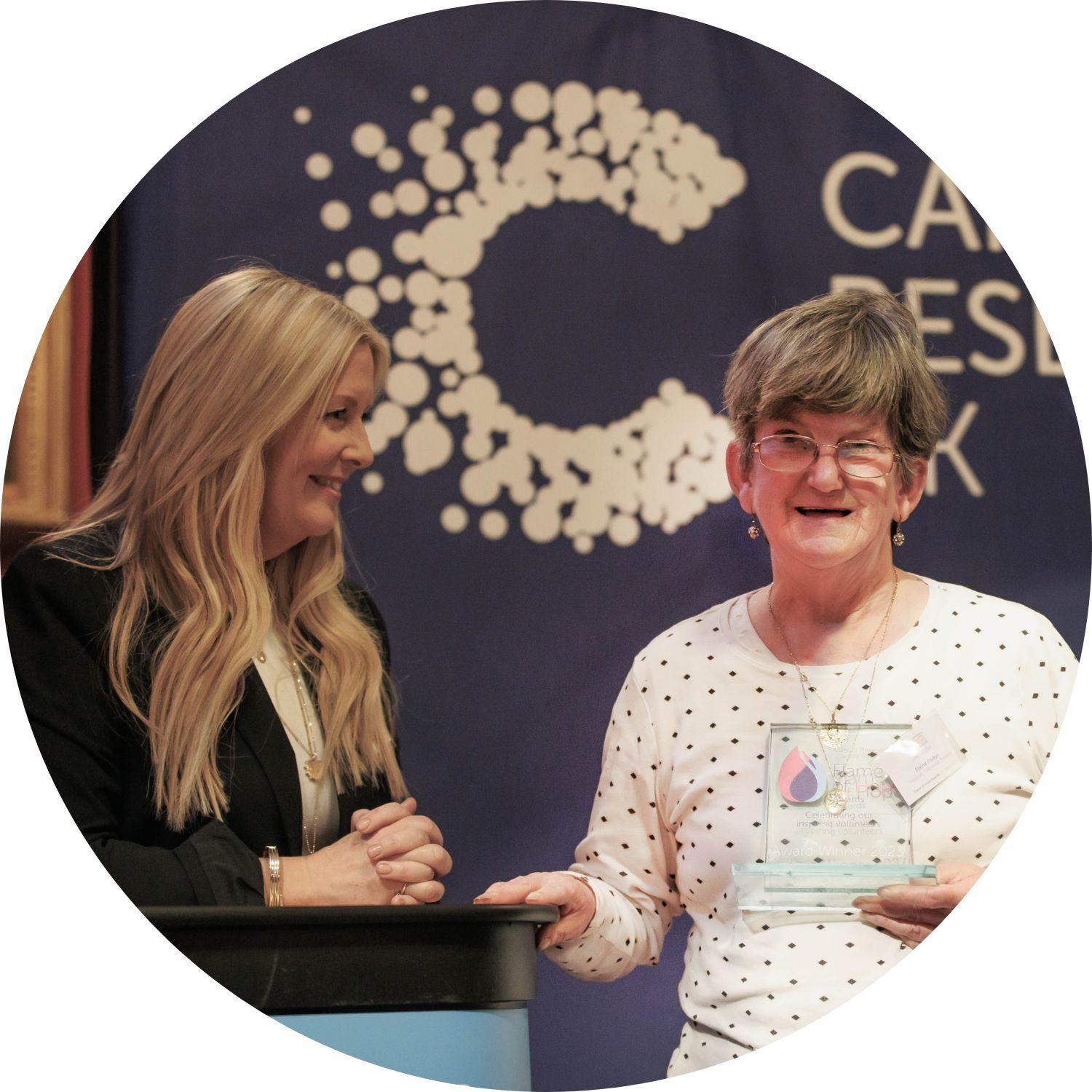 Volunteering for 15 years
"Elaine has been a committed volunteer at the Wishaw Shop for over 15 years. She can often be found telling jokes, making tea, or ensuring that there's always a supply of biscuits. Elaine is also a fantastic fundraiser and advocate - most of Wishaw knows Elaine, and everyone who does knows that she volunteers for Cancer Research UK. As an active member of the Cambusnethan Miners Club, she uses her connections to sell badges and to regularly carry out collections. Elaine has even raised over £400 through her own brilliant personal fundraising challenge of doing 10,000 steps a day."
Eleanor O'Kane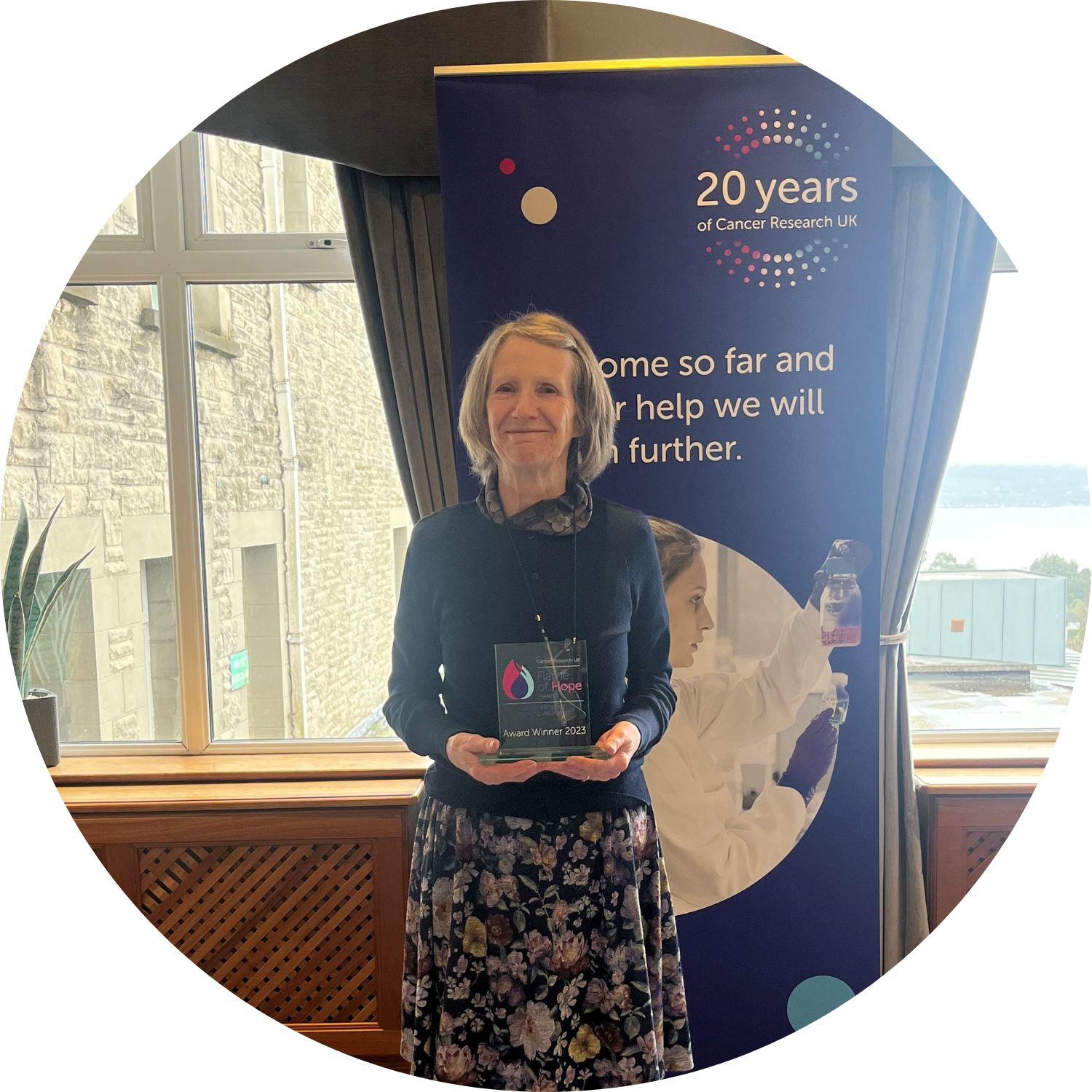 Volunteering for 21 years
"For 21 years Eleanor has supported our shop with fundraising campaigns, cash collections, holiday cover, extra hours and managing our BIG department – even supporting multiple branches during the pandemic. She's built relationships with customers, and never fails to provide a welcoming experience. Having lost her husband Rod to skin cancer a few years ago - who used to help us with general maintenance - Eleanor's passion for our charity has continued to grow, as she doesn't want other people to have to go through what her family has. She is really is a pillar of our store, and a true asset to CRUK having shown nothing but loyalty, support and passion from the outset. While she does not seek any praise, she deserves as much recognition as the charity can give."
Elisabeth Ayers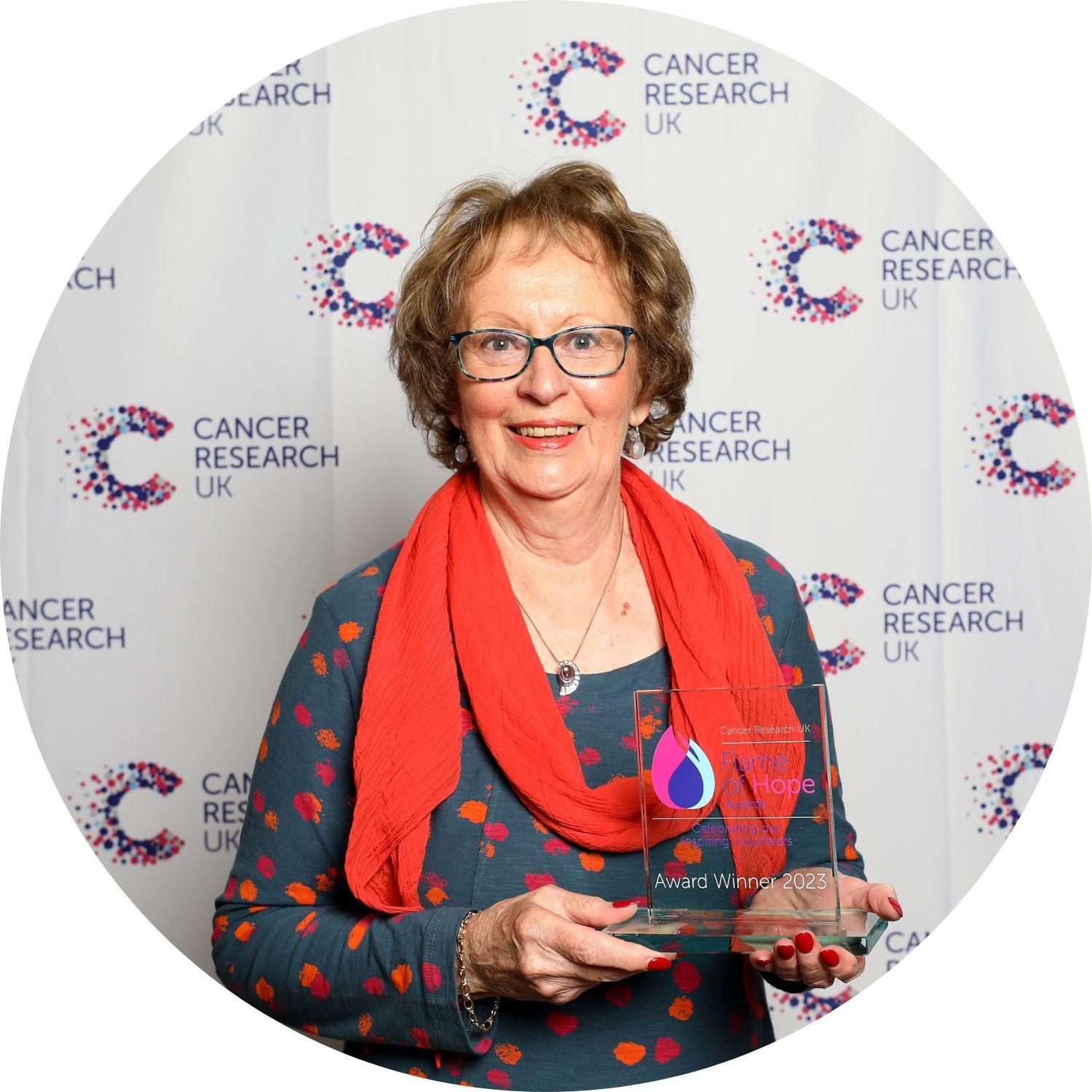 Volunteering for 27 years
"Elisabeth has volunteered with the Twickenham shop team since 1996. She pops in almost every day to check how we all are because of her caring nature. Elisabeth's always available and ready to help, no matter what the issue is. She'll talk about our research strategy whenever she can to build awareness in the local community. She never misses an opportunity to raise vital funds, involving her family, friends and local Zumba group. Her exceptional organisational skills and bubbly personality make Elisabeth a great asset to the team."
Gabriella Allen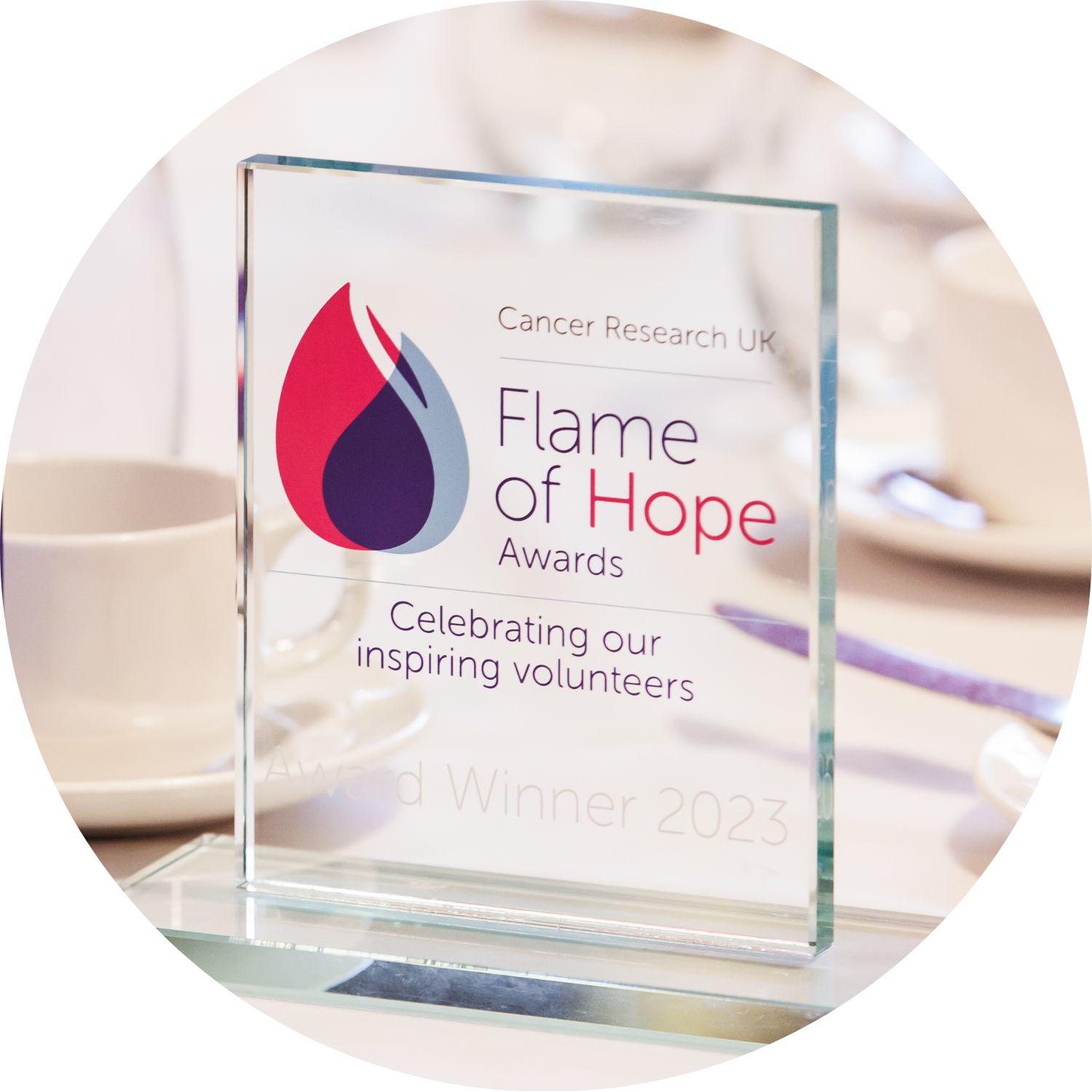 A volunteer for 15 years
"Gabriella volunteered at the Blackpool shop for a fantastic 15 years. She joined in with all the shop's fundraising, always willing to help wherever she could. From running into the sea in October, pushing a bath along Blackpool's promenade, to being a live mannequin – she did it all! She completed Race for Life every year, raising hundreds of pounds towards our research. She was a tough and feisty lady, constantly looking for new ways to raise money to help beat cancer. The shop team was extremely fond of her, and felt very proud to have her on the team." 
Gabriella sadly passed away at the start of this year.
Gillean Buchanan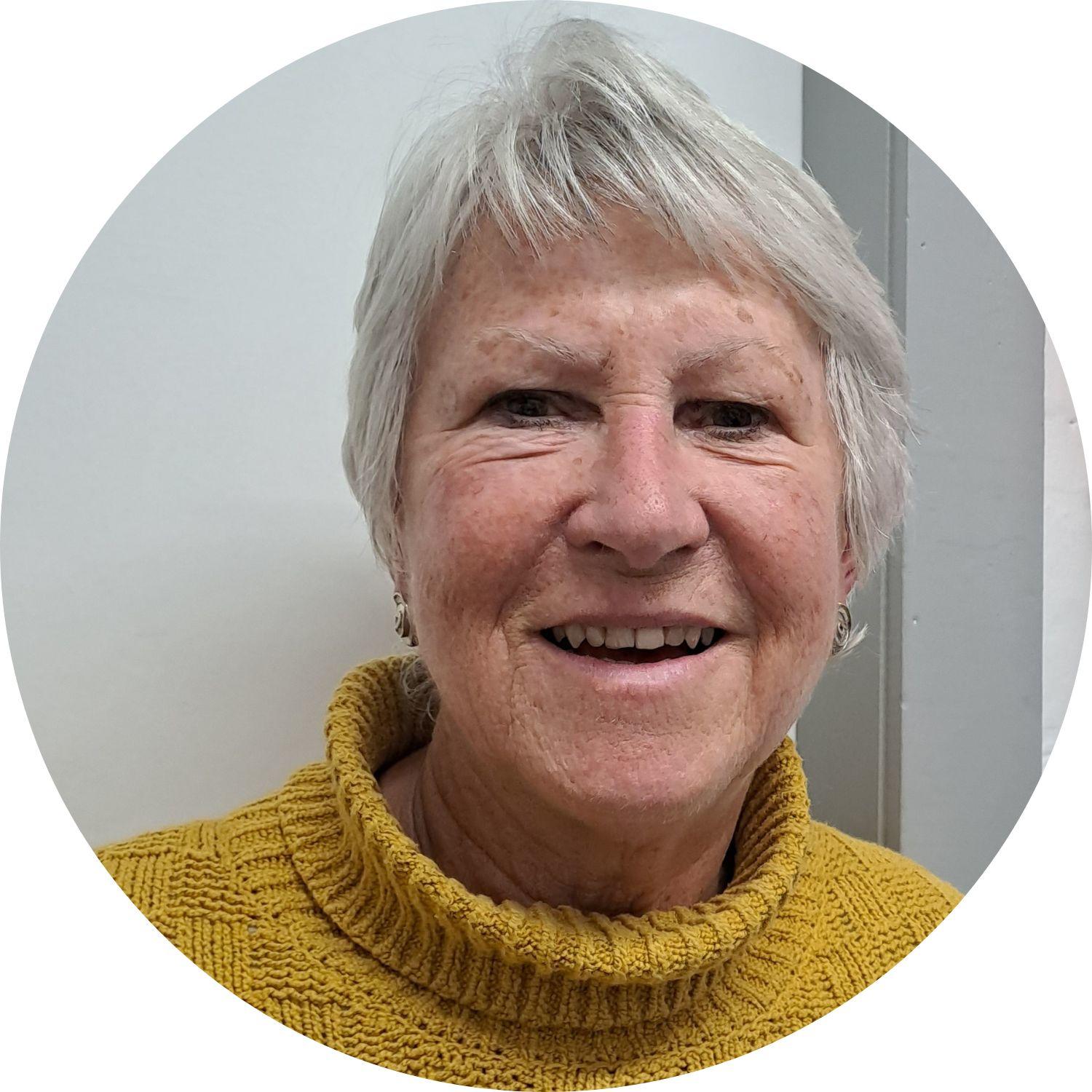 Volunteering for 25 years
"Gillean has been a dedicated volunteer in the Clarkston shop since 1998. As the shop's book expert, she tirelessly researches, prices, displays and merchandises the book department. Over the past three years, the Clarkston shop made almost £50,000 in books, which is no doubt down to Gillean's hard work and determination. More recently, Gillean has looked after the jewellery in the shop, using her wonderful relationship with the local jeweller to price the better pieces. Gillean brings such admirable dedication, expertise and fantastic sense of humour to everything she does for Cancer Research UK."
Gladys Bruce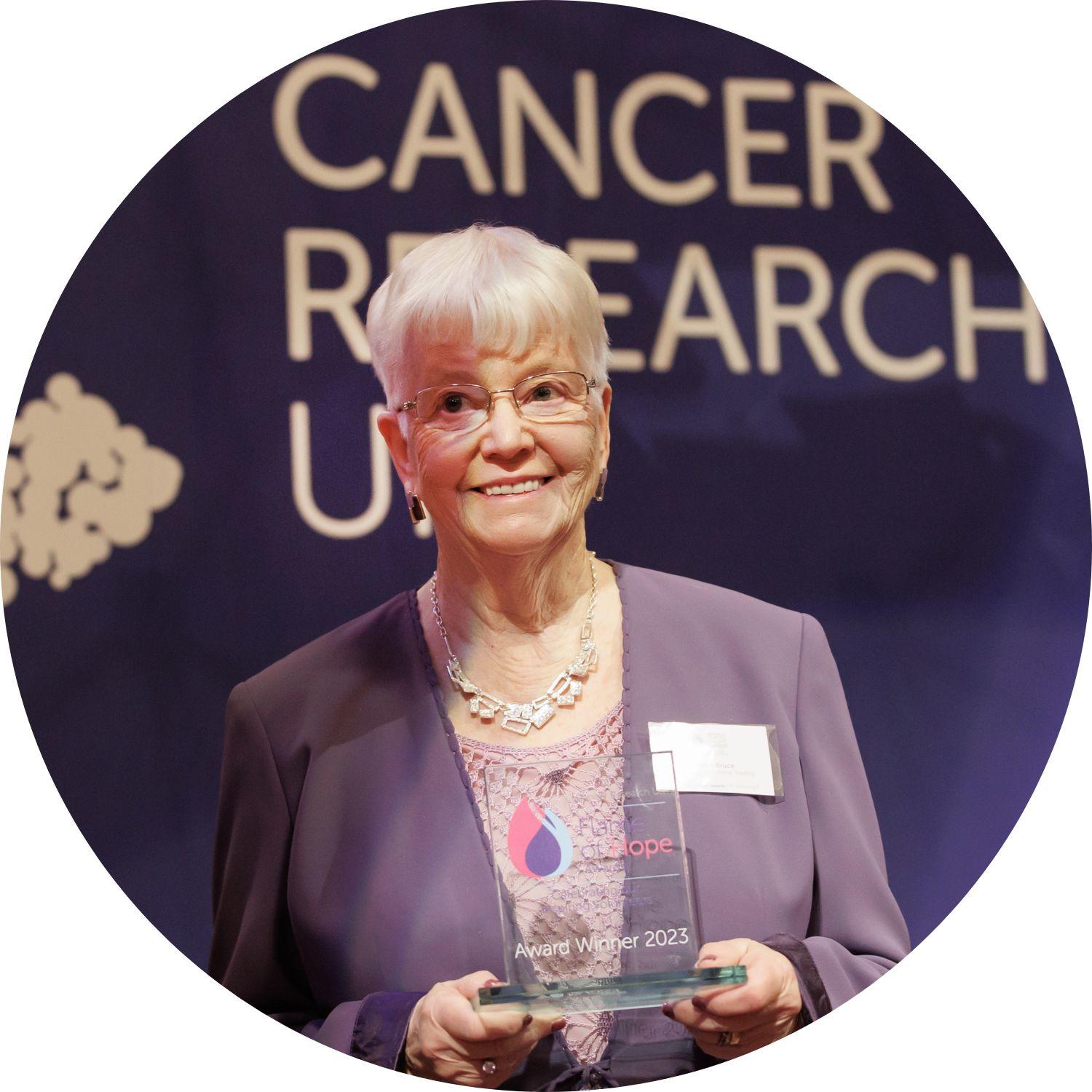 Volunteering for 15 years
"Gladys has volunteered in the Montrose shop for an amazing 15 years. An expert at sorting, Gladys effectively and efficiently sorts through a huge number of bags during her four hour shift each week. She is such kind member of the team and can often be found making everyone tea and toast. Committed and reliable, Gladys never misses a shift and is hugely committed to supporting the work of Cancer Research UK."
Iris Shaw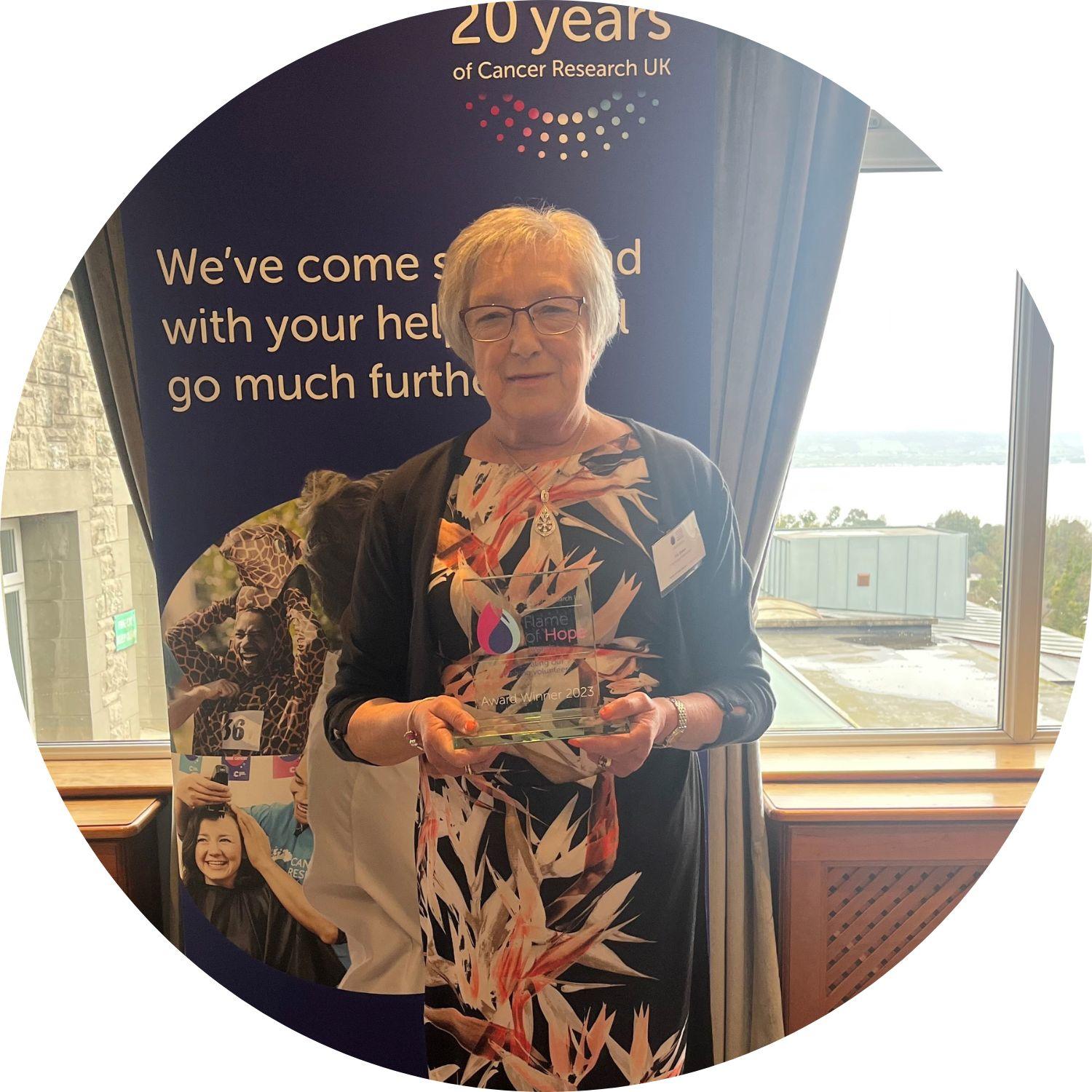 Volunteering for 24 years
"Iris began volunteering in 1999, and has been a keyholder for over 22 years ensuring access during sickness, repairs and even the police in case of emergencies. She volunteers two days a week, and does extra when needed. Her customer service is fab, and she's great with new volunteers and cash collections too - but she especially loves helping with our wedding department, spending hours helping customers with dress fittings, hats and other attire. When her husband was diagnosed with cancer during Covid, the purpose of her volunteering became very personal, and she continues to give her time willing as she knows research is the answer to finding cures to beat this horrible disease. She is a shining beacon for cancer research."
Isabell Haddow
Volunteering for 20 years
"Isabell has volunteered in the Johnstone shop for an amazing 20 years. During that time, she has continued to come in every week, even coming in on a Saturday after working all week. Isabell tirelessly fundraises, whether that is organising tombolo's, baking tasty treats, or dressing up and getting out in the community. World Cancer Day, Race for Life and Tesco Turns Pink are just some of the campaigns that have benefitted from Isabell's unwavering hard work and enthusiasm."
Ivy Blake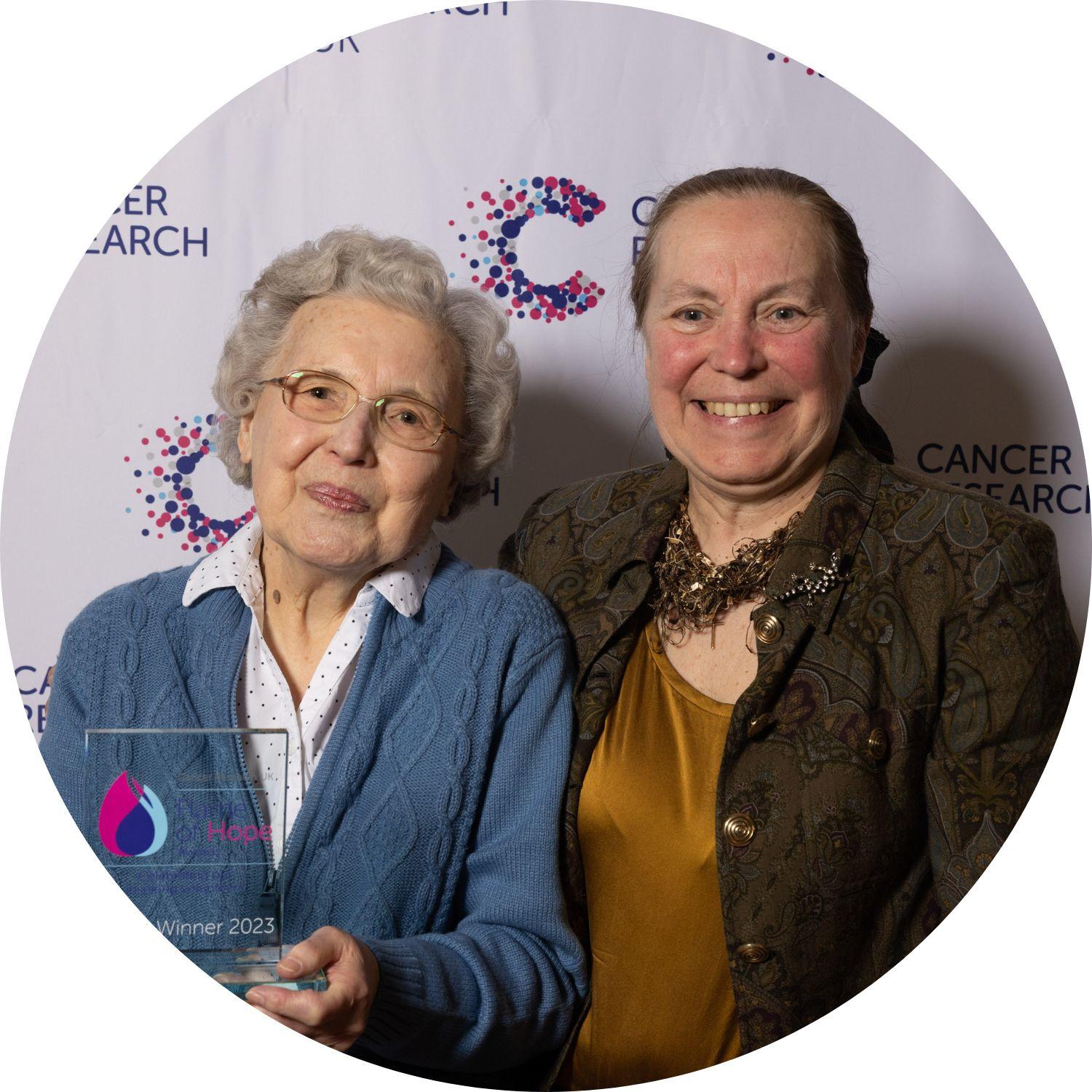 Volunteering for 34 years
"Ivy has volunteered in the Wallingford shop since 1989. During this time, she has seen many changes but continues to be a vital support to both the shop team and the community. Ivy volunteers three times a week and has a great network of customers who come in specifically to see her. Nothing is too much to ask of Ivy. She is more than happy to complete all tasks given to her even, as Ivy puts it, at the age of 90. Ivy loves the social aspect of volunteering, and you can see that from her smile."
James Nolan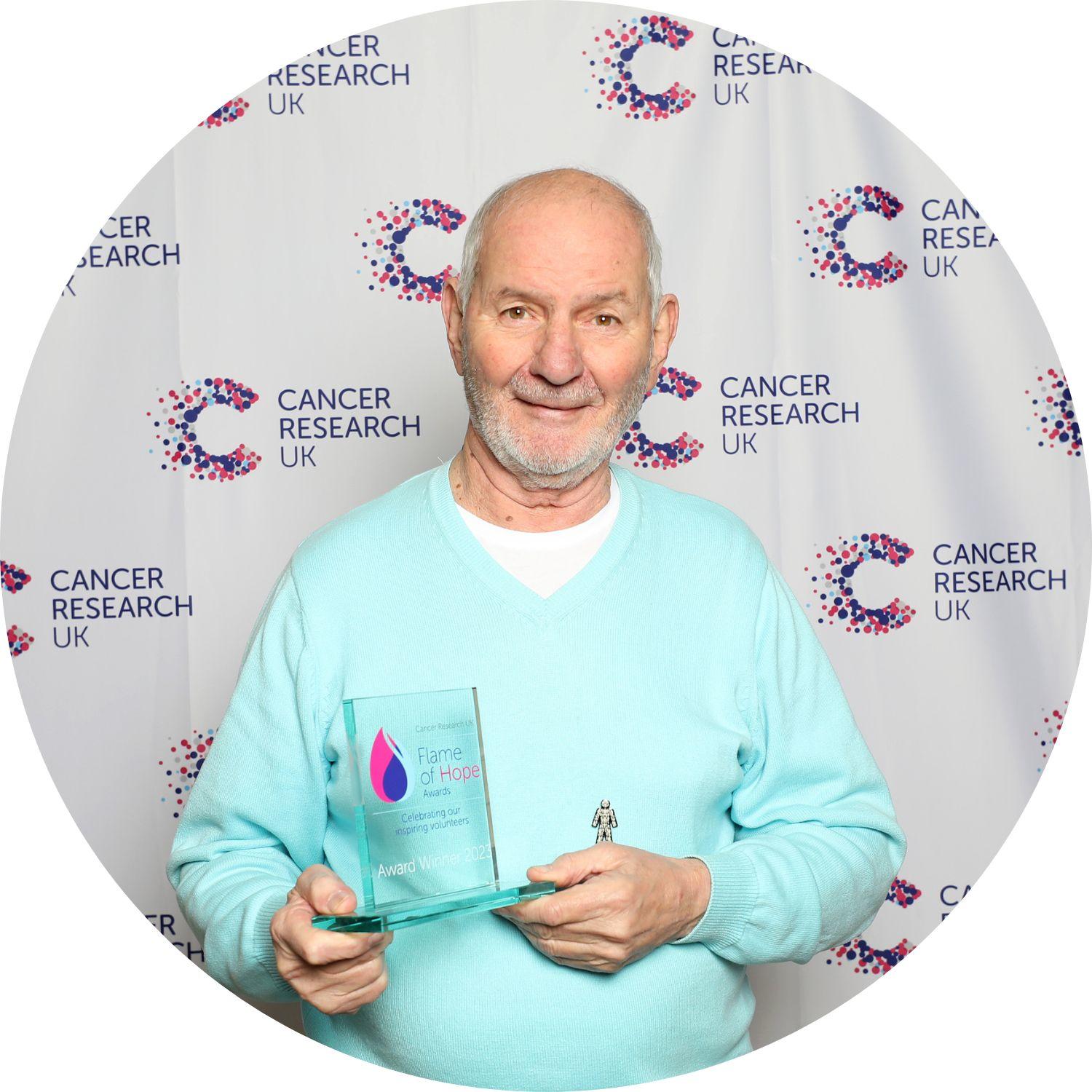 Volunteering for 21 years
"James has volunteered at the Brentwood shop for 21 years. He is very popular with the team and customers alike. Always ready with a kind word, he has learnt how to say hello, thank you and goodbye in numerous European languages so that he can use these with our customers. He's an exemplary Cancer Research UK volunteer. James never misses a shift and is an absolute joy to be around."
Jane Webber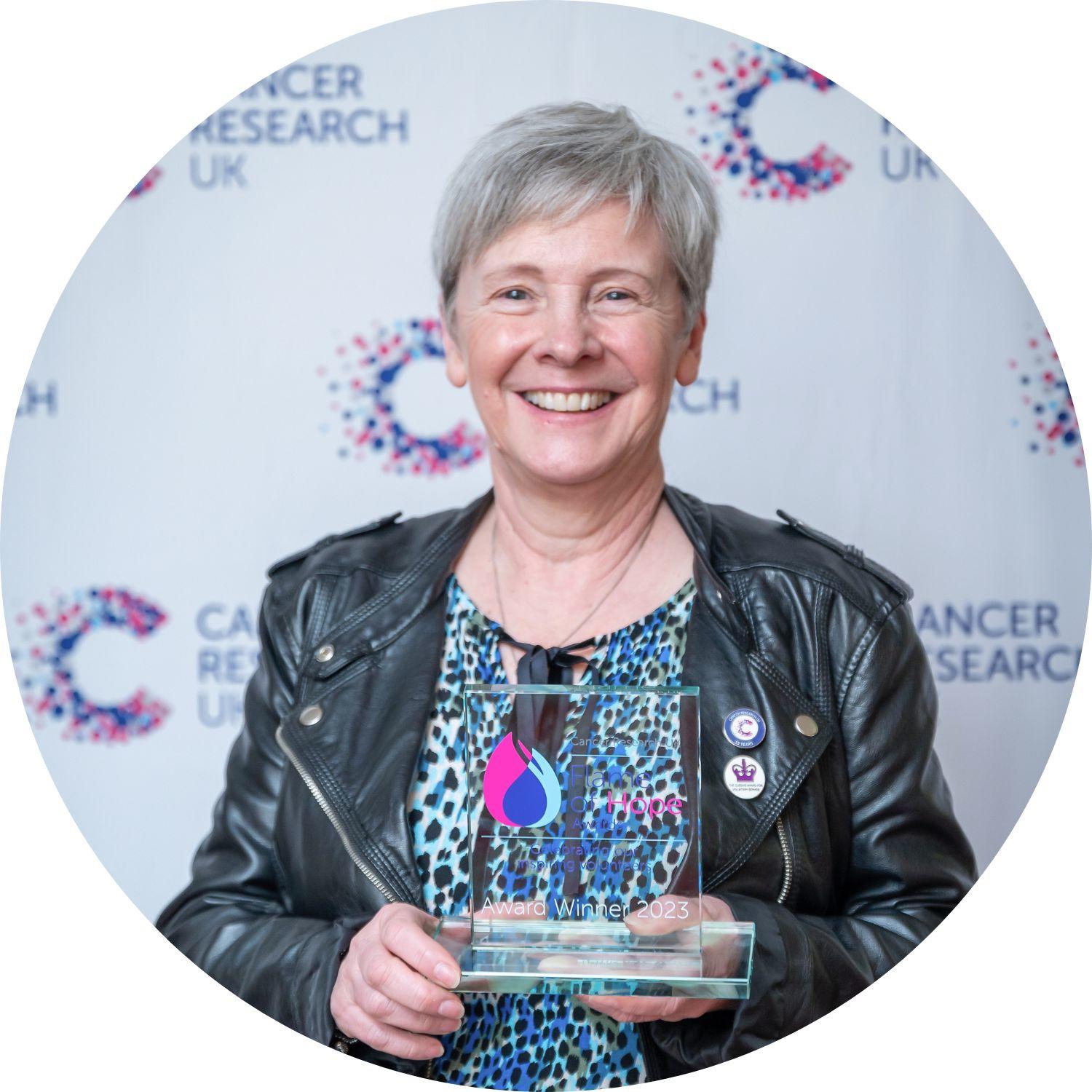 Volunteering for 15 years
"Jane has volunteered with Cancer Research UK in Didcot for 15 years. She has an enormous amount of positive energy and is always willing to help when she can. She's an extremely competent volunteer and has run the shop in my absence. Jane recently moved to the south coast, but even before moving she had already contacted the local shop in Seaford and is now volunteering for them. This demonstrates how committed she is to the charity. Jane is an absolute asset to Cancer Research UK – the Seaford shop are very lucky to have her."
Janice Lymer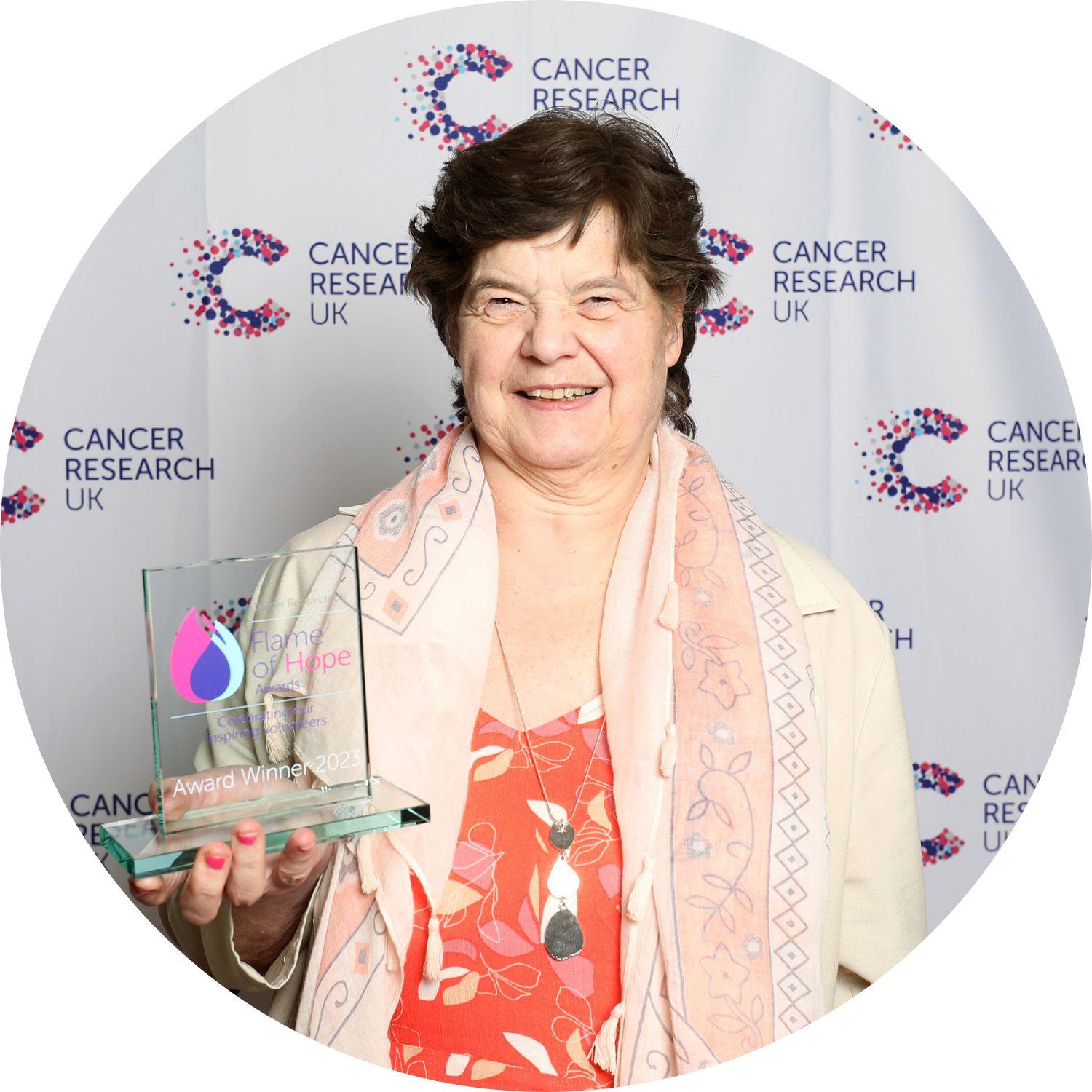 Volunteering for 30 years
"Janice has been volunteering at the South Woodford shop for 30 years. She will often come in on extra days if needed and is willing to do anything she can to support the shop. Always thinking about how she can help, Janice will bring in magazines containing fashion trends to provide design inspiration for our fashion windows and displays. She is fantastic at hanging and tagging clothes, and she'll collect stock donations from friends and family. We are so grateful for Janice's time and commitment to the charity."
Jaqueline Smith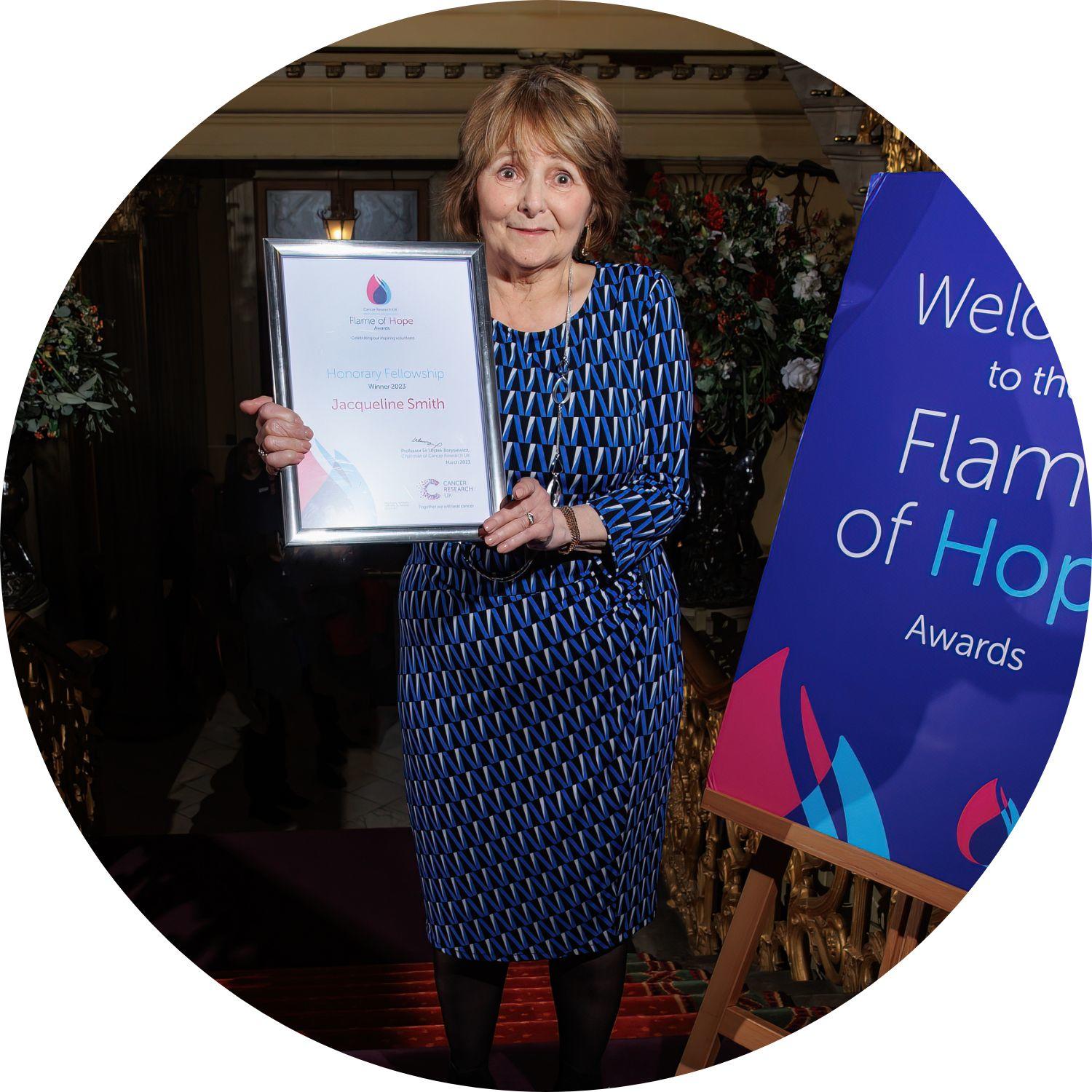 Volunteering for 25 years
"For a phenomenal quarter of a century, Jackie has been volunteering at the Coatbridge shop, or as she affectionally calls it, 'a little boutique in Coatbridge'. When Jackie sadly lost her husband in 2019 to prostate cancer, her response was to volunteer an extra day per week. Jackie has given so much to the store, and brings with her huge expertise in jewellery, fashion and more. Always immaculately dressed, Jackie is also the shop's best customer! Through many changes in staff and volunteers over the years, Jackie has continued to give her time, and is much-loved by the whole team."
Jerry White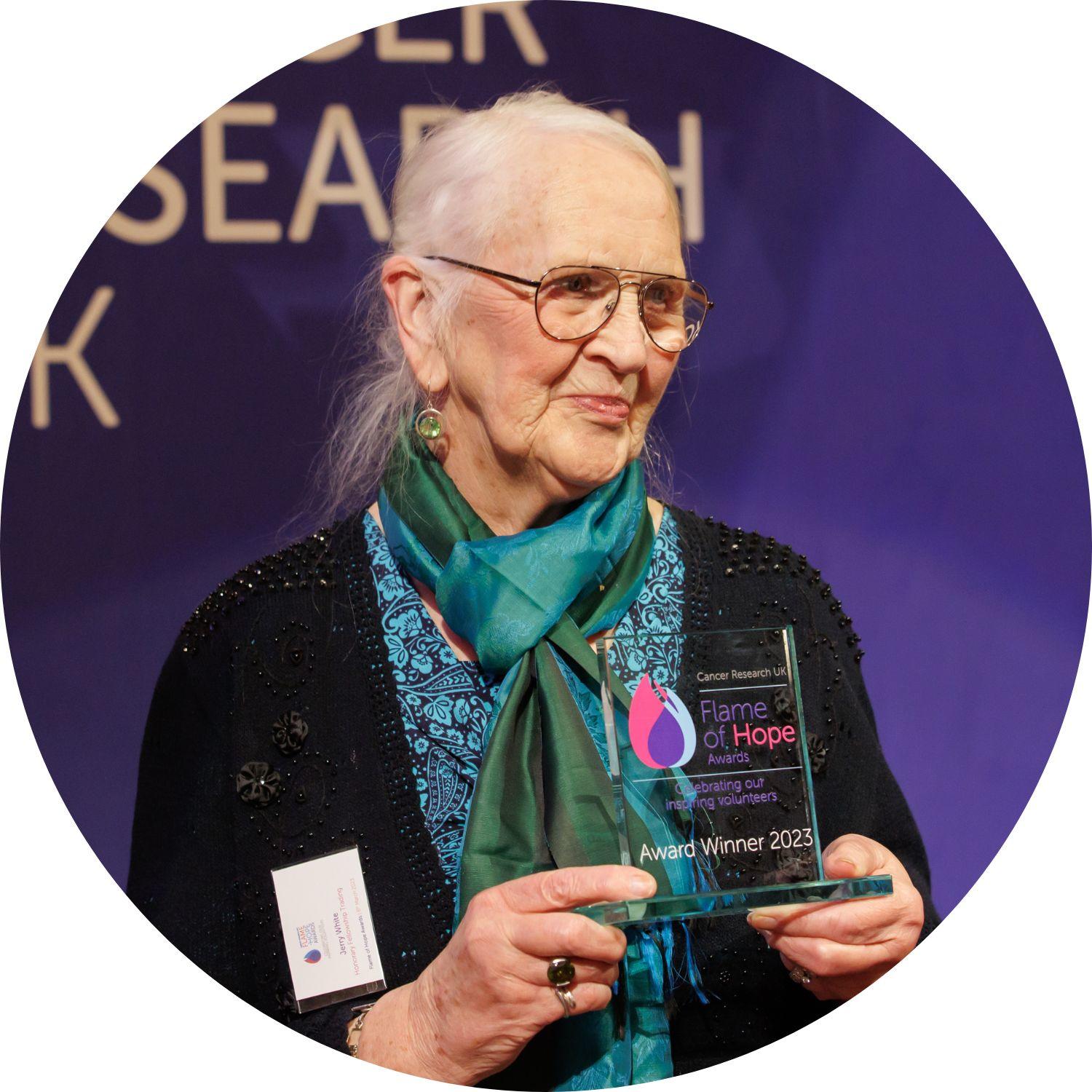 Volunteering for 33 years
"Jerry has volunteered at the Davidsons Main shop in Edinburgh ever since the shop first opened 33 years ago. Jerry goes above and beyond in her fundraising efforts, whether that's selling cards and wool at her local shop, donating plants that she has grown, or providing delicious baked goods to sell in the shop. A passionate advocate for Cancer Research UK, Jerry will never fail to help if the shop is short on volunteers and will encourage her friends to help too. Always coming in with a smile on her face, Jerry is a hugely valued member of the team."
Joan Cornes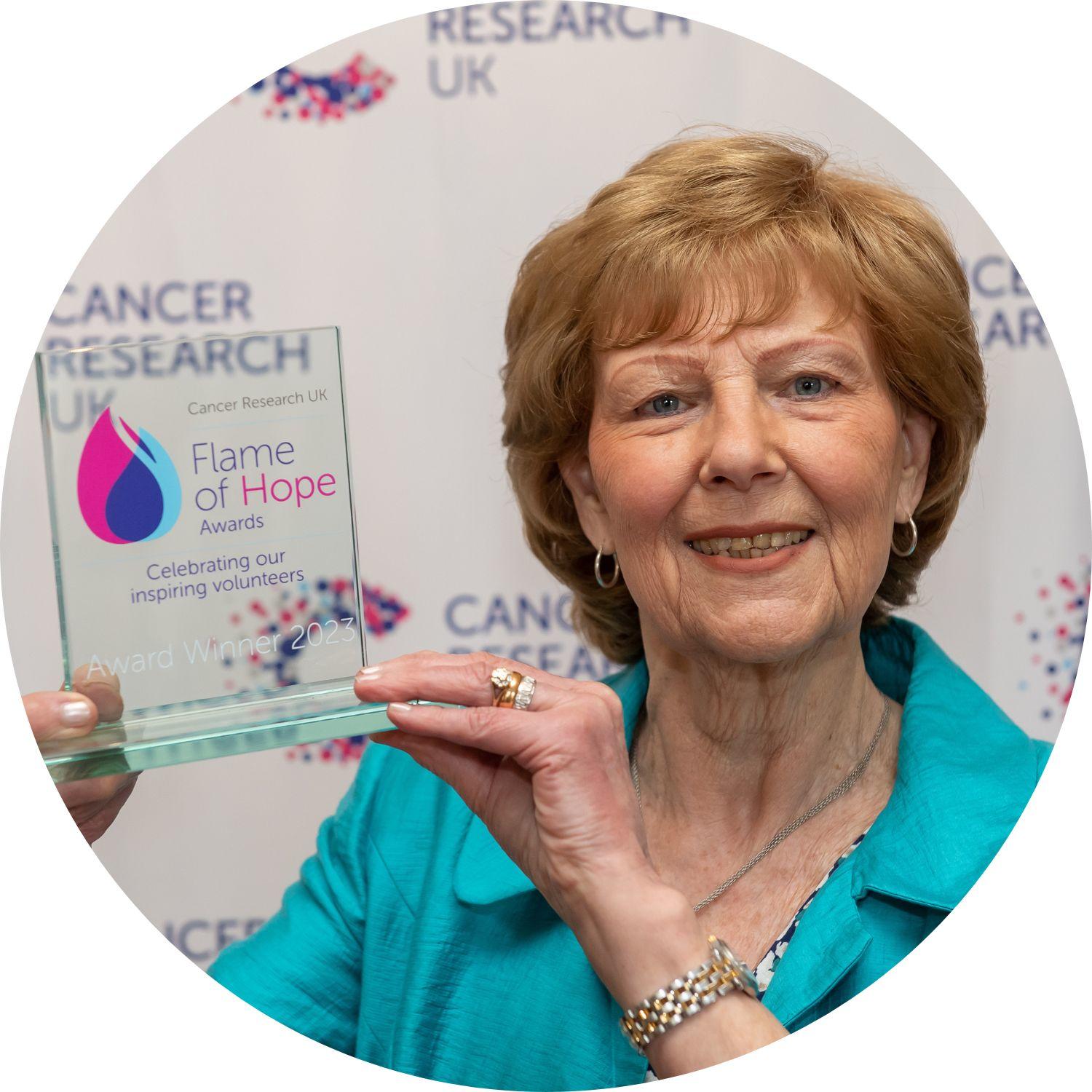 Volunteering for 25 years
"Joan is a very active 84-year-old and has volunteered with the Leek shop for 25 years. Joan has a lovely rapport with our customers, and often covers additional shifts if needed. She is kind, gentle, and always has time for everyone. Joan consistently champions Cancer Research UK whether she is selling goods, lottery tickets or collecting donations during our fundraising campaigns. She is also an excellent champion for Gift Aid! Joan is an amazing lady who is loved by the whole shop team."
Joy Edworthy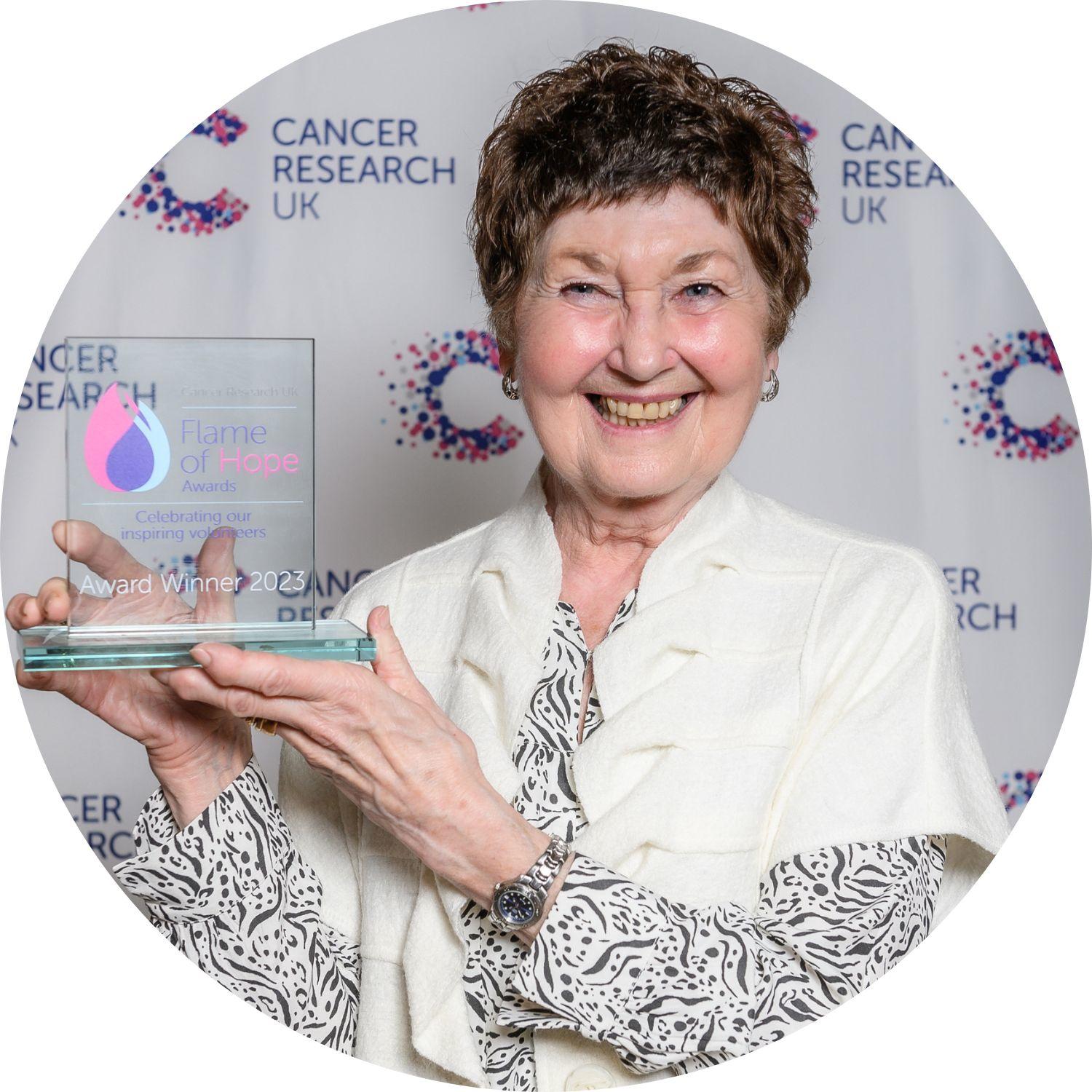 Volunteering for 35 years
"Joy has volunteered in the Congleton shop since it opened in 1988 and has handled all the changes the shop has faced with great enthusiasm. She has demonstrated great loyalty to the shop and wears her long service badges with pride. Joy has a keen eye for spotting the good brands and suggesting items to send to marketplace. She is always encouraging her family and friends to donate their preloved items to our shop and has introduced her daughter to volunteering when she was furloughed. Joy always supports the shop's fundraising efforts and is an important and valued team member."
Joy Tarburn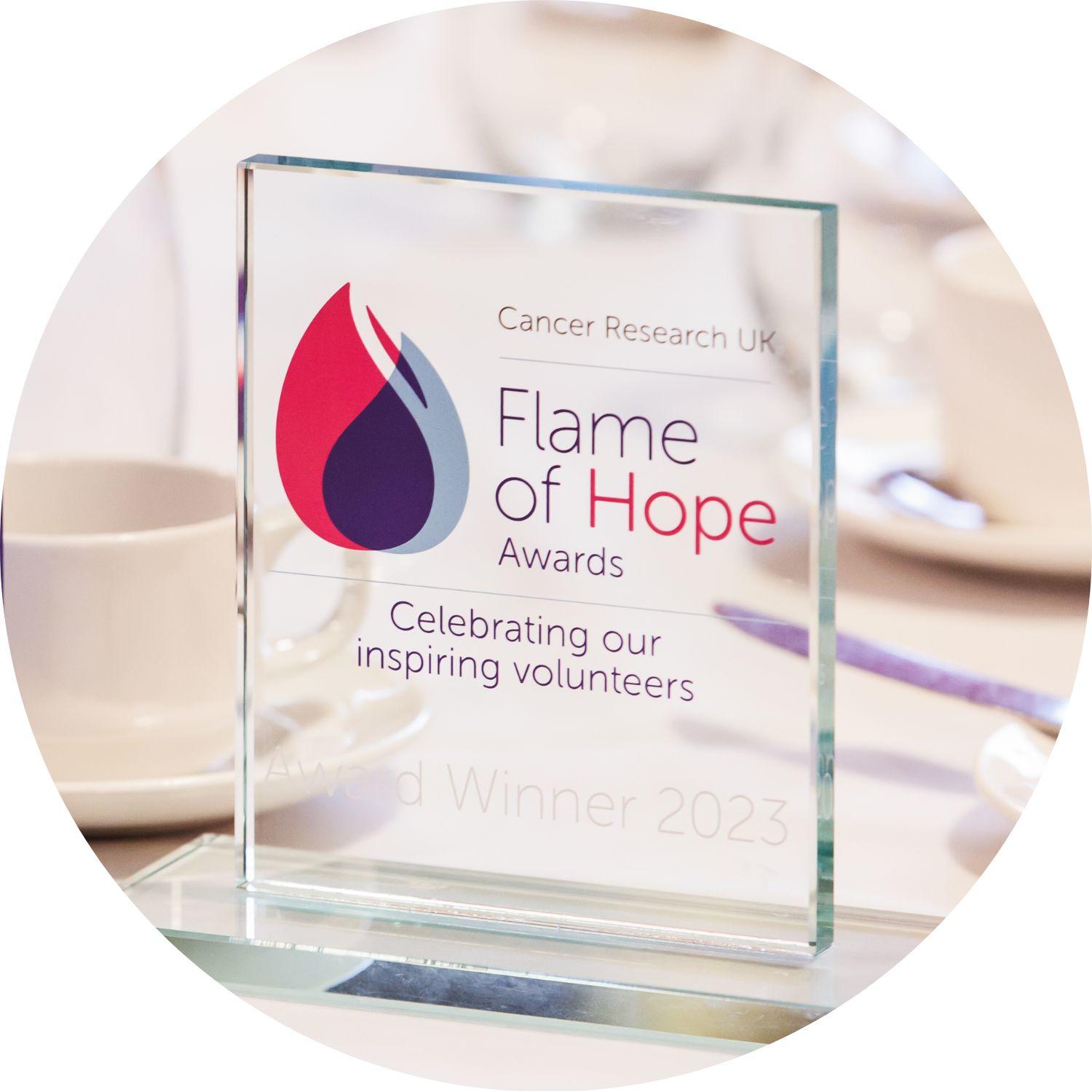 Volunteering for 17 years
"Joy has volunteered with the Worcester shop for over 17 incredible years.  Always sunny and cheerful, she is a huge support to the team and always first to offer a hug when you need one!  
Joy's shift is on a Thursday, when the shop will always look its best after a good 'Joy tidy' – there will not be so much as a single coat hanger out of place or a speck of dust to be seen.  Passionate about the shop and incredibly generous, Joy often brings in high quality donations as well as supplying endless cakes and knitted goods for fundraising events."
Karen Lance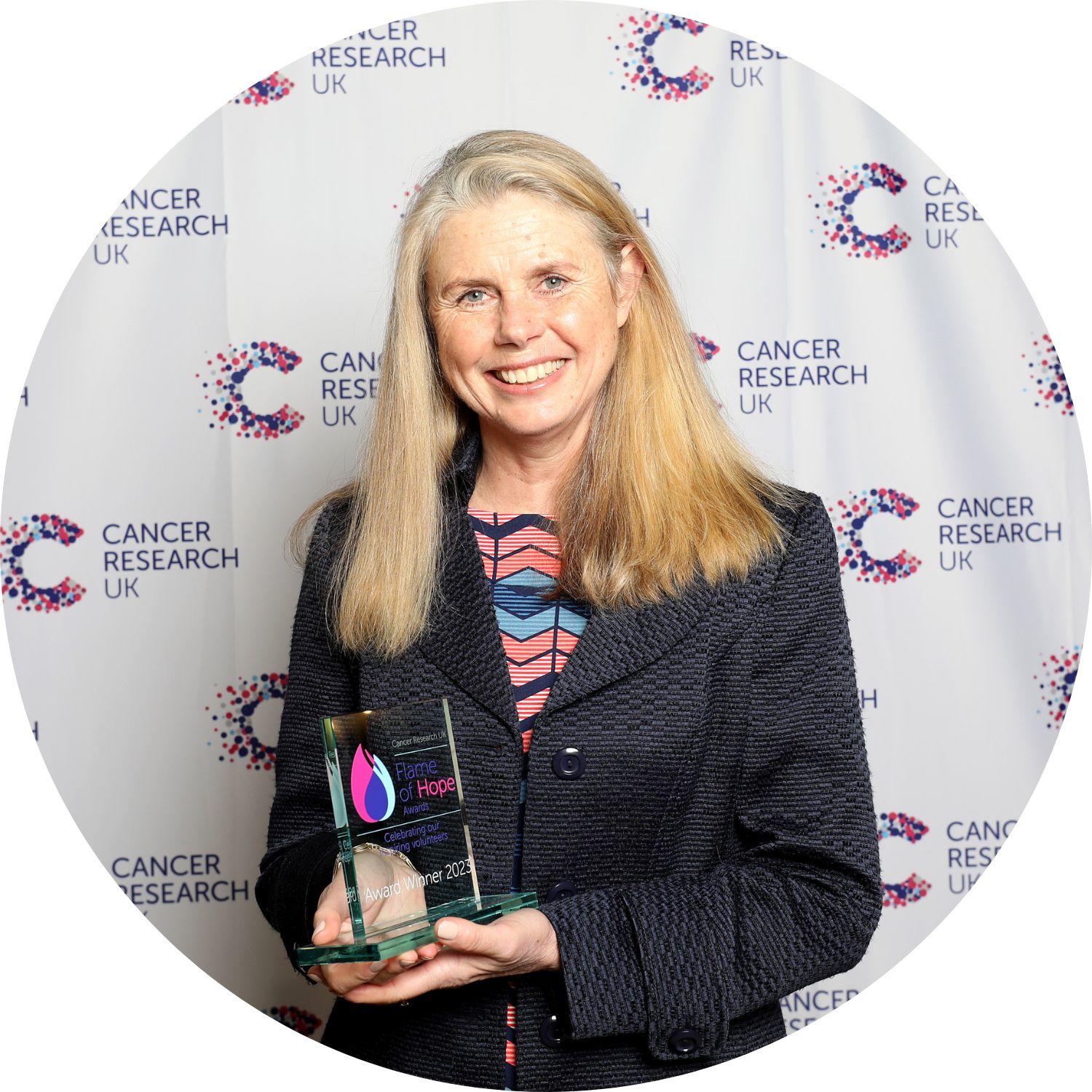 Volunteering for 20 years
"Karen has volunteered at the Haslemere shop since it first opened 20 years ago. As well as offering to come in additional days when needed, she shows her dedication to the charity by spending her evenings researching donated items. Karen has identified many premium items which has enabled us to sell these for the maximum value possible. She has also raised thousands of pounds for Cancer Research UK by running several marathons after sadly losing her father to kidney cancer. Karen is an incredibly supportive member of the team and is the real backbone of our shop."
Karen Toon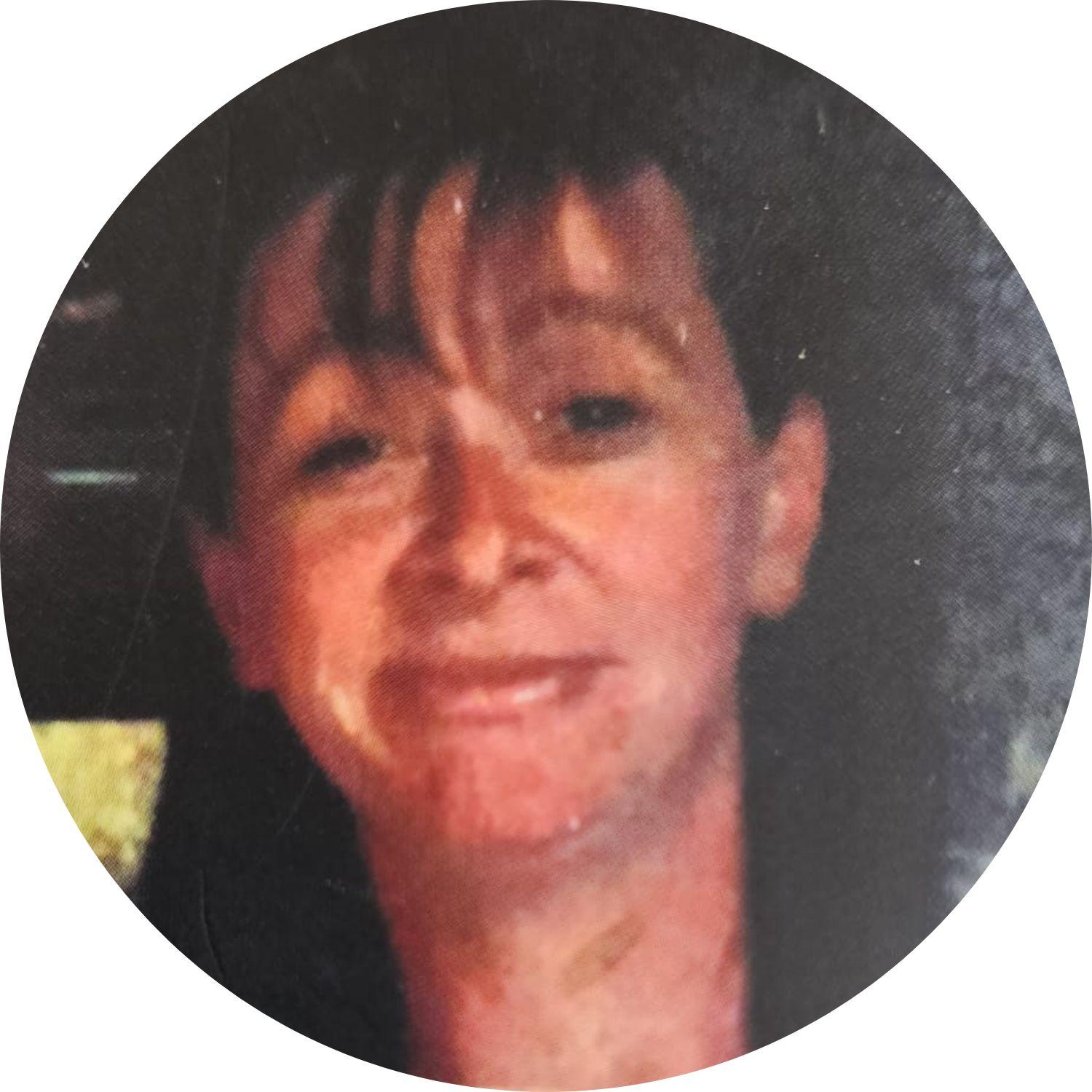 "Karen joined the Rothesay shop in February 2009, and during her 13 and a half years of volunteering, she showed outstanding loyalty in many ways. Whether it be processing stock, pricing, culling, steaming and hanging clothes, to being on the till and making cups of tea – Karen did everything! Karen was instantly recognisable to everyone in our community, and she enjoyed taking part in numerous fundraising events, including getting a sponsored tattoo. When she began to lose feeling in her hands, Karen found new ways to adapt and to overcome issues to make sure she could still volunteer. Unfortunately, it was soon after this that Karen received her cancer diagnosis. Her dedication and generosity were truly outstanding, and she is greatly missed."
Unfortunately, Karen was diagnosed with an aggressive form of untreatable cancer and sadly passed away in July last year. 
Katie McLoughlin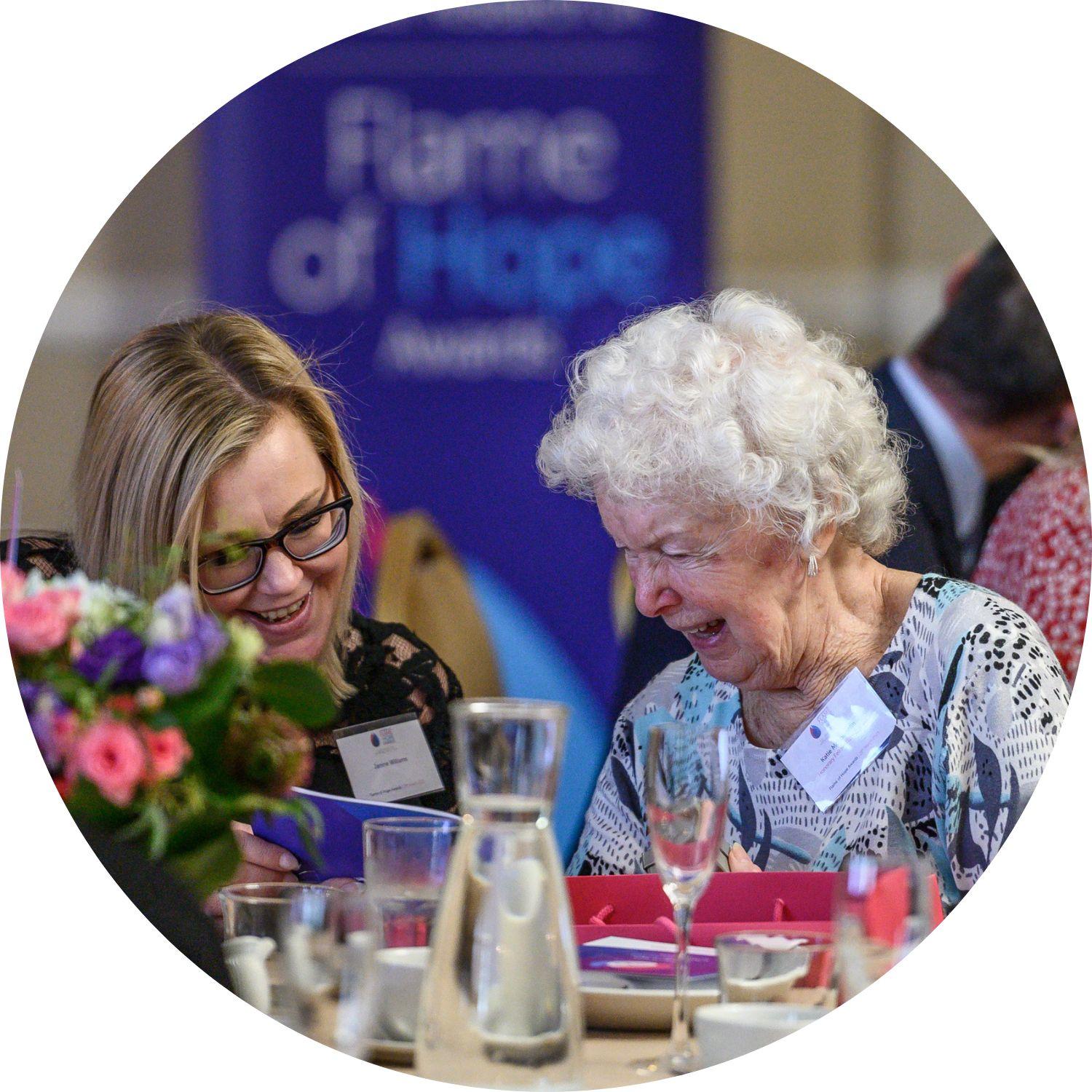 Volunteering for 23 years
"In the words of her nominator, Katie "is like superwoman". Katie is 84 – although she doesn't look it - and "whizzes" around the Rawtenstall shop. Katie is always smiling, and as well as being a full-time carer for her husband, she gives up her free time every week to volunteer in the shop. She has been a volunteer for an amazing 23 years! In addition to her usual tasks, Katie trains new volunteers. She is loyal, funny and bright and everyone in store loves her."
Kokila Patel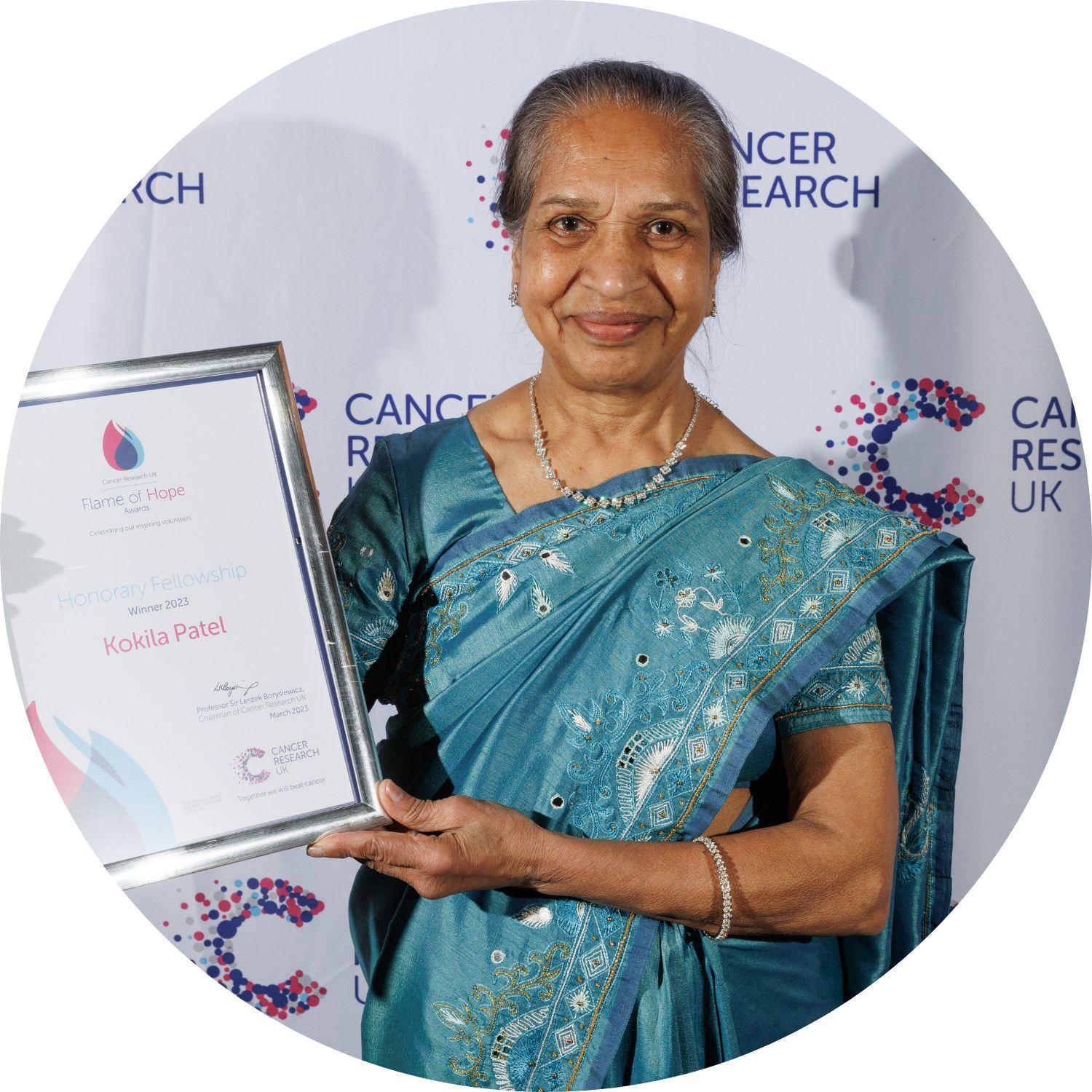 Volunteering for 17 years
"Kok started volunteering in the Milngavie shop 17 years ago. Hugely dedicated, Kok sorts through and processes an incredible 500 items every week. She brings so much energy to the team and is always smiling. Kok is much loved in the Milngavie community and has even brought new volunteers into the shop. She always contributes to the shop's fundraising campaigns, whether that's with her time, or with her delicious food, including her famous pakoras!"
Libby Hunter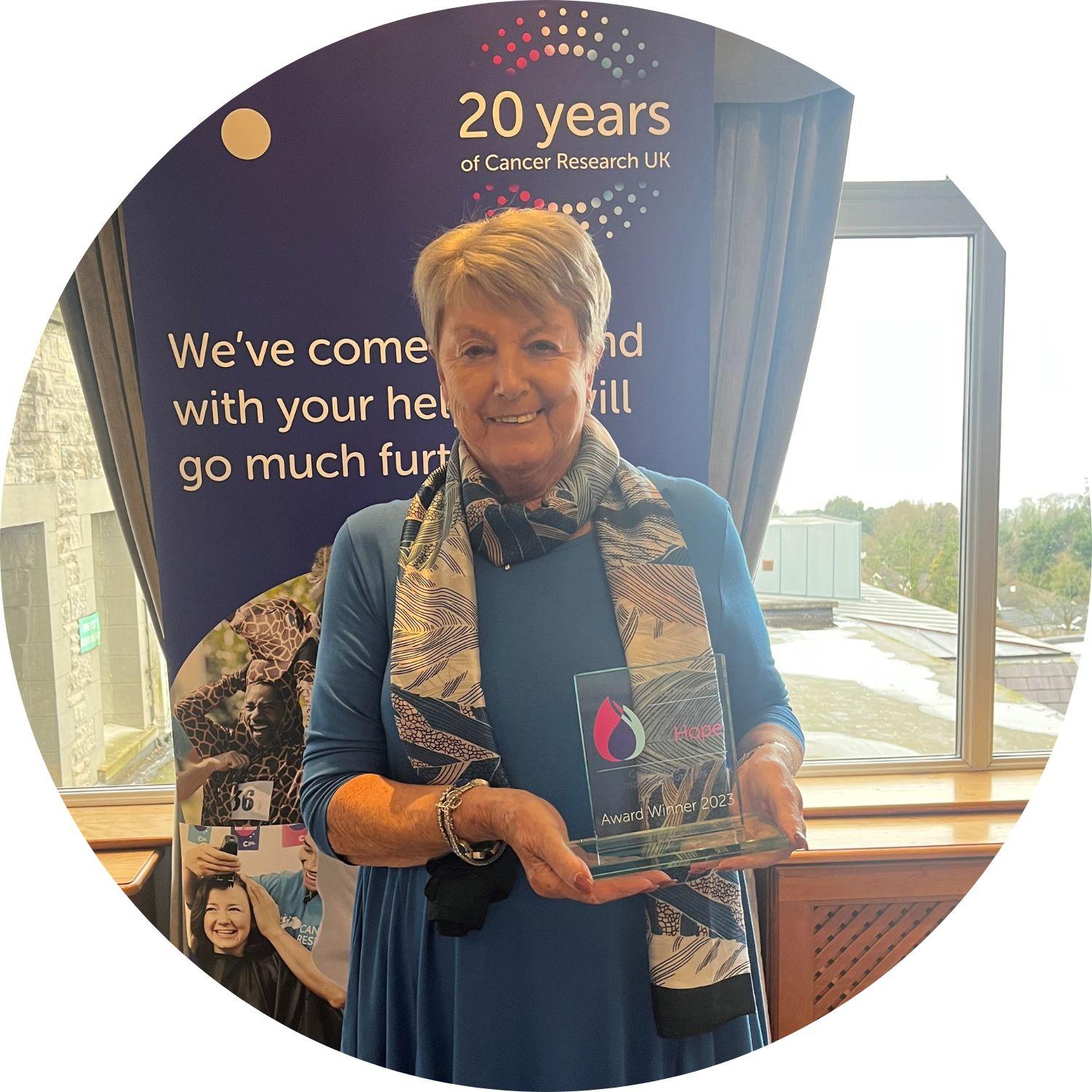 Volunteering for 25 years
"Libby has volunteered every Thursday morning for over 25 years, despite recently turning 80, when we held a special Jubilee tea party with all her friends from our wee shop! Having recovered from breast cancer when younger, it sadly returned during COVID. Yet even when feeling tried, low or undergoing treatment, Libby remains determined to keep volunteering to raise money for kinder treatments in the future for people going through the cancer journey. She's brought in many donations and gift aid signups – and even compered our recent wedding show despite receiving radiotherapy. She also loves to dress our window and gondolas, and her displays are so quirky and colourful customers often comment on them. She lights up a room, and is an entirely selfless, passionate and postive ambassador for cancer research."
Lorna Turnbull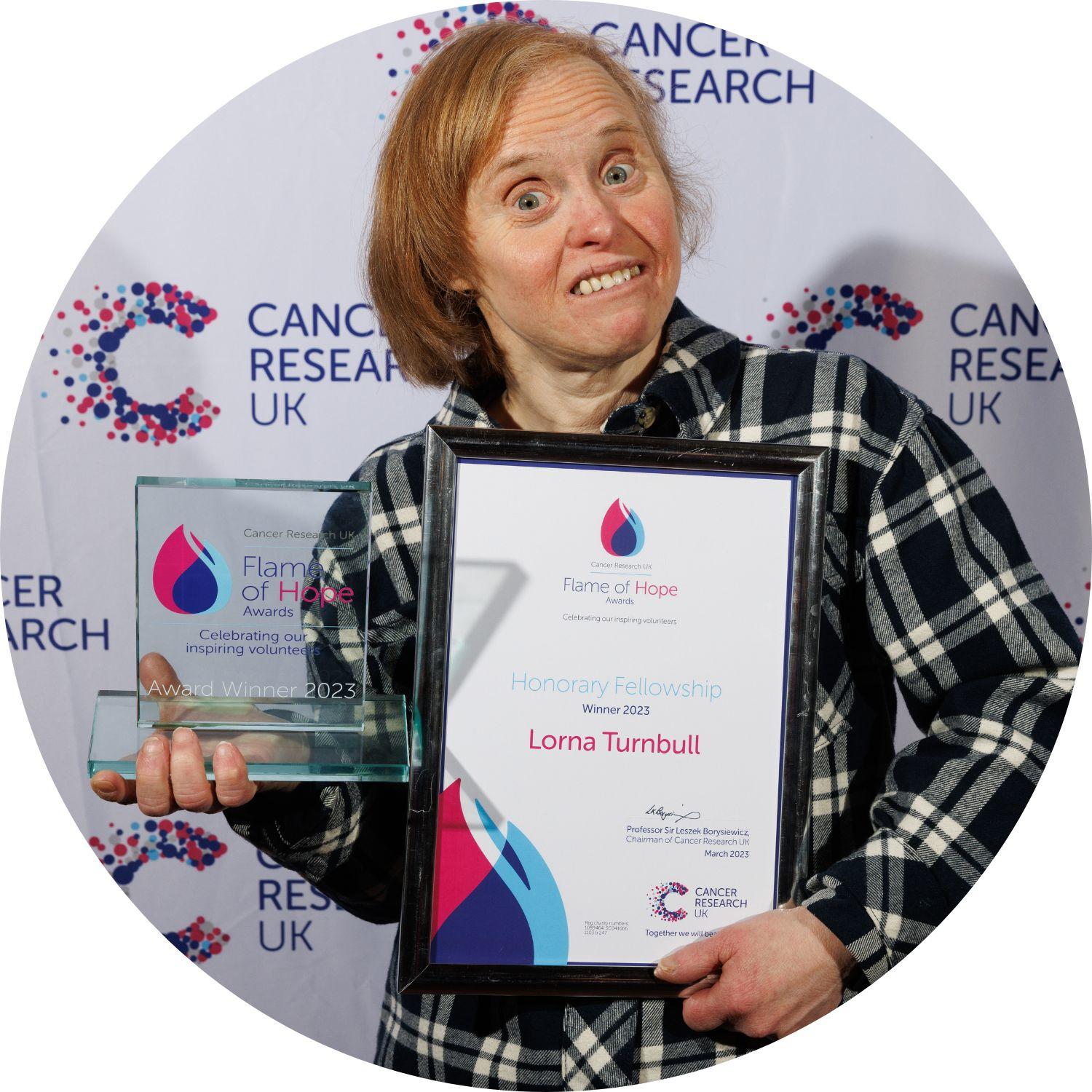 Volunteering for 22 years
"Never coming in without a smile on her face, Lorna has volunteered in the Kirkintilloch shop for an incredible 22 years. She takes charge of processing the children's clothing every week without fail. Lorna is a real joy to be around – she loves a natter about her favourite TV shows and is always there to have a laugh with the rest of the team. She's very popular in the shop, and volunteers who don't see her regularly always ask how she's doing. Lorna brightens the shop with her great sense of humour and is just an all-round happy wee soul."
Lynne Blenkinsop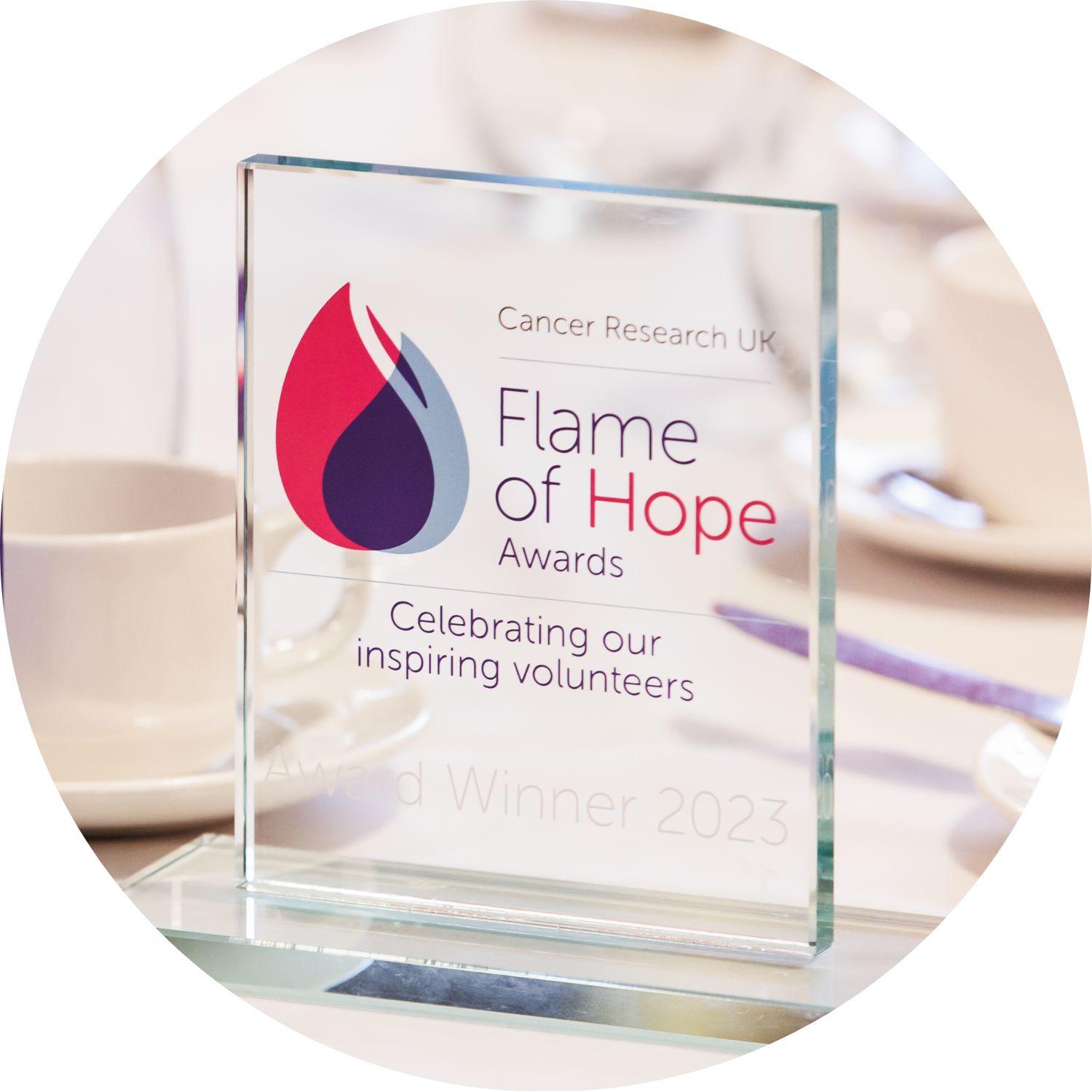 Volunteering for 28 years
"Reliable and hardworking, Lynne has volunteered in the Bideford shop for over 28 years! In that time, Lynne has turned her hand to many different aspects of the shop, from gift aid, to footwear, Lynne is even the expert in repairing children's toys.  With her infectious sense of humour and communication skills, her customer service is outstanding.  Lynne has also raised funds via car boot sales and her local church and is a much-valued volunteer."
Margaret Milson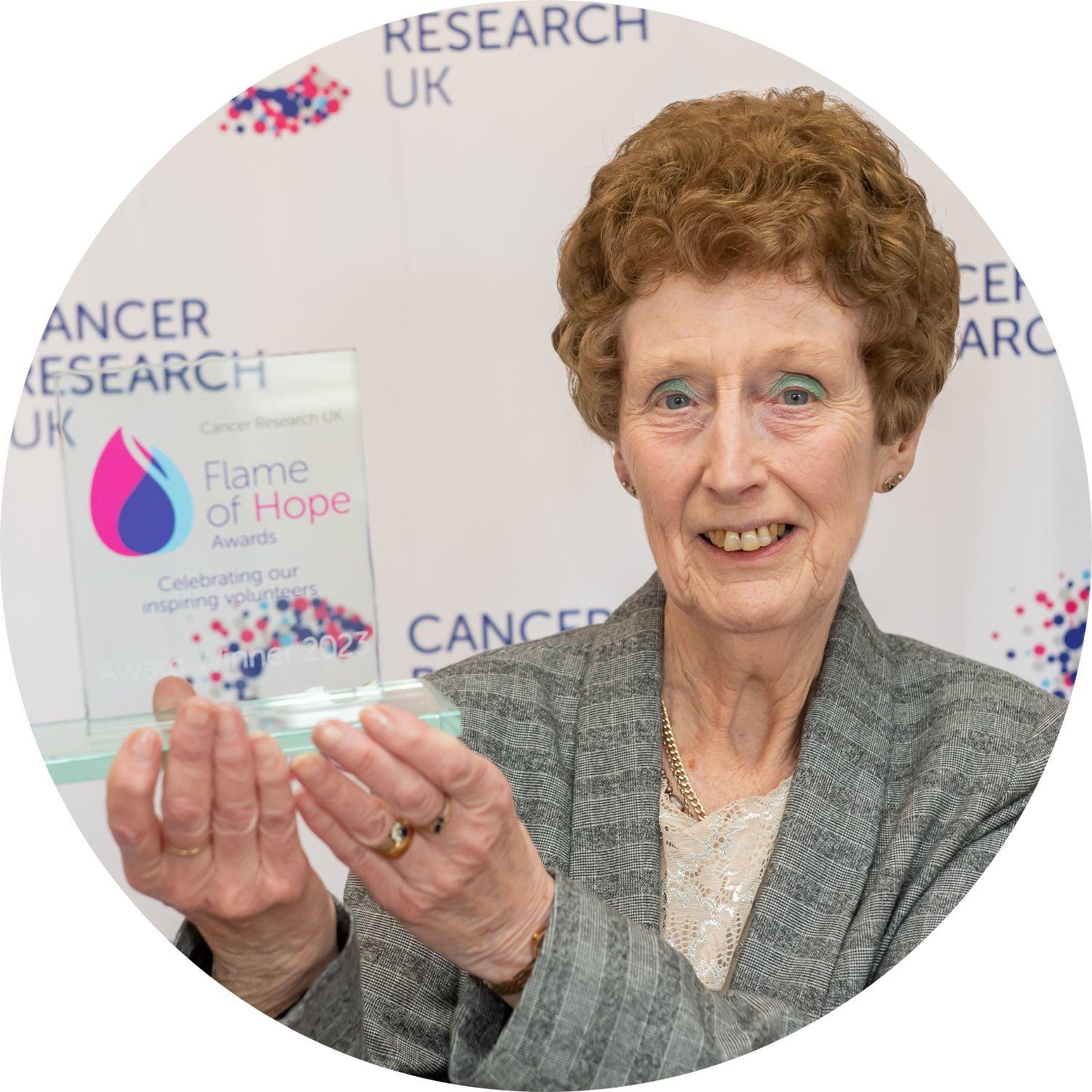 Volunteering for 27 years
"Margaret has been a valued volunteer at the Leek shop for 27 years. She is extremely reliable and is always happy to help everyone. She'll help to open the shop whenever needed and is a trusted member of the shop team. Being a very committed volunteer to Cancer Research UK, Margaret is also a valued volunteer at the Cheadle Shop. Margaret's dedication and loyalty over the years are inspiring, and she is incredibly deserving of this recognition."
Mary McVeigh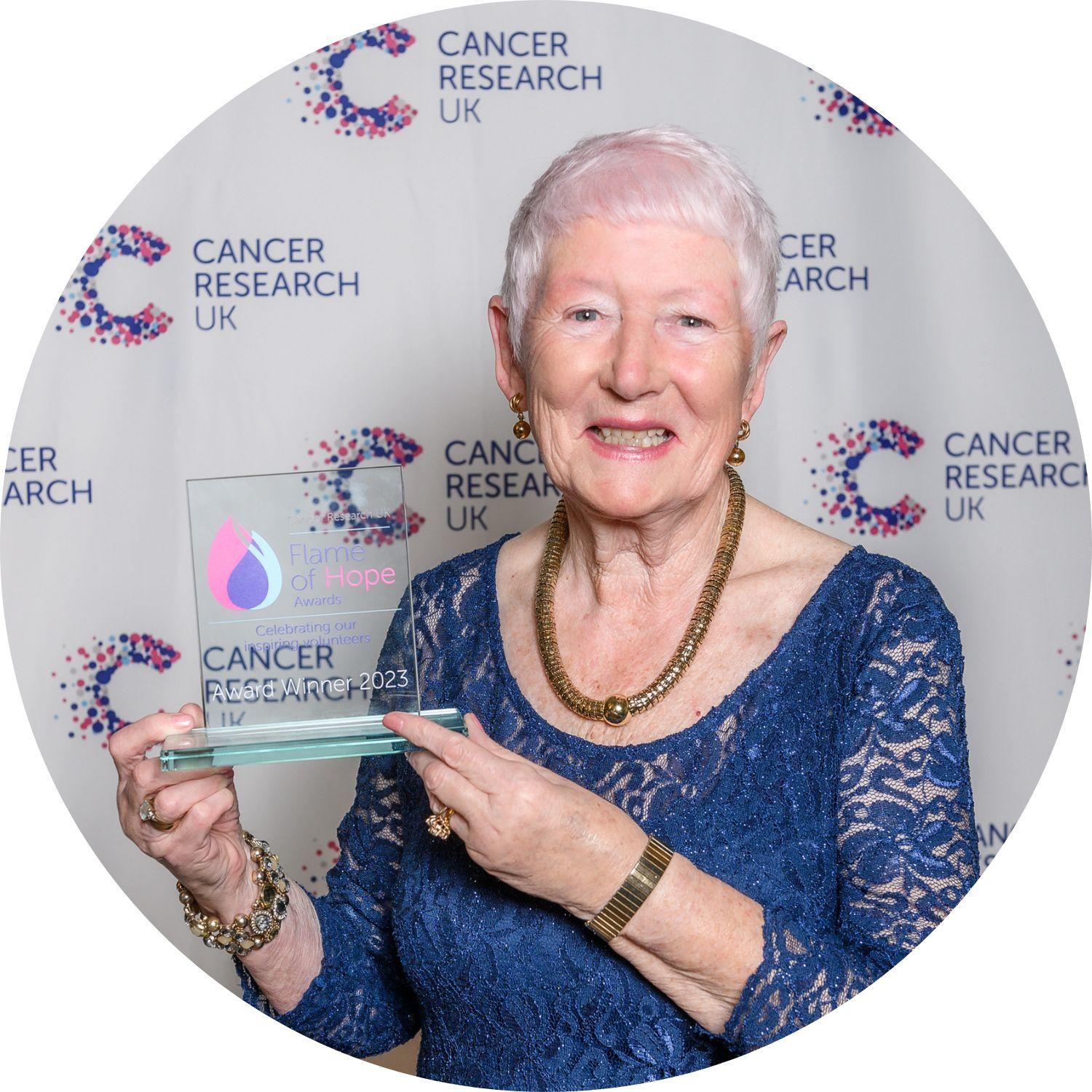 Volunteering for 29 years
"Mary started volunteering on the 1st January 1994 and is one of the longest running volunteers at the Widnes store. She has seen a lot of change within that time! Mary volunteers every week and helps the shop in additional ways - for example, arranging flowers for window displays. Despite her own health difficulties, she is helping with fundraising efforts and with planning an event coming soon. Mary is also a member of a cancer support group through which she promotes our current fundraising efforts."
Muriel Hocking
Volunteering for 18 years
"An integral part of the team at the Truro shop, Muriel has been an incredibly reliable till volunteer for 18 years. Known for her colourful nails, Muriel brings brightness and enthusiasm to start off the week, going above and beyond for customers. Regular customers have come to know her well, often popping in to say hello even if they aren't buying anything. Muriel looks after the shop floor, keeping the shop looking immaculate and accepting donation bags from customers. She is always so supportive of our work and really does brighten up our mornings!"
Naomi Silver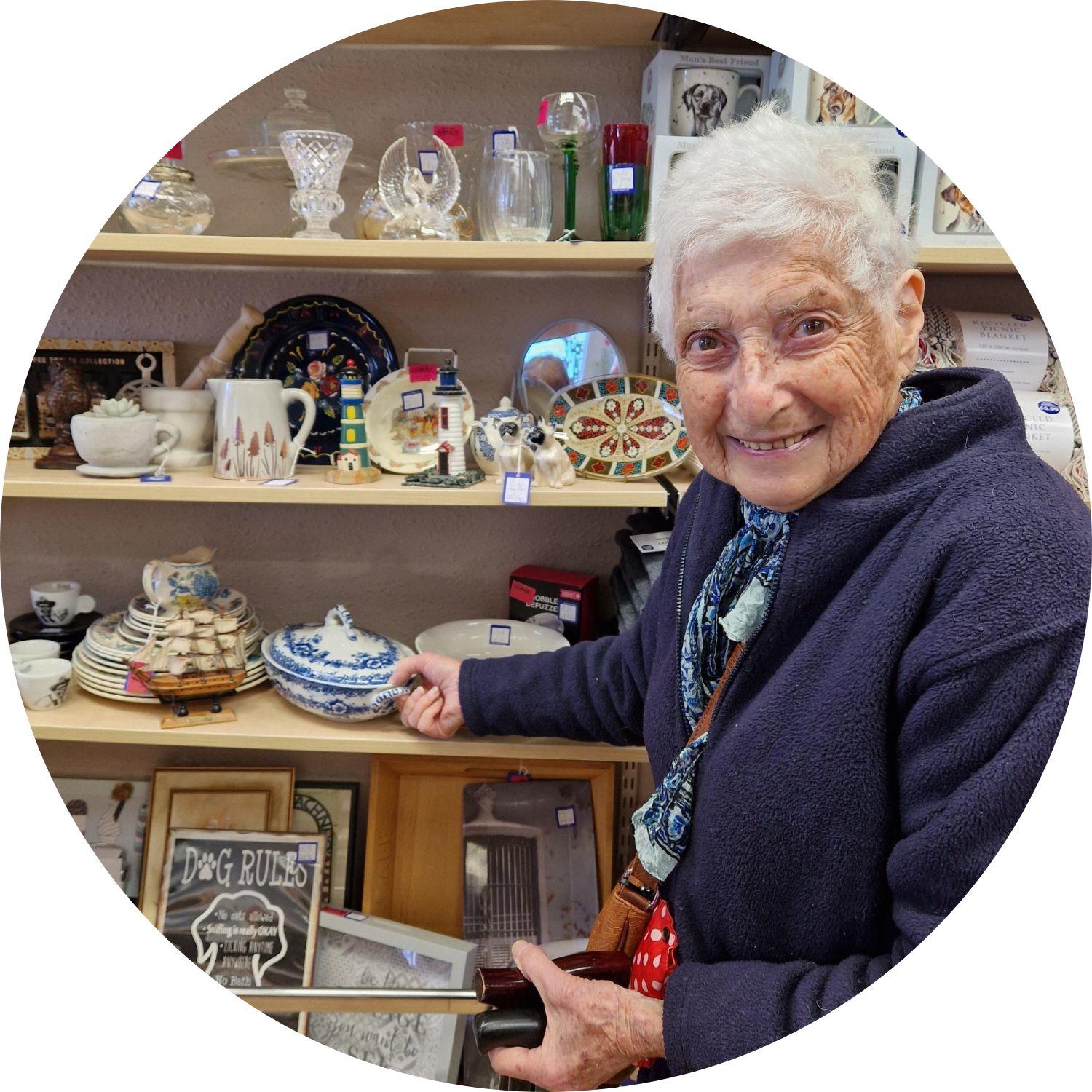 Volunteering for 17 years
"Naomi has volunteered since 2006 and celebrated her 90th birthday last year. Naomi never misses a shift - even through extreme weather she makes sure she's on time to complete her volunteering hours. She's an inspiration to everyone and has an amazing work ethic. Naomi is always offering to work extra hours to support the team and has a fantastic knowledge of homeware through the ages. She has recently suffered with ill health but volunteers despite this. Naomi really is a flame of hope and an inspiration and is so committed to the charity and to helping others."
Nellie Trickett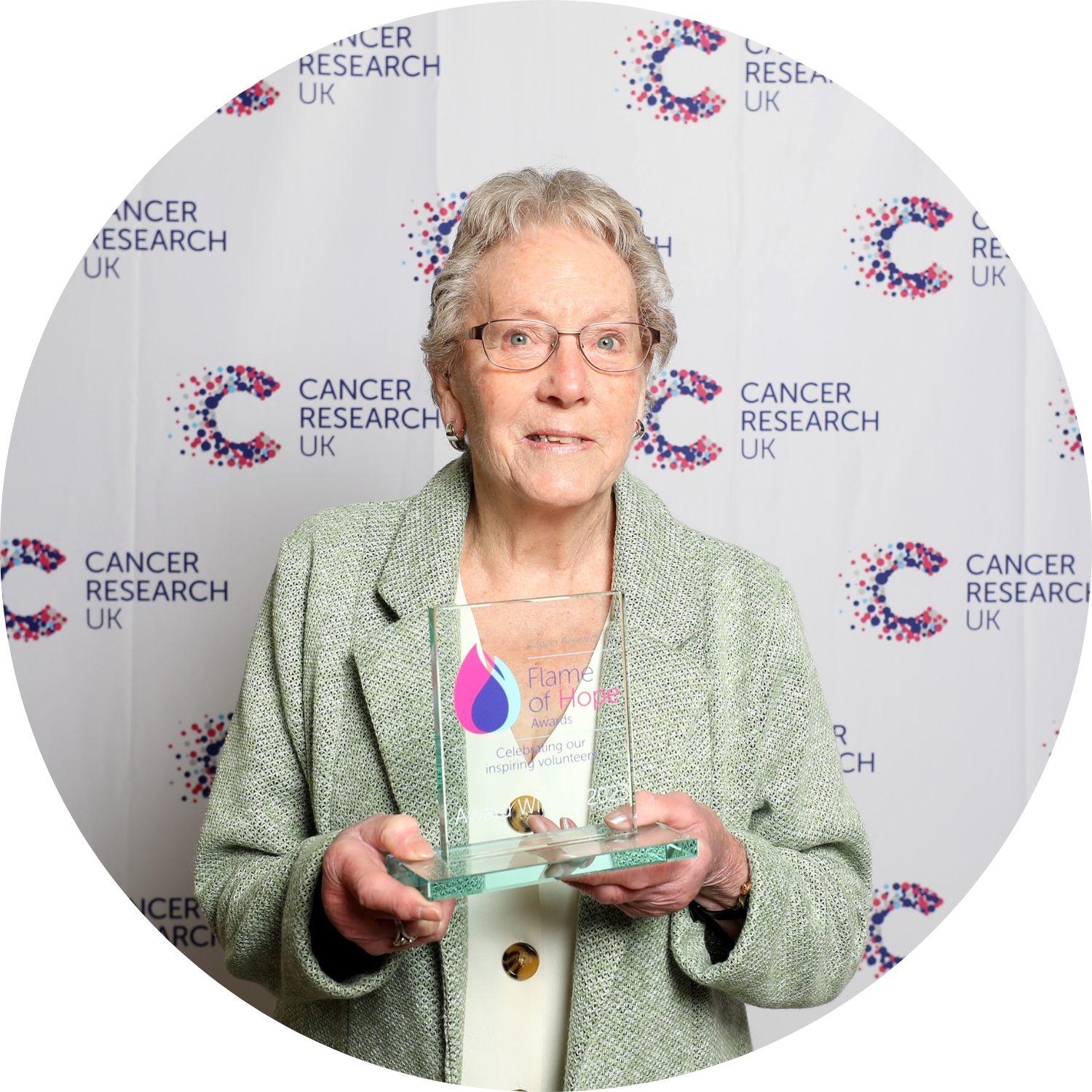 Volunteering for 25 years
"Nellie has volunteered at the Potters Bar shop for over 25 years. She is consistently punctual and undertakes tasks reliably and cheerfully. She is kind, friendly and welcoming to customers, donors and to her fellow volunteers. Nellie is undoubtably a team player. She takes considerable pride in every task she completes and is fantastic on the shop floor and in the back processing area. Nellie continued to volunteer throughout the Covid pandemic, demonstrating her selflessness and dedication."
Patricia McCougan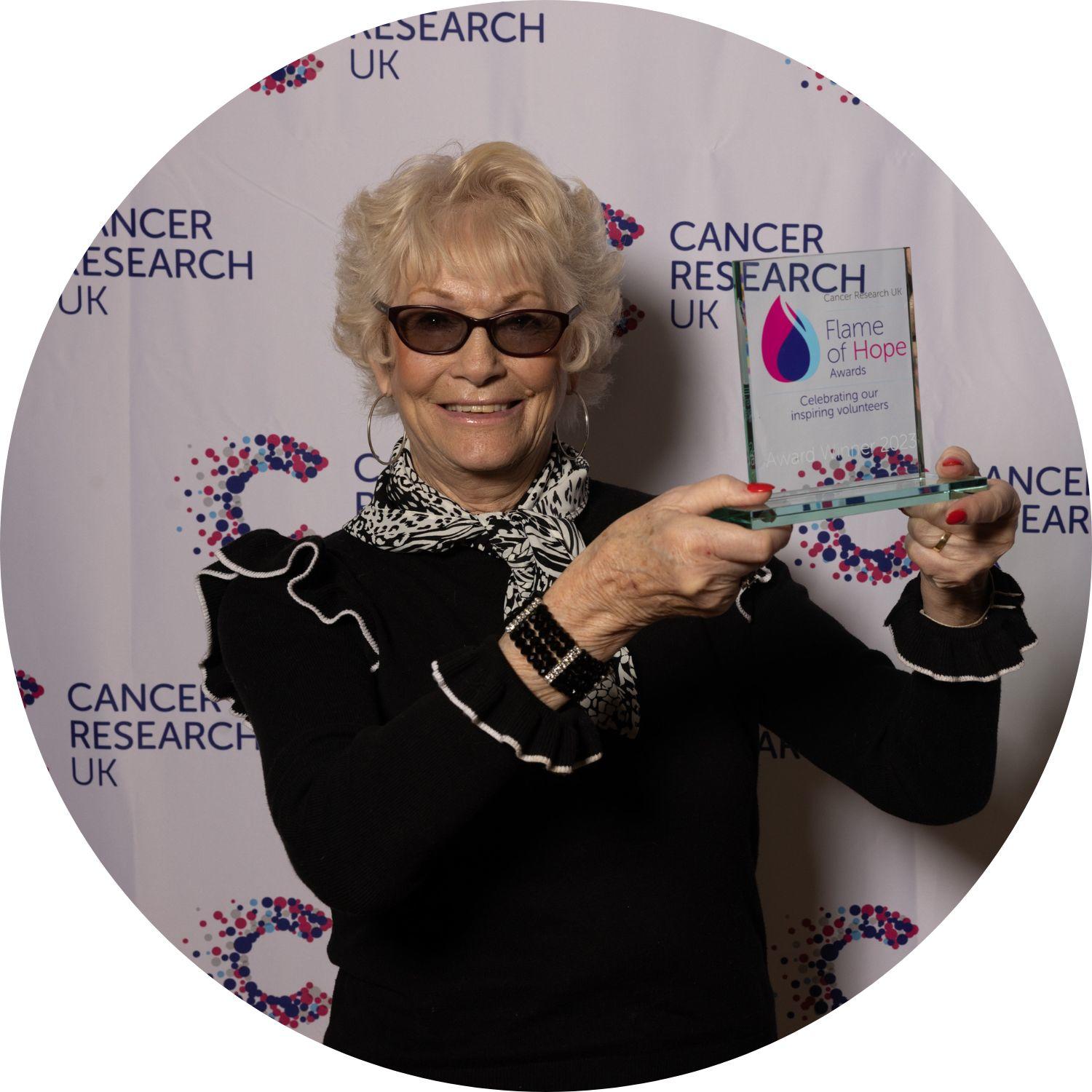 Volunteering for 19 years
"Patsy is 83 years old and has volunteered every Tuesday at the Stoke shop for 19 years. She'll come in every week without fail. She sings and dances for us and our customers, and thinks nothing of putting on fancy dress for our street collections. Patsy and her peer volunteer affectionally call themselves ''The A-Team''. She consistently goes above and beyond to help with the shop fundays, and she'll often drive to collect bags of donations to help the shop. Patsy really goes the extra mile for Cancer Research UK and is a very valued member of the shop team."
Pauline Legge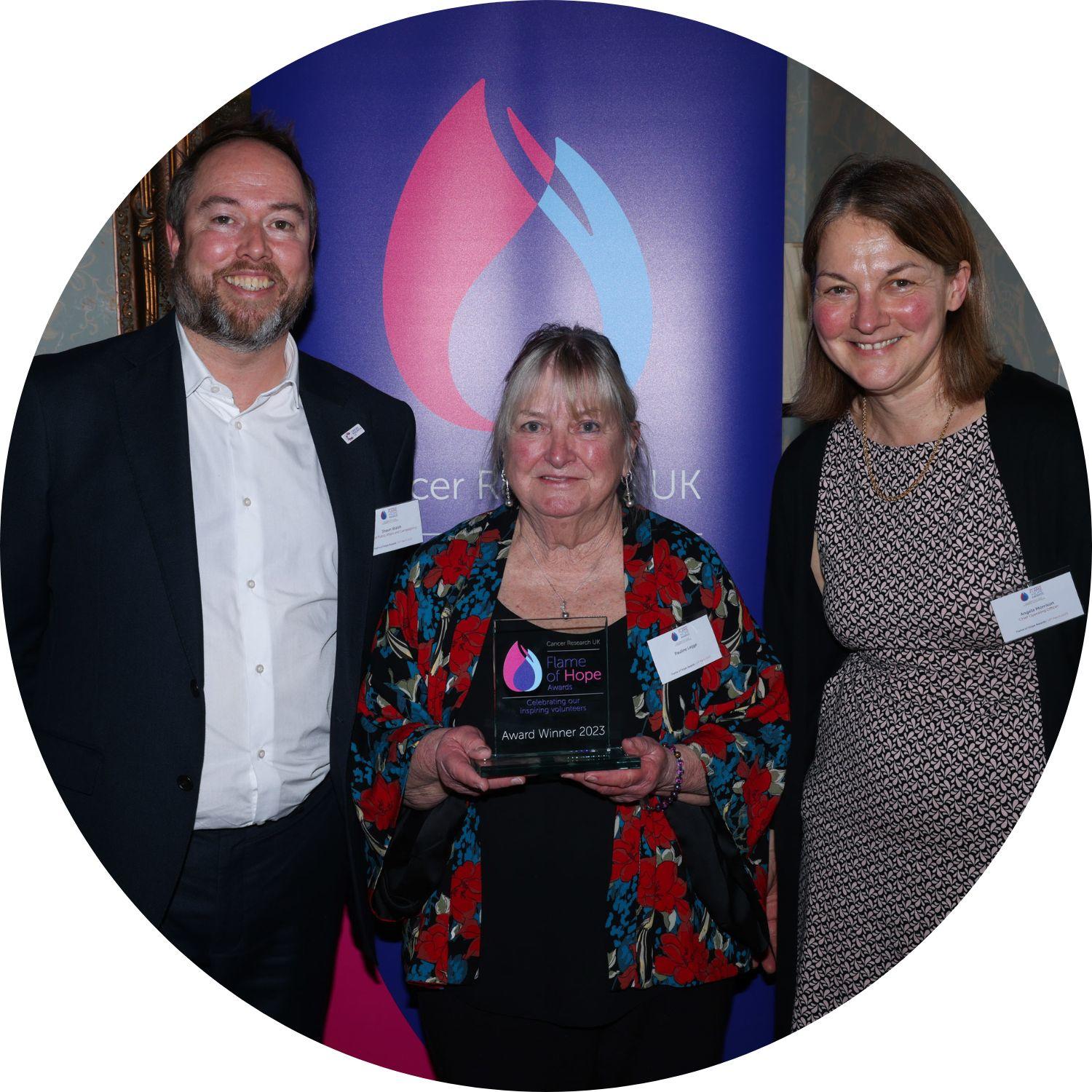 Volunteering for 15 years
"Pauline (Polly) is the ultimate volunteer! She has volunteered at the Plymouth Cornwall Street shop for 15 years and volunteers for over 12 hours a week. Polly runs the shop's book and media department and is invaluable to the success of the shop. Her love of books has generated an average weekly income of £400 and she spends time researching those extra special finds to support our online marketplace site. Polly's a passionate ambassador for Cancer Research UK, confident in the knowledge that her gift of time, passion and experience is making a difference in achieving the charity's ambitions."
Scott Cooper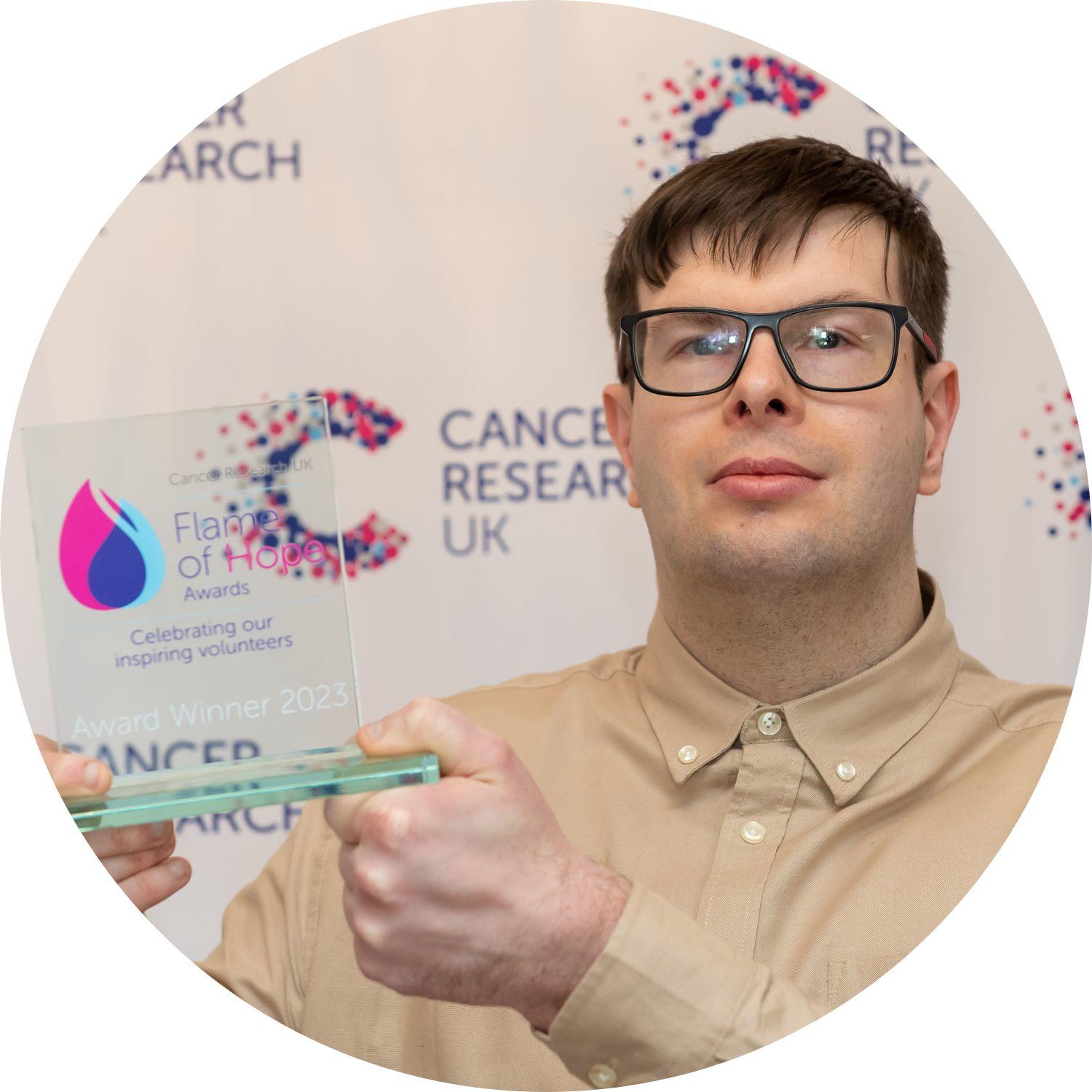 Volunteering for 15 years
"Scott has volunteered at the Merrial Street shop in Newcastle-under-Lyme for 15 years. He shows wonderful commitment to the shop, volunteering for five days a week. His communication skills and confidence have grown so much during his time with the charity which has been an absolute joy to see. Scott has the most amazing sense of humour and is always making the team laugh. He helps everyone in the team and takes huge pride in his volunteering. We'd all like to thank Scott for his tremendous support."
Stephen Rundell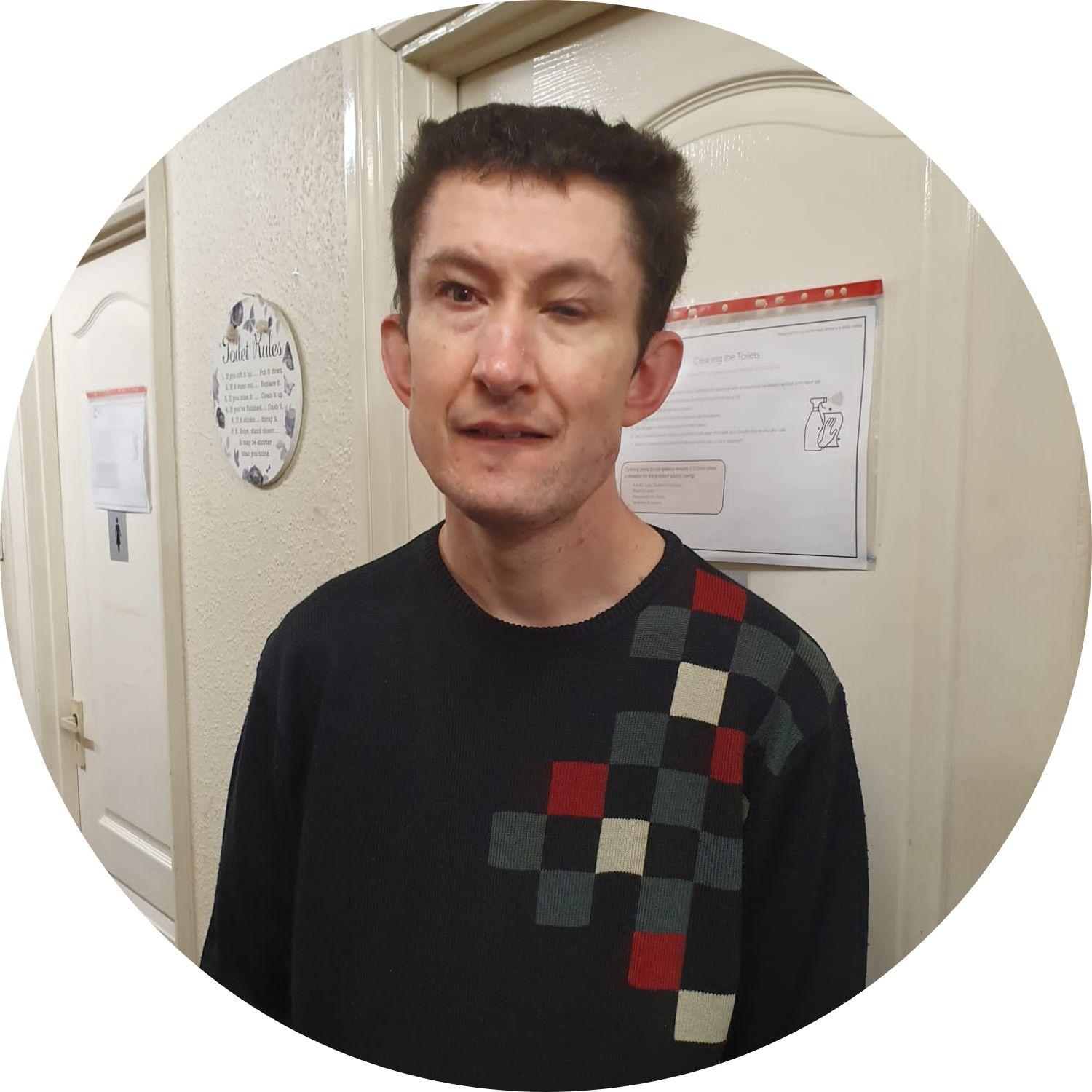 Volunteering for 22 years
"Stephen started volunteering at the Greenford Shop in 2001 with his mum, Joyce. He undertakes many vital tasks including adding Gift Aid labels onto tickets and cleaning and tidying the kitchen area. Stephen is a great baker and uses his skills to create delicious cakes to sell in support of Cancer Research UK's campaigns, including World Cancer Day and Stand Up To Cancer. Stephen is always smiling and cheers everyone up – he's a joy to be around and is very deserving of this award."
Susan Ramsay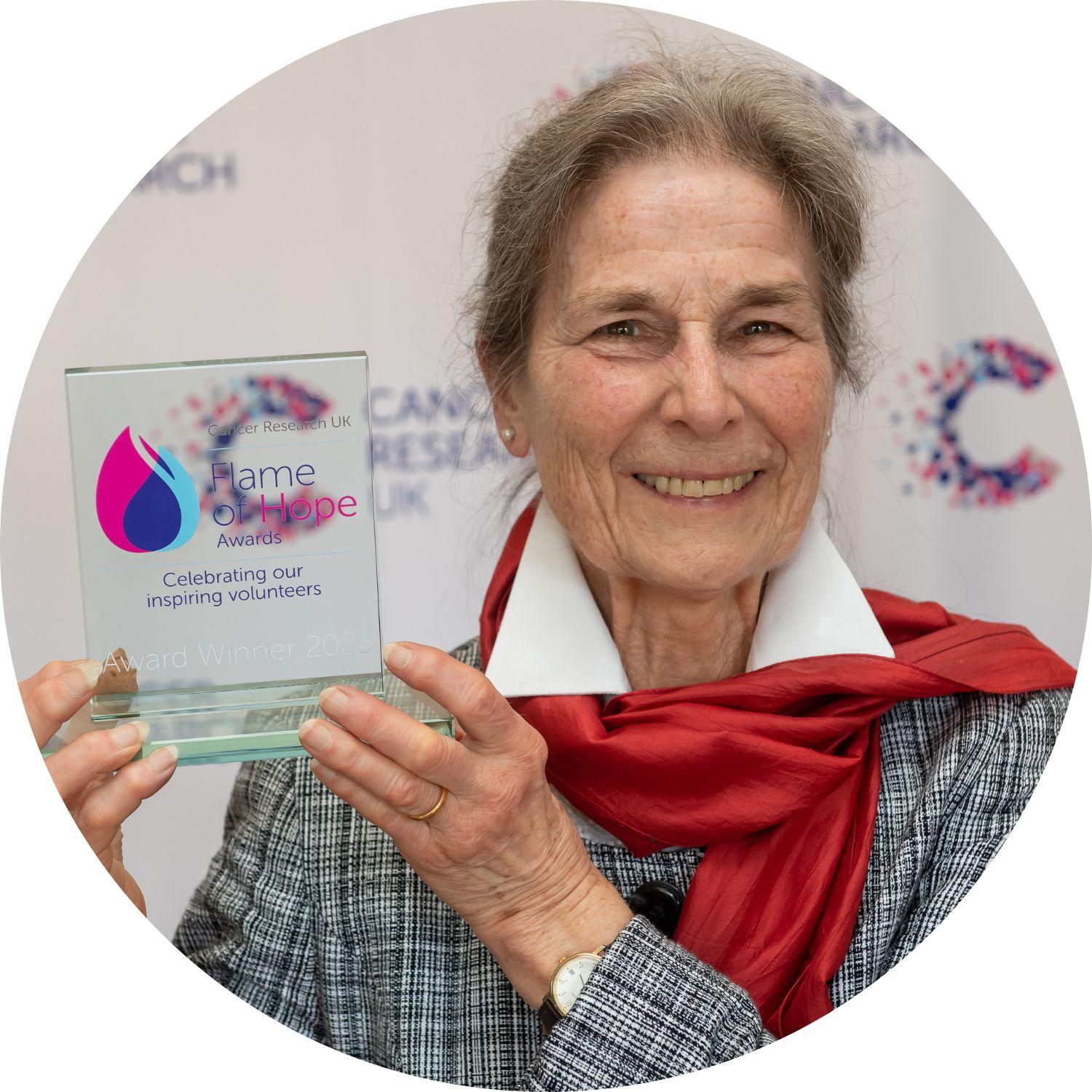 Volunteering for 20 years
"Sue has volunteered at the Fakenham shop for 20 years, completing five shifts a week. Sue is the face of our shop, and our customers pop in daily to see her. She has given over 15,600 volunteer hours to the team throughout the years, demonstrating her fantastic commitment to the charity. Sue has helped to raise over £15,000 over these years by supporting the annual Christmas Tree Festival. She is a superstar and a champion of champions."
Susan Rebecca Haigh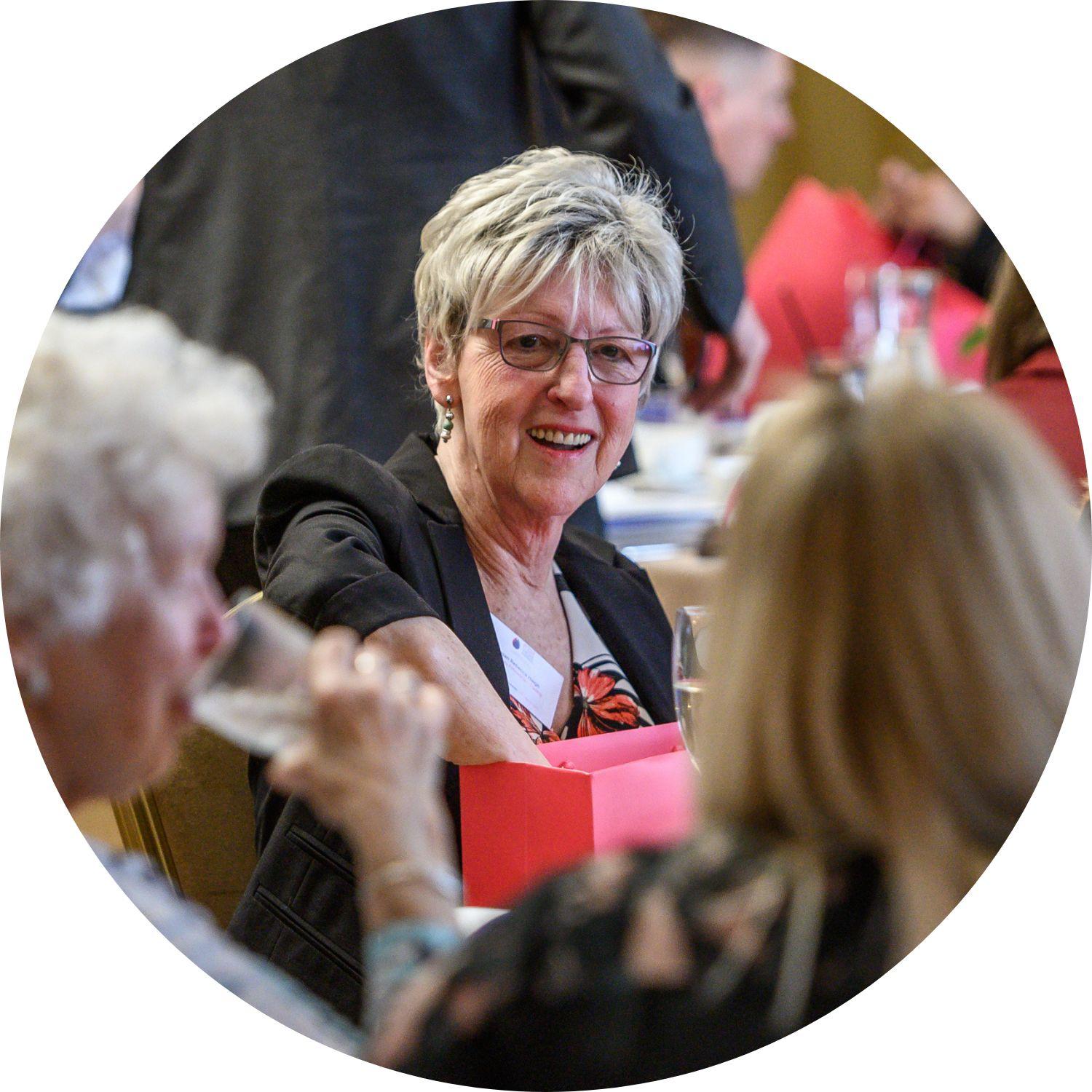 Volunteering for 30 years
"Susan has been volunteering for over 30 years. She volunteer every week and is always hugely positive. Susan is loyal and a great advocate for CRUK, calling her store "The Harrods of Blackburn!" Customers come in specifically to see her and her huge smile. Without a doubt, Sue has made Cancer Research UK thousands upon thousands of pounds over her 30+ years. She has been consistent in promoting the Cancer Research UK brand and the shop to everyone she knows. Sue is inspirational to all who have the luxury of meeting her."
Sylvia Duncan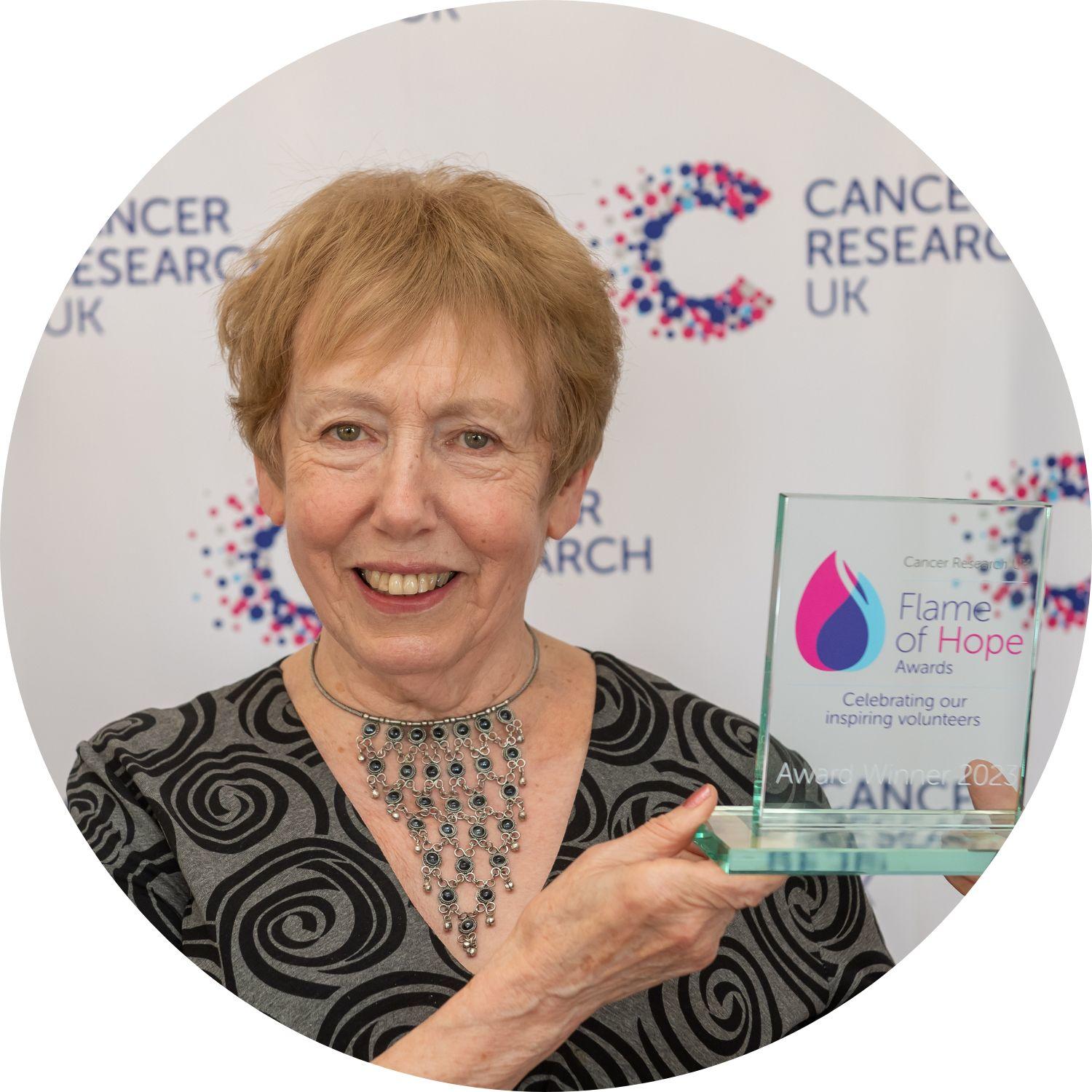 Volunteering for 32 years
"Sylvia is an outstanding star in the Darlington shop team. With over 32 years of volunteering for Cancer Research UK, Sylvia started her first volunteering role with the charity in 1990 when she was based in Scotland. She continued her volunteering journey in our lovely shop in Darlington in 1995. She has contributed to the charity in so many ways, raising vital funds and awareness towards our life-saving research. Sylvia has outstanding customer service and sales skills, and her smile lights up the whole shop!"
Teresa Whelan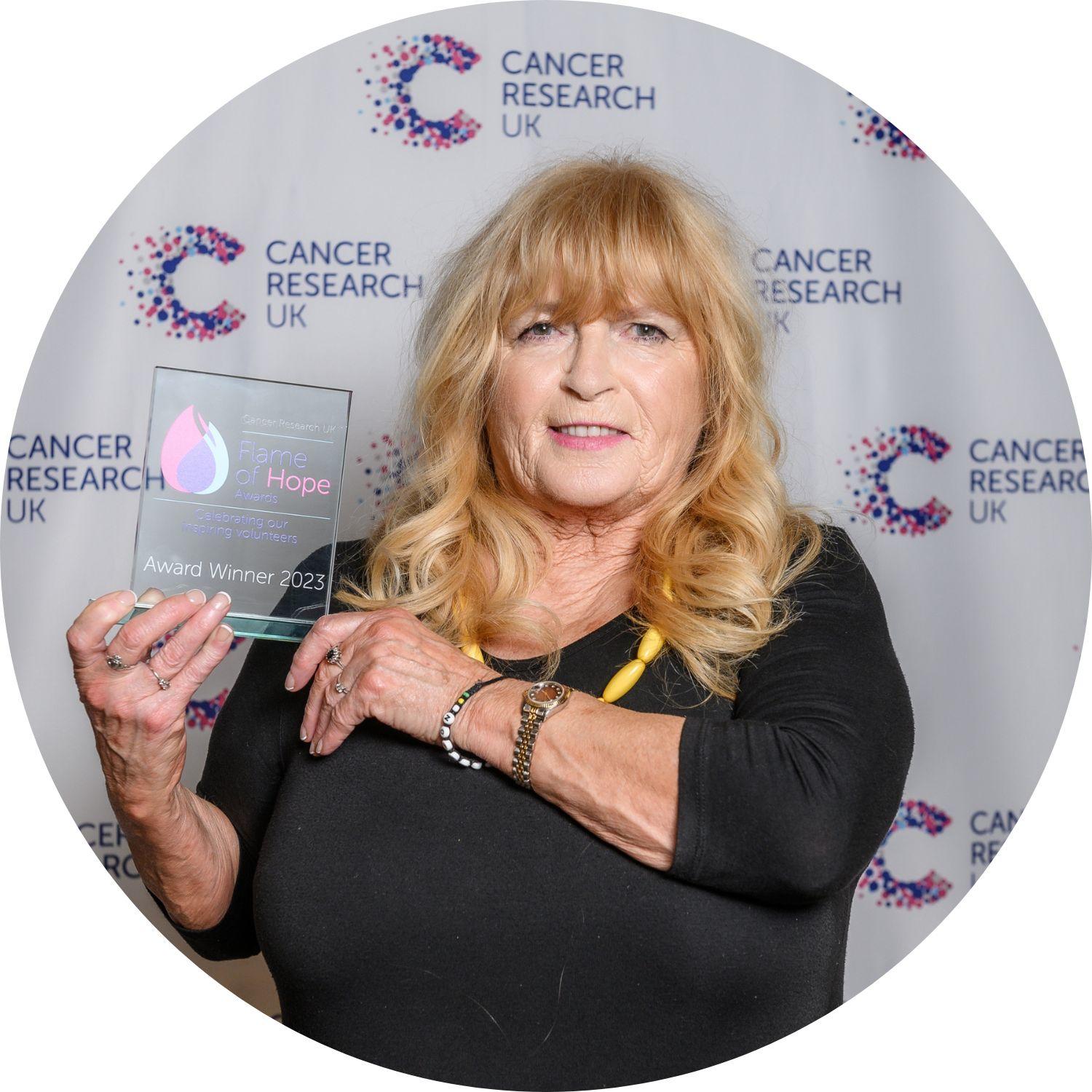 Volunteering for 20 years
"Teresa has been volunteering with us for 20 years. Teresa is happy to do whatever is needed in store - she would happily steam all day if required! Fellow volunteers often find her singing away to herself, she really is the 'life and soul' of the party. If Teresa's bus doesn't turn up, she'll still walk all the way in to volunteer, which is an amazing commitment with her health problems. At fundraising events, Teresa has on several occasions donated to the cause herself, never wanting to be thanked for her support. She even tries to get her 'bus' pals to come and volunteer with us... anything in order to help the charity!"
Ursula Dobb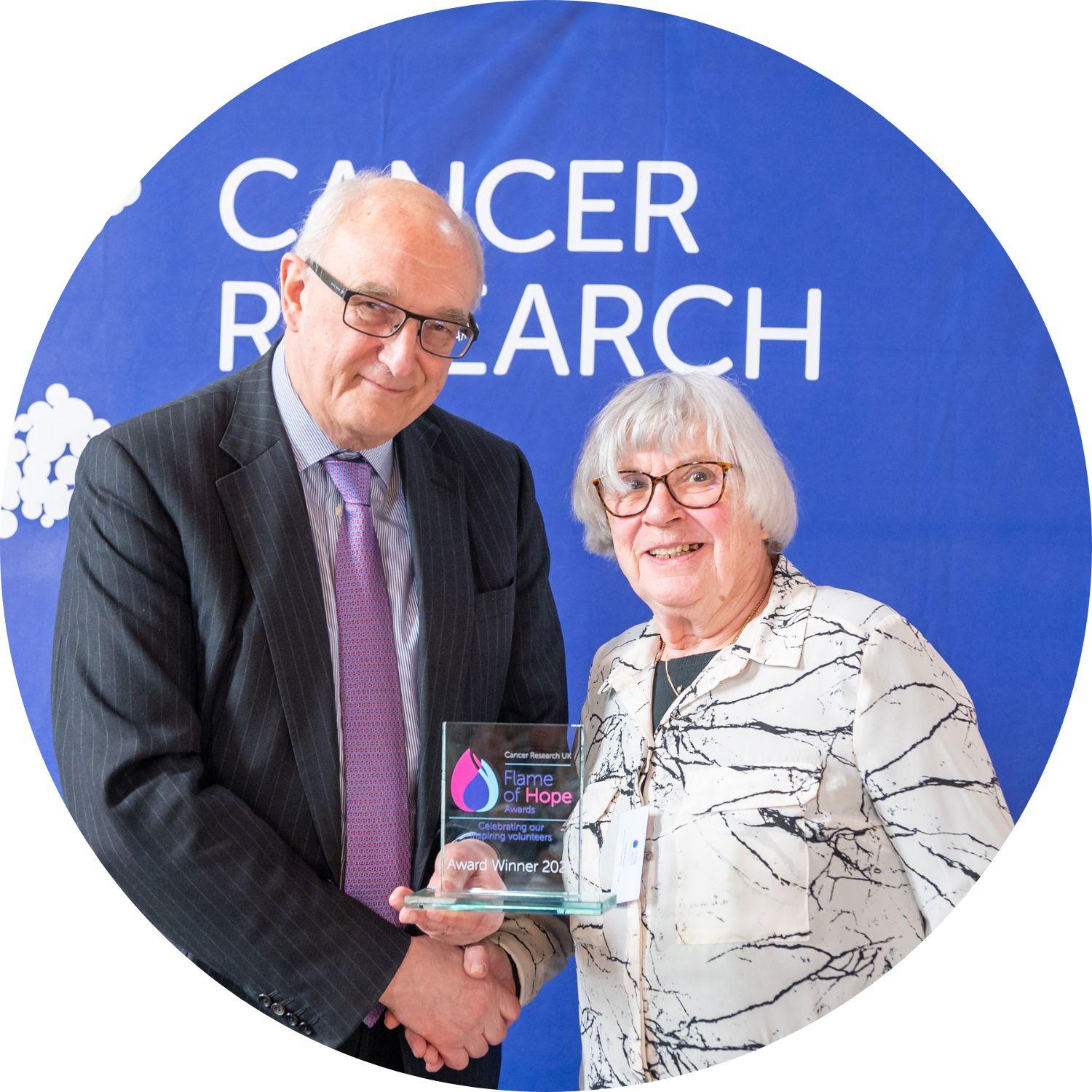 Volunteering for 16 years
"Ursula has volunteered at the West Wickham shop for over 16 years, covering Saturdays for as long as anyone can remember. She's a patient, kind and dedicated team member and always happy to cover an extra shift. Her shop displays are legendary, and she sets herself targets offering lottery tickets and round-ups. She champions our work in the local community and has helped at every fundraising event we've ever organised. During the pandemic, she demonstrated her great strength of character and fortitude and was one of the first to return when the shop reopened. We're so grateful for her loyalty and enthusiasm: she's an inspiration to us all."
Ursula Shanks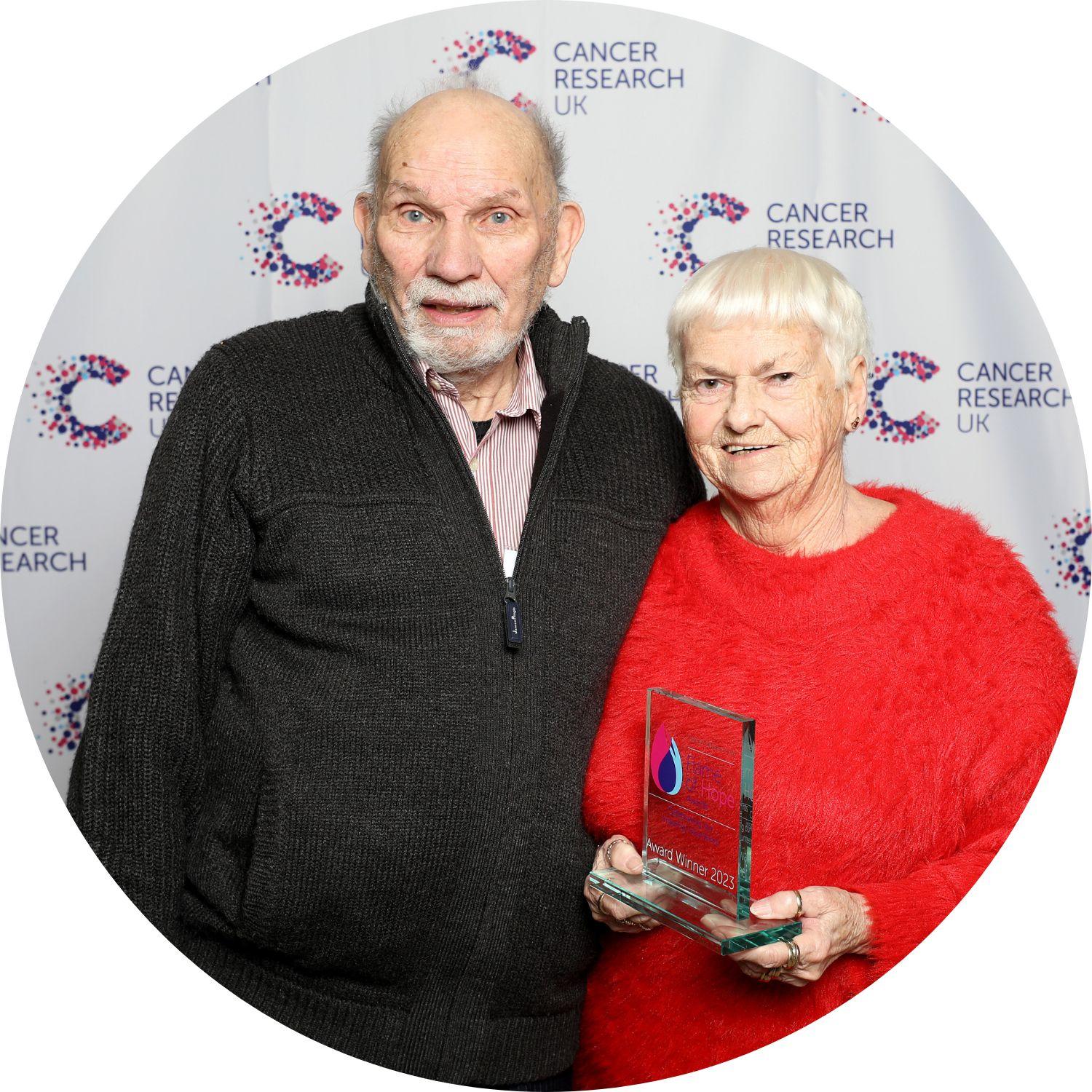 Volunteering for 31 years
"Ursula has been volunteering at the South Woodford shop for over 31 years. Ursula demonstrates fantastic customer service skills and helps to train new volunteers but also embraces new things willingly - such as round up and lottery. She's always considering the shop as a whole, from sourcing cost-efficient supplies to cleaning and dusting the shop fixtures.  She's first on hand to support our fundraising activities – donning fancy dress to sell tombola tickets! Dedicated to coming in for her shifts, Ursula is the most reliable and committed volunteer."
Congratulations to all our shop volunteers receiving Honorary Fellowships this year!