RHS Hampton Court Palace Garden Festival 2023
Join us at our Legacy Show Garden
The Cancer Research UK Legacy Garden is at the RHS Hampton Court Palace Garden Festival 4-9 July 2023.
Immerse yourself in this tranquil woodland garden and discover how gifts in Wills fund vital cancer research.
The Cancer Research UK Legacy Garden represents the importance of gifts in Wills in beating cancer for future generations.
This life-affirming garden is imagined by award-winning garden designer, Paul Hervey-Brookes. Inspired by the natural landscape, the garden celebrates the hope and optimism brought about by gifts in Wills and encourages reflection, conversation and connection in a tranquil woodland environment.
Read more about the garden features below and find out how you can pledge a gift in your Will to help save lives.
Pledge Pavilion
The Pledge Pavilion is a sheltered space where visitors can sit, reflect and engage in meaningful conversation. From here, you can enjoy the view of the garden and the water.
Stream and water
Stream inlets flow towards a central body of water with an isolated jetty. The jetty is a metaphor for the fear and loneliness cancer can bring – but facing the Pledge Pavilion symbolises hope and though the journey is difficult, you are not alone.
Rocks
Discover messages and symbols carved into the rocks as you walk through the garden. Handprints symbolise that cancer affects all of us, but through legacy giving and research, together we are beating cancer for future generations.
Benches
Inspired by the vascular nature of plants, wooden benches throughout can feel like they're organically growing from the garden. Designed to cradle their users, the seats give a sense of security and offer a comfortable place to sit in the garden.
Planting
The bright and uplifting colour scheme of the planting throughout celebrates the joy of living and represents the renewed hope brought about by legacy giving.
All about the guide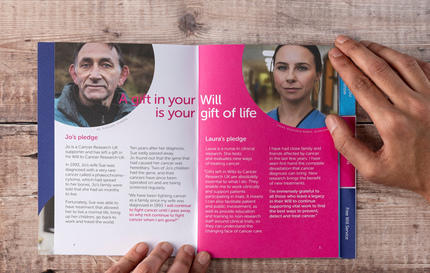 Writing a Will can feel like a huge task, but our guide contains all the information you need to take the first step in writing your Will or updating an existing one. Request a guide to receive both a physical and digital copy to find out: 
How to write or update your Will
What gifts in Wills have helped us achieve 
The different types of gifts you can pledge to leave in your Will
How CRUK can support you in writing your Will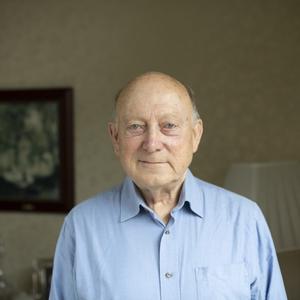 I have left a gift in my Will because my late wife died of cancer and I have survived two cancer experiences.
"Surviving cancer twice and losing my wife to bowel cancer has motivated me to leave a gift in my Will to support Cancer Research UK. Being invited on lab tours and seeing the research is very inspirational. I hope for the day when no-one has to fear cancer. 
I found the process of leaving a gift in my will to Cancer Research UK straightforward. I used the Gifts in Wills Guide which explained everything I needed to know."