Finding new ways to tackle bowel cancer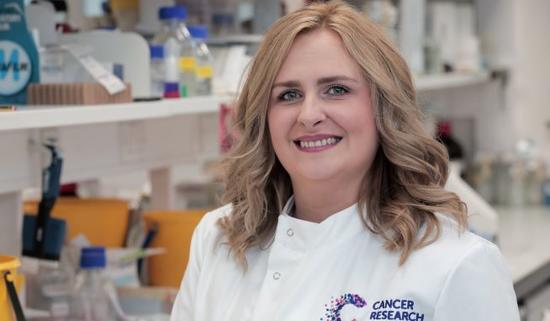 Dr Emma Kerr
Bowel cancer is the fourth most common cancer in the UK and around 42,300 people are diagnosed with the disease every year in the UK alone. 
Dr Emma Kerr at Queen's University Belfast is trying to find new ways to tackle bowel cancer, by studying how the disease hijacks normal processes the body's cells use to make energy and grow. These changes can help bowel cancers resist chemotherapy, making treatment less effective. 
"The majority of bowel cancer patients will, at some stage, receive chemotherapy but unfortunately some of those patients will develop drug resistance and their tumour will stop responding to the treatment," says Emma.
"My work focuses on understanding how cells use energy to grow, and how changes to these processes in cancer cells can limit how a patient responds to treatment. Our aim is not only to find ways to help doctors predict which patients might not respond to chemotherapy, but to develop new ways to help these patients in the future."
Dr Kerr began her career as a cancer scientist at Queen's University Belfast in 2008 where she studied under Professors Patrick Johnston and Daniel Longley, two of the world's leading bowel cancer scientists. Her research then took her to the University of Cambridge for six years to study lung cancer development and therapy. She returned to Belfast in June 2018 after being awarded over £1.9 million by Cancer Research UK to start her own research group at The Patrick G Johnston Centre for Cancer Research. 
Emma has also helped support Stand Up To Cancer – a joint national fundraising campaign between Cancer Research UK and Channel 4 – by encouraging people in Northern Ireland to fundraise for the campaign to help doctors and scientists speed up the translation of lab-based discovery to the clinic for the benefit of cancer patients across the country.
 
!
Content not working due to cookie settings.