Justine's story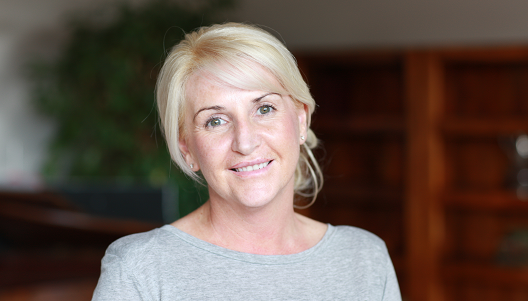 Share your story
Applying to be a media volunteer will take about 30 minutes. Before you start, please have details of your cancer experience, diagnosis, and treatments (as applicable) on hand.
Justine, from Maghull in Liverpool, was diagnosed with malignant melanoma in 2006 after noticing changes to a mole on her chest. 
 "I used to love tanning - I went away on lots of holidays in the sun and would regularly sit out all day with no protection," she said. 
"By the time I was 15 I'd started using sunbeds regularly, and even though I burned badly over the years, it wasn't until my mid 30s I started thinking about changing my behaviour. 
"Then, in 2004, I took up running which was when I noticed a freckle, which turned into a small lump on my chest. I ignored it at first, putting it down to irritation from my sports bra. But when I went on holiday to Thailand in 2006, it started changing, going gooey, and then turned black. 
"I remember searching the internet for skin cancer, and seeing pictures in my doctor's surgery, but I still didn't think it could happen to me. However, a couple of months later I was visiting my doctor and realised I'd better get it checked. 
"I was immediately referred to a specialist, who told me I had skin cancer. I was scheduled to have surgery, but it was a bigger procedure than we first thought, as the cancer had attached itself to my muscle. They also found another lesion on my back in the process which turned out to be cancerous. 
"After that things looked good until early 2007, when I found a suspicious lump on my head. This was also diagnosed as cancer, and I had to have a major operation, where they took a muscle graft from my stomach to fill the gap. While I haven't had any major surgery since then, in 2018 my GP sent my back to hospital and I had a lesion successfully removed.   
"Even though I'm still being monitored, I feel back to my old self – my friends even tell me I'm glamorous now, and I'm enjoying taking pride in my appearance again. However, the scars from my previous operations will always be a reminder of what happened and I'm now extremely careful in the sun."  
Justine's work with Cancer Research UK
Justine has been an incredible supporter of CRUK for many years as a Media Volunteer, Cancer Campaigns Ambassador and Involvement Network member.  
After Justine was diagnosed with malignant melanoma in 2006 and having multiple operations, she is passionate about raising awareness to warn others of the dangers.  
In 2008 she helped launch our Sunsmart campaign and appeared on TV, radio and in newspapers to ensure widespread media coverage. Since then, her appearances have included GMTV, BBC, This Morning, Sky News, TV documentaries, Daily Mirror, The Guardian and social media.   
As a political Campaigns Ambassador she attended key lobby days in Parliament, by speaking to many MP's she was instrumental in helping to pass legislation banning under-18's from using sunbeds (the Sunbeds Act 2010).  
To show our appreciation Justine won the Flame of Hope Ambassador of the Year Award in 2011. Justine said, "I was honoured & stunned to be awarded the Ambassador of the Year, because in my eyes I am only trying to help people to avoid going through what I have been through! 
"My time spent raising skin cancer awareness for CRUK is a privilege and I am happy to continue doing so until the message gets through.  In doing something that is personal to me, I have helped many people and been blessed with some of the most amazing opportunities and experiences." 
In the past year Justine's appeared in the Daily Mail, Huffington Post, on BBC's Countryfile and the Victoria Derbyshire news show.