Meet Research Nurse Karen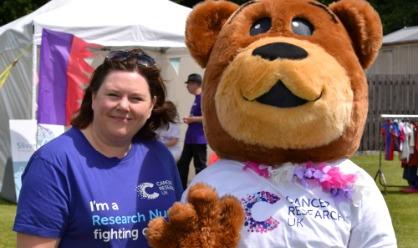 As a Senior Research Nurse based within the Cancer Research UK Clinical Trials Unit (CRCTU) at the University of Birmingham, Karen's post is divided between acting as the CRCTU lead nurse and working to support Cancer Research UK locally and nationally. 
Here Karen shares her story with us.
Tell me a little bit about your role
I am part of the national Cancer Research UK Senior Research Nurse Team, an innovative post that has been developed to promote the work of the charity and raise awareness of cancer trials amongst health care professionals, patients and the public.
Why did you choose to work in research?
Shortly after completing my BSc in Cancer Nursing an opportunity became available within a Haematology Clinical Research Team. I was attracted to research as I wanted to use all of the knowledge I had developed but was looking for something more complex and involved. I also wanted to be at the forefront of discovering new and improved treatments for cancer patients.
What skills do you need as a research nurse?
Clinical Research Nursing requires excellent communication skills to help patients understand the options being presented to them, and provide the appropriate support throughout their clinical trial journey.
What are the challenges in your role?
A Clinical Research Nurse is the practical element in making a trial come to life. The work is demanding but also hugely rewarding. My career has always been within early phase clinical trials which is very challenging. The patients that are approached to enter these trials have been through standard treatment options and need supportive care.  It never fails to amaze me how patients are willing to take part in these trials when they have been through so much already.
What inspires you?
I've had the privilege of nursing many amazing patients. People are so brave even when they are physically exhausted; it has been so inspiring to see how people support each other in times of great need.
What do you enjoy most about your role?
I find it so exciting to be able to work with national research groups to ensure the patient's voice is heard and highlight the practicalities of running complex cancer trials for the patients and staff involved. I also support world class researchers and scientists in their pursuit to beat cancer sooner. I really do have the best of both worlds!
Clinical trials
Thanks to research nurses like Karen, clinical trials are discovering kinder, more targeted treatments for cancer patients.
Find out more about clinical trials on our database.