Safety netting
Coronavirus (COVID-19)
We have created a central resources hub for Health Professionals which hosts all of our CRUK resources and further materials to help with managing the pandemic. We are updating the information as guidance changes. There is also a page specifically for patients on our about cancer hub.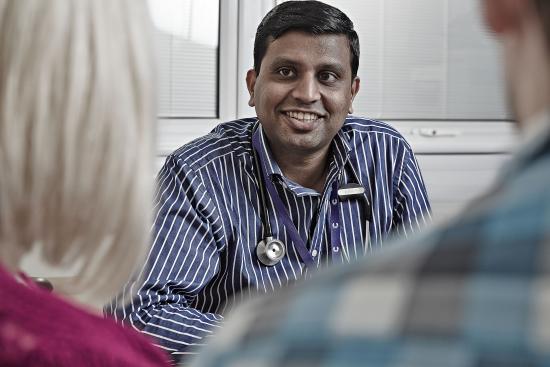 Safety netting is a management strategy of patients, tests and referrals used in the context of diagnostic uncertainty in healthcare.  It aims to ensure patients are monitored until signs and symptoms are explained or resolved. 
Patients often present with symptoms that could indicate a new cancer diagnosis. Some will be easily recognised as potentially serious and acted upon, but many will be non-specific or vague e.g. fatigue, weight loss or abdominal pain [1, 2].
The non-specific, undifferentiated nature of cancer symptoms is a key challenge to early diagnosis and part of the reason why so many cancers are diagnosed at a late stage, when the chance of a successful outcome is lower. Safety netting is an important process to help manage diagnostic uncertainty and support timely diagnosis of cancer.
The evidence for safety netting comes from retrospective studies on missed opportunities to diagnose cancer earlier. GPs' examination of clinical records indicated that one in five cancers diagnosed in England in 2014 had some diagnostic delay within primary care [3]. UK's primary practices have been found to retain less responsibility for the communication of  test results and non-attenders than countries with higher cancer survival [4]. 
Learning events from a group of practices in England identified three groups of safety netting issues:  symptom follow-up, responsibility over the test and referral monitoring, and diagnostic accuracy, linked to false negative chest X ray results and lung cancer [5]. National guidelines on suspected cancer recognition and referral touch on each of the three group of safety netting issues, either in their recommendations on safety netting and patient information and support (see NICE NG12,  Scottish Cancer Referral Guideline) or  within each cancer site (see Scottish Cancer Referral Guideline: 'Lung cancer'). More specific and comprehensive tools have been developed by a few national and local organisations to support putting some of the safety netting steps practice (see sections below).
References
Koo, M.M., et al., Symptom Signatures and Diagnostic Timeliness in Cancer Patients: A Review of Current Evidence. Neoplasia, 2018. 20(2): p. 165-174.
Foot, C. and T. Harrison, How to improve cancer survival: Explaining England's relatively poor rates. 2011, King's Fund.
Swann, R., et al., Diagnosing cancer in primary care: results from the National Cancer Diagnosis Audit. British Journal of General Practice, 2018. 68(666): p. e63-e72.
Nicholson, B.D., et al., Responsibility for follow-up during the diagnostic process in primary care: a secondary analysis of International Cancer Benchmarking Partnership data. British Journal of General Practice, 2018. 68(670): p. e323-e332.
Jones, D., et al., Safety netting for primary care: evidence from a literature review. British Journal of General Practice, 2019. 69(678): p. e70-e79.
Safety netting in primary care is a set of steps and actions that can be taken during a GP-patient consultation and within primary practice systems. These ensure patients are monitored until their symptoms and signs are explained and results acted upon. Safety netting is relevant to each step of the diagnostic pathway. For example:
Patients presenting with symptoms that are potentially alarming but not of immediate concern, need to know which symptoms to look out for and when, why and how to book a follow-up appointment. In some cases, checking patient understanding or giving written instructions may be appropriate. 
Patients may re-consult with a different GP in hope of a re-appraisal of their symptoms [1]. Thorough history taking and clinical coding of symptoms, investigations and results, helps with continuity of care within practices. This is particularly relevant for notes and actions taken by part-time clinical staff and locums.  
Patients presenting with red flag symptoms, or symptoms that trigger the two week wait or urgent referrals, are not always guaranteed to attend their appointments.  GPs play an important role in explaining the reason for suspected referral to the patients and assessing barriers to understanding and attendance. Patient information leaflets can aid GPs in patient communication and support at the time of referral (for example, see Your urgent referral leaflet for England and for Scotland). 
A negative test does not always rule out cancer, especially among patients with unresolved symptoms.  Chest X-ray can give up to 1 in 5 false negative results [2-4]. This may lead to over reassurance of patients and their GPs, and potentially delay the diagnosis of cancers or other serious conditions. Similarly, a previous negative FIT screening result does not rule out cancer in patients with symptoms, and usual clinical assessments are needed to investigate abdominal and related symptoms (see this infographic on FIT).  
IT clinical system alerts can allow administrative staff to run automated, regular checks on outstanding actions from the symptom follow-up to suspected cancer referrals and engage a recall system for missed appointments. 
Current safety netting practices vary among GPs and between primary care practices [5-7]. Sharing lessons and good practice are encouraged (see What is safety netting?).
References
Howell, D.A., et al., Myeloma: Patient accounts of their pathways to diagnosis. PLOS ONE, 2018. 13(4): p. e0194788.
Stapley, S., D. Sharp, and W. Hamilton, Negative chest X-rays in primary care patients with lung cancer. Br J Gen Pract, 2006. 56(529): p. 570-3.
Bradley, S.H., M.P.T. Kennedy, and R.D. Neal, Recognising Lung Cancer in Primary Care. Adv Ther, 2019. 36(1): p. 19-30.
Neal, R.D., W. Hamilton, and T.K. Rogers, Lung cancer. BMJ, 2014. 349: p. g6560.
Jones, D., et al., Safety netting for primary care: evidence from a literature review. British Journal of General Practice, 2019. 69(678): p. e70-e79.
Evans, J., et al., - GPs' understanding and practice of safety netting for potential cancer presentations: a qualitative study in primary care. LID - bjgp18X696233 [pii] LID - 10.3399/bjgp18X696233 [doi]. Br J Gen Pract, 2018. 8(10).
Nicholson, B.D., D. Mant, and C. Bankhead, Can safety-netting improve cancer detection in patients with vague symptoms? Bmj, 2016. 355: p. i5515.
Safety netting is an integral part of managing diagnostic uncertainty i.e. - when there is more than one possible cause for patients' reported symptoms and clinical findings. Symptoms may be relevant to cancer at multiple sites and to many other conditions. This is particularly the case for non-specific symptoms, such as decrease in appetite or weight loss (see NG12 interactive summary). For example, depending on patient's age, gender and accompanying symptoms, unexplained thrombocytosis can prompt parallel investigations, including an urgent chest X ray, a routine gastrointestinal (GI) endoscopy or a direct access ultrasound.  Less common cancers can present with vague and non-significant symptoms (positive predictive value (PPV) below 3%) and be attributed to aging process (e.g. back pain and myeloma [6]) or discounted because of young age (e.g. fatigue and lymphoma [1]).  
Patients consulting at an increasing frequency over a period of a couple of months may be experiencing worrying changes [2, 3, 4]. Prompting patients for additional detail on symptoms within consultations could add information relevant to further investigations [14]. In these circumstances, patients emphasise the importance of clinicians being open to diagnostic uncertainty and sharing uncertainties with the patient, legitimising further consultations and re-evaluation [2]. 
Co-morbidities are another well-recognised challenge in diagnosing cancer [15]: chronic obstructive pulmonary disease can mask lung cancer [5] and gastro-intestinal comorbidities can delay colorectal cancer diagnosis [6]. Underlying risks linked to both chronic diseases and cancer, such as smoking, and obesity can make clinical assessment difficult.  Re-assessments, together with thorough history taking, coding and establishing whether experienced symptoms are different to what is normal to the patient, are all important to avoid missing a potential cancer diagnosis. 
Overall, maintaining clear, shared systems at the practice level supports clinicians and patients. In the context of limited resources, time invested in streamlined process may lead to higher efficiency. Learning Events and Audits can highlight opportunities to improve safety netting and encourage management culture open to learning. Box 1 provides insights from practicing GPs. 
References
Howell, D.A., et al., Disease-related factors affecting timely lymphoma diagnosis: a qualitative study exploring patient experiences. Br J Gen Pract, 2019.
Howell, D.A., et al., Myeloma: Patient accounts of their pathways to diagnosis. PLOS ONE, 2018. 13(4): p. e0194788.
Mendonca, S.C., G.A. Abel, and G. Lyratzopoulos, Pre-referral GP consultations in patients subsequently diagnosed with rarer cancers: a study of patient-reported data. Br J Gen Pract, 2016. 66(644): p. e171-81.
McLachlan, S., et al., Symptom perceptions and help-seeking behaviour prior to lung and colorectal cancer diagnoses: a qualitative study. Fam Pract, 2015. 32(5): p. 568-77.
Neal, R.D., W. Hamilton, and T.K. Rogers, Lung cancer. BMJ : British Medical Journal, 2014. 349: p. g6560.
Walter, F.M., et al., Symptoms and patient factors associated with longer time to diagnosis for colorectal cancer: results from a prospective cohort study. Br J Cancer, 2016. 115(5): p. 533-41.
Safety netting questions and answers from practicing GPs
What is the main advantage of safety netting today over how it used to be done in the past?
The combination of face-to-face safety netting and IT systems could be really powerful. A simple request to book a follow-up appointment could be supported by a system to identify patients who have not attended for their follow-up within a specified timeframe (Dr Brian Nicholson)
Not every practice has a safety netting protocol in place. What is your advice to GPs interested in motivating their practice to establish one?
GPs can make the case for safety netting using learning events (formerly called Significant Event Analysis) from their own practice. A practice-wide non-judgemental and open dialogue can aid learning and embedding improved practices into safety netting systems. Online resources and support from the CRUK Facilitator Programme can also be helpful (Dr Ishani Patel).
Practices can start by looking at the list  of questions on
CRUK website
to identify potential gaps in their practice. If you want to set up a system, EMIS Web has a
template
 and
video
. For SystmOne some practices use scheduled tasks and templates are available,
here is a short video
by CRUK Strategic GP Rawan Pandev
How do you negotiate responsibility between patients and practice, in relation to the follow-ups? And in relation to attending the two week wait appointments for suspected cancer? 
This requires clinical judgement. Some patients respond to leaflets and clarity of purpose of the referral ie to exclude cancer. Others may need clear verbal information. Many of us use clinical system integrated text reminder systems. As GPs , we do have a role in following up non-attenders for 2 week wait appointments. In my practice all such referrals are safety netted by secretaries. (CRUK Strategic GP Rawan Pandev)
Are there other safety netting actions that tends to get overlooked but have a potential for speeding up cancer diagnosis?
Proactive safety netting should be extended to suspected cancer referral attendance (combined with e-referrals), direct access diagnostics and vague symptoms. Also tracking patient attendance and outcomes for blood tests/ imaging/ endoscopy/ suspected cancer outpatient appointments using the relevant electronic healthcare record functionality or API /plug-in software. (Dr Ishani Patel)
What are the three safety netting actions each GP can do, regardless of their IT or practice-level environment?
Each GP can consider "what if this patient does not attend for this test/appointment/follow up?" What could be the consequence? Results reported as normal, but persisting symptoms, merit continuing review by the GP. An example is normal first CXRs in patients in lung cancer (up to 25% of lung cancers in some series). Ask yourself if there is a robust system of following up investigations and patients in your practice. It can help to look at past Learning Events (previously called SEAs) to see if this has been an issue in the past. (CRUK Strategic GP Rawan Pandev)
In your view, what can be done to improve safety netting evidence and practice? 
We do safety netting in different ways and don't talk about it, so it can be difficult to know exactly what is being done, and to identify and share good practice. We need to share best practice and generate evidence for which types of safety netting are most effective and for whom. Formal ways of collecting and analysing such data are being explored. (Dr Brian Nicholson)
Finally, what is the most recent safety netting measure introduced in your practice?
We introduced a safety net prompt to help track advice and guidance requested from secondary care – this was suggested by our secretaries and has become routine for us. (CRUK Strategic GP Rawan Pandev)
We're now on twitter.
Join the conversation and follow @CRUKHCPs for news, updates and opinion.
A list of 'must dos' in safety netting for primary care practices, by roles and responsibilities, approved by Royal College of Practitioners. Also available as a flow chart, from patient's first reported symptoms to diagnosis.
MacMillan's Primary care top 10 tips: safety netting
Selected safety netting tips, with a rationale and what to consider within each tip.
Pan London suspected cancer safety netting guide
Tips on how to use clinical IT systems to pro-actively recall DNAs, how to track patients' attendance of tests and investigations and how to set up reminders to follow-up low-risk patients. 
Pan London and MacMillan safety netting guideline, 2015
A guideline to theory and practice of safety netting, with illustrations in how to set up alerts in EMIS. For an updated version of the same software, see 'Software' section below. 
Software 
Comprehensive safety netting tool. The guide demonstrates how to code symptoms, set up alerts to follow-up symptoms, checklists and safety netting patient advice linked to investigations and automated lists of expired diary entries.
Checklist for tracking TWW, including pre-TWW investigations
CRUK Excel-based safety netting of TWW referrals
Learning events (previously known as Significant Events Audit)
RCGP/MacMillan comprehensive guideline, tools and a template for conducting learning events at the practice level
A UK-wide audit of cancer diagnosis linking clinical data from primary care and secondary care  and cancer registry data.