Meet Jennifer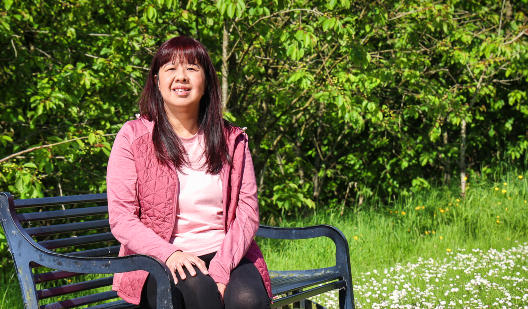 Jennifer was diagnosed with lung cancer in July 2013. She had chemotherapy followed by surgery and was told there was no sign of cancer in December that year. A non-smoker, she lives in Newtownabbey, Northern Ireland, with her husband Andrew. They got married in March 2016, three years after Jennifer was first told there was a problem with her lung. 
"I found out I had cancer by accident. In 2012 I was diagnosed with pneumonia, strangely enough on a beautiful day in May, and in March 2013 the latest of several follow-up X-rays showed what the doctor thought was an abscess on my left lung.
"Tests and investigations were done, and in July I was told it was actually stage 2b lung cancer. I'm glad I had my mother with me at the hospital, because it was the most devastating news you could ever receive. Although I had tried a couple of cigarettes when I was young, I did not become a smoker, and I was now 39.
"I thought the cancer may have been caused by a considerable amount of second-hand smoke I inhaled from a boyfriend who was a smoker, but my surgeon did not agree. He thought it was something in my genes, because the kind of cancer I had was more common in women of Asian descent.
"At first I was told I couldn't have surgery because the tumour was too close to a main artery, and that only chemo was available. But later doctors told me it should in fact be possible to have an operation after the chemo.
"I was prescribed cisplatin with docetaxel, a form of chemo so aggressive I only had three rounds, three weeks apart. The side effects were severe - I had terrible mouth ulcers, found it very difficult to eat and lost two stone. My hair started falling out after the second treatment and I was extremely fatigued. I had to give up my job, and it was a year before I was well enough to work again.
"My chemo finished in September 2013 and in November my left lung was removed. There were no complications, but I was left very breathless as I struggled to get used to managing with just one lung. At its worst it would take me 10 minutes to be able to get up in the morning, but eventually I was fit enough to hold down my new and current job as a catering assistant.
"Life has been better since I was told in December 2013 that I was cancer free. Getting married has always been one of my dreams, but it only recently became a reality. Andrew and I have been together since 2001, and he was extremely supportive during my illness; I think he was more emotionally overcome than I was when we finally got married in March 2016.
"Now the future looks bright, and I feel extremely lucky to have been given a second chance at life."
She adds, "Without the kind of research which led to cisplatin, I might not have been here today. I want to give people hope – there is life after cancer."