Meet Alfred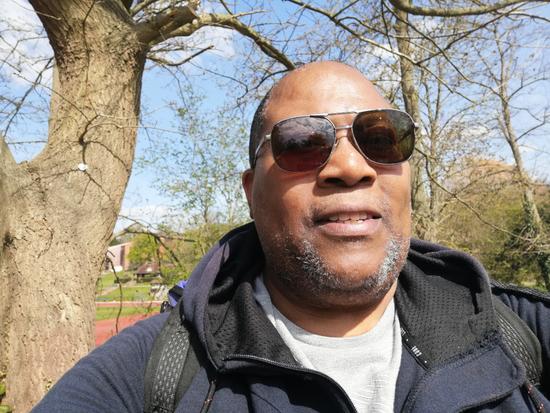 Alfred, a former bodyguard to celebrities including Beyonce, has been a media volunteer for around five years as well as an involvement network member, helping to shape our work for the good of patients. In that time he's been filmed and photographed for our Brand campaign, interviewed by the Press and spoken at events, while more recently he talked about his experience of living with cancer during the COVID-19 pandemic in the first edition of the Coronavirus reports. 
In 2012, Alfred was diagnosed with advanced prostate cancer which had already spread to his bones. As surgery wouldn't have been effective, he enrolled onto the arm of the CRUK-funded STAMPEDE trial, which was testing the drug abiraterone.  
"I was out jogging in late summer 2011 when I first noticed a sharp pain radiating from the base of my spine down my leg," he remembers. Alfred went to A&E where they thought it was a slipped disc, but the pain didn't go away. Eventually, after an MRI scan, he was told that he had cancer and that it had already spread to his bones. "I asked my doctor how much longer I had and was told to think short term, not long term."  
As surgery wouldn't have been effective, Alfred's consultant suggested the Cancer Research UK-funded STAMPEDE trial, which is testing multiple new combinations of treatments for prostate cancer. "I had nothing to lose, so I started taking abiraterone every day and had a hormone injection every 12 weeks," he explains. "I had side effects, like hot flushes, thigh muscle loss and mood swings, which were difficult to handle – but with my wife's support, hill-walking and telling myself not to give up helped me to get through it."  
During the first six months, tests showed that the treatment was working, so Alfred has remained on the trial and his cancer is stable. He is now part of a group of people affected by cancer who help raise awareness of how to prevent the disease and advise CRUK on how best to tell people about the organisation's work. "If it wasn't for abiraterone, I don't think I'd be here today," he says. "CRUK spends money wisely, which is why I think they deserve people's support." 
Alfred, 63, lives with his family in London. He continues to raise awareness of prostate cancer outside of his work with Cancer Research and has written two books about his experience. 
Share your story to help people understand cancer better and raise awareness about our research and campaigns.