Chris' story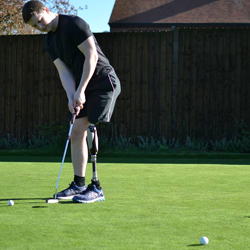 Chris was diagnosed with primary bone cancer (osteosarcoma) when he was just 19. He was treated with chemotherapy and immunotherapy but also had to have his leg amputated above the knee to prevent the spread of cancer. As a keen golfer, Chris was determined not let this stop him from his love of the sport and is gradually getting back to fitness.
 "It all started when I fell down the stairs and bashed my left knee on the banisters. It was painful for several weeks but I didn't think it was anything serious and at the time, I was playing golf at a high level every day so I just assumed it was another golfing injury.
In September I qualified for two knock-out finals in one weekend but the pain had got worse meaning that I couldn't play at all in the week running up to the competitions. In the end I did and won both finals. That was the last time I played golf with two legs. 
Later that year, when I'd stepped off a kerb, my leg suddenly gave way and I fell to the floor. I got sent to A&E where the doctors told me I'd fractured my femur. I went home with painkillers and crutches but seven hours after I'd left, I got a call asking me to come straight back.
After a series of tests and bone biopsy, I was told I had a tumour in my left femur and confirmed it was a high-grade osteosarcoma.
The doctors wanted me to start chemotherapy which was much tougher than I expected. I felt confident that I'd cope going into treatment as I was fit as a fiddle from working as a bricklayer and playing golf every night, but the treatment really knocked me back.
The original plan had been to shrink the tumour with chemo and have surgery to replace the damaged bone with an internal prosthesis which would have enabled me to keep my leg but unfortunately scans showed that the chemo wasn't as effective as my doctors had hoped. Unless I had my leg amputated I had a very slim chance of survival so I faced a choice of leg or life.
At the end of March 2016, I had my left leg amputated above the knee.  Following surgery, I had four more cycles of chemotherapy in conjunction with an immunotherapy drug, Mepact (mifamurtide) to help stop the cancer from coming back. 
I'm now feeling much better and much more in control. I've had my new leg for a couple of months and I'm just learning how to walk again. I've started practising putting and hope to be back playing golf soon as being active is important to me.
Thanks to your money we can help more and more people like Chris survive cancer every single day. Donate to your Giving Page and help support our mission to beat cancer sooner.