Kirstin's story...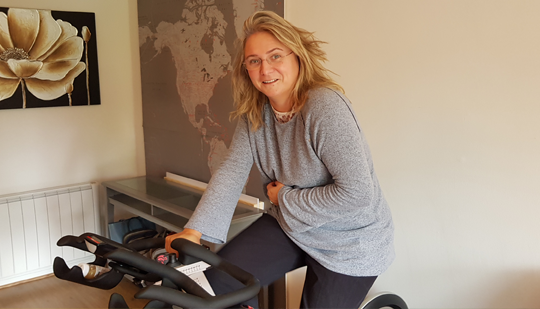 Kirstin took part in last year's Cycle 300 after being diagnosed with breast cancer. She was determined to make a difference to a good cause and wanted to be in a fit state, both mentally and physically to help her approach chemo.
After first discovering a lump whilst rubbing in sun cream, Kirstin immediately went to the doctors to get this checked out, cancer had run in her family and she knew she could be at risk. After a week of tests, her suspicions were correct – breast cancer.
The treatment plan involved a lumpectomy, 6 sessions of chemotherapy followed by 25 sessions of radiotherapy. Her surgery started around the time of the Cycle 300 challenge, but this did not stop her from racking up those miles, she even hit the gym bike with one arm!
Kirstin was determined to beat cancer for good. "I can't leave my kids without out a mum. So I did it for them".
By taking part in the challenge she was able to raise an incredible £4,523 (including Gift Aid) which will make a huge difference to life-saving research and the results from her latest mammogram and ultrasound check have so far, revealed an all clear.