Shoulder to Shoulder Against Cancer
We took a cardboard cut-out of the Health Secretary, Matt Hancock, to stand shoulder to shoulder with NHS staff and patients.
We're expecting the NHS 10-year plan soon, which will help shape cancer care now and in the future. Will the real Health Secretary commit to training and employing more staff to diagnose cancer early? Join the campaign to help make sure he does.
We campaign for change to improve early diagnosis, treatments and help prevent people developing cancer in the first place. Together, we will beat cancer sooner.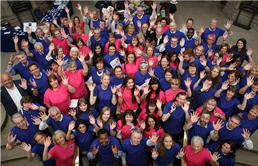 Want to do something a little different to beat cancer? Becoming a volunteer Cancer Campaigns Ambassador today.