Shoulder to Shoulder Against Cancer
NHS plan published
On 7 January, NHS England published its long term plan, which will shape cancer care now and in the future. With a focus on early diagnosis of cancer, we're cautiously optimistic about the plan. But with no details on how the Government plans to train and employ more NHS staff to diagnose cancer early, we're worried the ambitions set won't be acheived. 
We campaign for change to improve early diagnosis, treatments and help prevent people developing cancer in the first place. Together, we will beat cancer.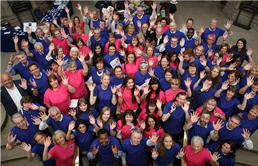 Want to do something a little different to beat cancer? Becoming a volunteer Cancer Campaigns Ambassador today.