Shoulder to Shoulder Against Cancer
Election explainer: how the next Government solves NHS shortstaffing
In December, Britain will go back to the polls in a General Election.
After over 2 years of hard campaigning, this a great opportunity for us to make sure all the political parties support our campaign and commit to standing shoulder to shoulder with our NHS.
But what commitments do we need to see this election campaign? What specific pledges would set us on course for a campaign win in 2020?
Read on to remind yourself why we're campaigning, to find out what the next Government needs to commit to this election, and what we can do now and in the next 6 months to make sure the next Government deliver what we need. This is your guide to unpick the promises this election.
Let's rewind…what is the Shoulder to Shoulder campaign calling for?
For the sake of cancer patients and NHS staff across the country, we're calling for Government to stand shoulder to shoulder with our NHS. That means the Government looking after existing, overworked NHS staff and also training and employing more people to diagnose and treat cancer.
Cool…remind me again why they need to do this?
There is rafts of evidence that shows the scale of the shortstaffing crisis in the NHS, and an endless stream of reports from staff and patients themselves that paint a picture of the strain our cancer services are under.
In short, it all comes back to supply and demand…
Every day, the demand for life-saving cancer diagnosis and treatments goes up. By 2035, there will be 500,000 new cancer cases every year.
Meanwhile, on the supply side, there simply aren't enough NHS staff to deal with current demand, let alone the extra 140,000 cases expected every year in 15 years' time.
This is critically important because the early diagnosis of cancer we need these staff for is vital to surviving cancer.  You're three times more likely to survive your cancer if it's caught early, but currently only around half of people actually are diagnosed in the early stages.
But…we've coped before, how bad actually is it?
Pretty bad. 2 in 4 people do now survive their cancer. But there are still 115,000 people a year who are diagnosed too late to give them the best chance of survival. That sticks the UK firmly at the bottom of the league table for survival compared to similar countries around the globe.  
And that is largely down to workforce shortages. It's estimated 1 in 10 diagnostic posts are currently vacant – with adverts live, but with the posts unable to filled due to a lack of trained staff being available in the UK.
Cancer Research UK predicts that staff numbers may need to double across key workforce groups by 2027 just to meet the needs of the growing number of patients – so, yeah, it's pretty bad.
Okay…so what would the next Government actually need to commit to this election?
All political parties need to commit to producing a fully funded, long term NHS workforce plan. A bit of a mouthful granted, but essentially the Government needs to plan how they are going to provide the NHS the staff it needs in the future and stump up the money to pay for it.
Great…and if they get in power when can we actually expect them to deliver this?
This is where it gets a little bit technical, but to understand when we can aim to get the Government to deliver what we need for the NHS we need to look back at a potted history of previous 'plans'… there's so many that we find it easier if we give them all names!
First up in 2017 we had Jeremy Hunt's cancer workforce plan – a snappy little plan that promised 5000 extra staff for the NHS by 2021. A short term fix, but not the type of increase that would be sustainable in the long term.  
Then in 2019, we've also already had Theresa May's NHS long term plan, and an interim workforce plan to go with it, – a bigger, more adventurous plan but still one that offered interim solutions for the NHS workforce.
Now what we're counting on is Dido Harding's NHS people plan. This  should be an all out plan that lays out the long term workforce strategy for the NHS, including cancer staff – regardless of who's in power. Whoever is in Government can then set out the funding for this, and make this a 'fully funded cancer workforce plan' in their next comprehensive spending review. The spending forecasts from this will cover the next 2-5 years – and it is expected in late 2020. This is where we can actually expect to see the fruits of our labour, and the Government can be expected to start paying for the thousands of extra staff the NHS needs as our campaign demands. 
Blimey…sounds expensive though, have the Government not already given loads of money to the NHS?
It's true, a whole range of different spending announcements have already been bandied about – but a lot of them are just 'sticking plasters', not long term funding commitments. They cover some things, but it's not everything the NHS needs.
Back in the summer of 2018, Theresa May pledged an additional £20.5bn a year to the NHS by 2024. An eyewatering amount on first glance, but slightly less impressive when, after inflation, only amounted to an increase of around 3.4% a year until 2023. This money was also only for NHS England – and they're not the ones in charge of training and employing more NHS staff.
In recent months, there have also been announcements detailing an extra £2.7bn for 6 hospitals and £200mn for new cancer screening equipment – but whilst this extra money is for buildings and equipment is welcome, it will achieve nothing without the staff to run them!
So, whilst this extra money is welcome, it's not always been spent in all the right places, and relative to the amount of money needed to sustain the NHS it's sadly still a drop in the ocean.
Going forward, it's about spending more money in the right places (like workforce!), but it's also about the government upskilling and supporting the staff that are already there. Which is why the commitment we need now is a strategic plan for our NHS cancer workforce, and the funding to back it.
Fine…but are more staff actually going to make things better? Can't artificial intelligence replace the need for more staff?
More staff will increase the chance of people's cancers being caught at the earlier, more treatable stages. Without them, cancer waiting times increase and vital tests and scans get delayed – causing stress and anxiety for patients like Neil.
Increasing the supply of staff will benefit NHS staff too – reducing their workload and stress for people like Dawn, allowing them to provide higher quality care and support for patients. Vitally important when almost 1 in 5 staff members are currently considering leaving the NHS.
AI isn't all it's cracked up to be either – tech can help with some tasks, and give staff more time with patients, but it won't replace staff, or the need to train and employ more of them to fit future demand.
Wait a minute…so we need more doctors and nurses then?
Yes, we do need more doctors and nurses – but also we specifically need doctors and nurses trained to diagnose and treat cancer, like Radiologists, Radiographers and Pathologists.
Even though many diagnostic professions work away behind the scenes (studying cells or interpreting scans), and often don't come into contact with patients, this is where the shortages are most severe. Shortages in critical professions like radiology (who carry out cancer scans) are at a record high. This causes a big bottleneck at this stage of the 'patient pathway' and delays all the other things happening – including vital treatments and surgery.
So, looking ahead…what is it we actually need to keep an eye on?
First of all, we need to follow the election coverage and see if all the major political parties commit to producing a fully funded cancer workforce plan.
Then, when Dido Harding's NHS people plan is out –and the government know exactly what the long term requirements of the NHS are, we need you primed and ready to make sure the Government of the day actually funds this plan in the next comprehensive spending review.
Sorted…is there anything I can do now to help make this happen?
Right now, you can still sign our petition demanding the Government to train and employ more NHS staff, and you can make sure your friends and family do the same. We'll hand this petition into Government before the next spending review so they know how bad the NHS staff shortages are, and about the scale of support there is for more NHS workforce funding.
After that, all we need for now is a commitment from you to be with us on this campaign into 2020. 12,000 of you are already on board, and we have achieved so much, but next year we need to hit the ground running and build the pressure on Government to deliver the staff our NHS need.
With your support, we can win this for cancer patients, and for NHS staff, and put the UK on course to saving thousands of lives over the next 15 years.
Join the campaign
Want to make sure the next Government stand shoulder to shoulder with our NHS? Sign our petition today.
We'll hand this petition into the new Government in 2020 to remind them of what they need to do to solve NHS staff shortages.
12,000 of you are already with us - add your name today. 
Help save lives through political action on cancer issues a few minutes a month. Join thousands of campaigners sharing their voice.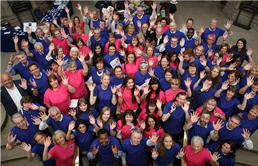 Volunteer a few hours a month and bring in better government policies for cancer patients, just by talking to your local politicians.