International Alliance for Cancer Early Detection
Get involved
We'll be introducing new opportunities to work with the Alliance as it develops.
We have a bold ambition to accelerate and revolutionise research in the early detection of cancers by harnessing some of the best science across the UK and US.
The International Alliance for Cancer Early Detection (ACED) is a new £55 million partnership between Cancer Research UK, the Canary Center at Stanford University, the University of Cambridge, the Knight Cancer Institute at OHSU, University College London and the University of Manchester.
We are uniting world leading researchers to tackle the biggest challenges in early detection, an important area of unmet clinical need. Scientists in the Alliance are working together at the forefront of technological innovation to translate research into realistic ways to improve cancer diagnosis, which can be implemented into health systems and meaningfully benefit people with cancer.
Why we created the Alliance
Earlier detection of cancer offers the greatest potential for transformational improvements in patient outcomes. We know that when cancer is diagnosed earlier it's easier to treat, and causes patients to suffer less and live longer. But like looking for a needle in a haystack, the minute size of early tumours and the very low levels of tell-tale early cancer signs makes it incredibly difficult to detect cancer early.
For several decades, progress in early detection research has been limited by the unique scientific and clinical challenges of this field:
Early detection research hasn't been prioritised and visibility of the field is low, restricting career development opportunities
Fragmentation of the research community with few mechanisms to coordinate research, share discoveries and accelerate progress across institutions
Lack of a clear model for industry collaboration
Access to critical resources such as early disease tissue samples and longitudinal patient data
ACED Centres
Our Alliance unites 5 world-leading centres for early detection research, supported by investment from Cancer Research UK of up to £40 million over 5 years, and an additional contribution of up to $20 million from our US partners.
The Canary Center at Stanford for Cancer Early Detection
ACED Centre Director: Professor Utkan Demirci
The Canary Center is a world-class research facility dedicated to cancer early detection programmes, with a mission to discover and develop diagnostic and imaging systems for the detection and prognosis of cancers during their early, curable stages. The Canary Center brings to the Alliance state-of-the-art facilities and collaborative research programmes in molecular imaging, proteomics, chemistry, cell and molecular biology, and bioinformatics. Working closely with the Stanford Cancer Institute, the Canary Center also brings deep experience in translating early detection research into clinical trials to translate new discoveries into new treatments as rapidly as possible.
University of Cambridge
ACED Centre Director: Professor Rebecca Fitzgerald
Cambridge is a world-leading centre working to develop and deliver effective early cancer diagnostics and treatments. The centre is built upon a unique infrastructure that enables first-in-human clinical trials for early cancer detection and combines basic, translational and clinical scientists. 
Building on this foundation, Cambridge will design, develop and deliver ACED Clinic Cambridge to drive early-phase clinical trials of new diagnostic technologies. Cambridge offers invaluable early detection capabilities, including the ability to accelerate testing, develop new training programmes and act as a catalyst in the creation of new treatments, technologies and tools.
The Knight Cancer Institute at OHSU
ACED Centre Director: Professor Sadik Esener
The Knight Cancer Institute's Cancer Early Detection Advanced Research (CEDAR) center is based at Oregon Health & Science University (OHSU). Its mission is to detect and stop lethal cancers at the earliest possible stage. The center works to successfully integrate a biological understanding of early diseases with novel technologies that will detect them. The pillars of CEDAR's approach include population health and accrual of longitudinal cohorts for risk stratification; liquid biopsy using multi-omic approaches and associated technology development for minimally invasive screening and diagnosis; early biological research to interrogate the basic biology involved in the transition from pre-malignant to lethal malignancies; precise therapeutic interventions to prevent the development of lethal disease; and early detection economics and business models examining the advantages of cancer early detection.
University College London
ACED Centre Director: Professor Mark Emberton
University College London (UCL) brings specialised early detection imaging know-how together with extensive patient access, multidisciplinary expertise and translational research – with the aim of speeding discovery into new treatments and technologies. Earlier detection and diagnosis is a priority area for UCL's cross-disciplinary Cancer Domain, which links more than 500 academics and clinician researchers to improve early cancer diagnosis and outcomes. Multidisciplinary and collaborative, UCL works within networks of expertise that include globally recognised research institutions and brings to the Alliance access to an associated patient referral population of six million people.
University of Manchester
ACED Centre Director: Professor Robert Bristow
The Manchester/MCRC Early Recognition of Cancer and Decision Options (MERCADO) programme at the University of Manchester combines early detection resources and expertise. MERCADO's vision is to be a world-leader in precision cancer research and to drive early cancer detection strategies. 
MERCADO acts a research hub that will help to drive the translation of research into practical applications in the clinic. It brings together expertise in lung, breast and gynaecologic cancers, as well as access to a population of more than four million people. This unique population and data resource delivers insight on the impact – and potential risks – of early detection. Ultimately, MERCADO will help researchers to shift the balance from late-stage diagnosis to earlier detection and improved cancer survival.
Get involved
The Alliance has been formed at a critical moment, as greater understanding, advanced technology and expanding global communication combine to make collaboration on early detection research both possible and effective.
As the Alliance develops, there will be many opportunities to work with us, including:
Training and development opportunities
Strategic academic and industrial partnerships
Funding opportunities for collaborative research
If you're interested in working with us, we'd love to hear from you.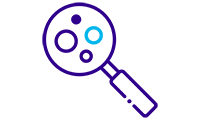 At CRUK, early detection of cancer is one of our top priorities and we have funding and other support to help you develop your early detection research, whether you're established in the field, early in your career, or applying your research to early detection for the first time.