Research Innovation Workshops
​Our 3-day sandpit workshops foster multidisciplinary innovation in cancer research.
The Process
This intensive but exciting process involves real-time peer review to help workshop participants develop their ideas from start to finish, supporting and transforming research ideas into pilot studies.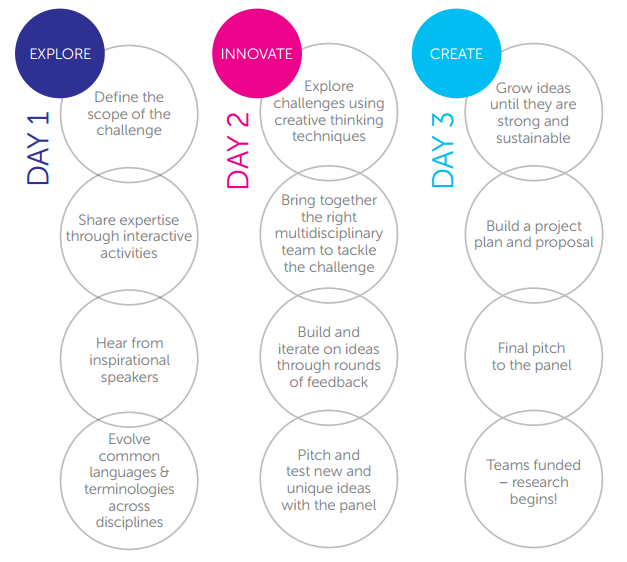 ​
The workshops are highly collaborative, bringing together a range of experts across disciplines:
25 participants including researchers, healthcare professionals, policy makers and technologists

A senior academic guides the workshop and facilitates innovative thinking

Subject guides, specialists in their fields, encourage and stretch participants' ideas by making connections – both between participants and to the wider body of knowledge

PPI representatives help participants focus on patient and public benefit
The workshops are designed to foster innovation:
The group define the scope of the challenge and build on collective knowledge

Challenge themes have included 'Harder to Reach Groups', 'Risk Perceptions', 'Early Years', 'Decision-making', and 'Harnessing Technology'

Ideas are developed using real-time peer review

Outputs are captured in highly innovative feasibility study proposals
Successful project teams are awarded one year of seed funding to conduct pilot and feasibility work, with the aim that they will then be in a position to apply for further funding to develop the ideas.
Reports from past workshops
How to apply
Our workshops cover a variety of research fields, and each workshop has a set theme. Browse the upcoming workshops below and click through to find out more about eligibility and how to apply.
Early detection: Novel technological approaches for the early detection of pancreatic cancer
Application deadline: 15 September 2020
Workshop dates: 29 November – 2 December 2020
This is a very different experience. Sometimes it puts you out of your comfort zone. But it was such a thrill!
 – Dr Gozde Ozakinci
Find out more about the ways we're funding fresh ideas to tackle cancer.