10 top tips to clinical trials from a patient's perspective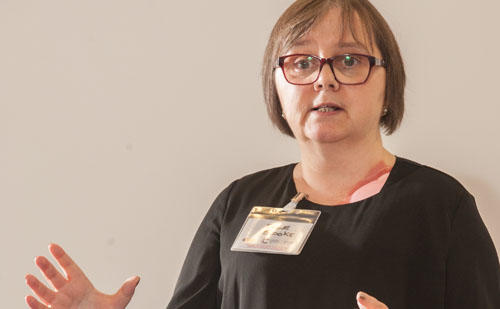 Diane sadly passed away earlier this year. She had taken part in a Phase 1 clinical trial.
Here Diane shares her top tips for taking part in a trial with us from an interview for International Clinical Trials Day 2016.
1. Knowledge is power
Find out as much as possible about your own cancer – type, grade/stage, hormone receptive etc. You will need all this information in order to understand your disease and therefore find out all the appropriate treatments available that are relevant to you. A good source of information is Cancer Research UK's About Cancer section.
If you have exhausted standard treatments, think about Phase 1 clinical trials then check-out where your nearest ECMC is (Experimental Cancer Medicine Centre). There are strict criteria to take part so initially you won't know whether you are eligible or not. Make sure that you understand the objectives of the trial, for most phase 1 trials the results might help doctors decide whether a new treatment is worth taking further and what its side effects are like but they may not be expecting the people taking part to see a benefit themselves.  
If you are interested in taking part in a clinical trial, remember there are possibly more trials available at other hospitals than at your local General Hospital. Look on Cancer Research UK's trials database or find out where the nearest cancer hospital is to you and check their website. Ask your GP/local Oncologist to refer you to explore what is available locally.
2. Ask lots of questions
Never be afraid to ASK – write any questions down to prompt you. Take someone you trust with you to your appointment with your healthcare team but speak to them before hand to tell them what you need to know so they can support you if you start to struggle.
"You don't get if you don't ask" – even if something isn't offered, ask why. Understanding everything about your disease and possible treatments is vital to make an informed decision.
3. Take your time and talk things through
All cancer treatments and medicines have side effects but don't affect every patient in the same way so discuss them all with your trials team and weigh up the pros and cons for you personally.
If you are offered a place on a trial don't rush important decisions about taking part until you have all the information you need. Take time to discuss it all with your family as well as health care professionals; there should be a research nurse you can talk things through with or you can talk with Cancer Research UK's nurses on Freephone 0808 800 4040. It always must be your decision but the nurses can help you through the positives and negatives.
4. Don't be put off by the paperwork relating to a trial
Make sure you take all paperwork home, read it all and jot down any points you may need clarification on when you return to the hospital. You will be asked to sign the paperwork if you decide to take part but remember you can stop the treatment at any time if you change your mind.
5. Have a plan
If you choose to go ahead with a trial, have a plan. I have always loved to plan, it helps me to feel in control, after all, this is MY body – but have a Plan A and a Plan B if possible, just in case.
6. Recruit your army and build your tool-box.
These are the people who will fight with you; relatives, friends, work colleagues, doctors, health care professionals. They are all on your side and want to support you and can all play a part, so let them know what you need and when.
I have built up my toolbox over the years and I am still adding to it. Examples include:
your research nurse - build a good relationship on honest foundations and they will support you throughout any trial treatment.
a complementary therapist from the hospital (who has taught me many techniques in helping with anxiety and facing difficult hospital appointments).
 a Clinical Psychologist (who listens to my concerns, many of which I struggle to share with my loved ones, talking is therapeutic).
my close friends (for lunch dates in between treatments).
my family (goes without saying, always something to look forward to) and time out to potter in my garden.
Everyone's box will be personal but mine has helped me deal with the "fear factor".
7. Hospital visits
These can be intense and long-winded as you will be monitored very closely on any trial treatment so be prepared. Have someone to keep you company (but not the whole family, space is at a premium), take a book, magazines, tablets, cross-words and of course something to eat and drink. Cancer hospitals have excellent facilities for eating and usually a shop, relaxation area etc.
8. Keep a diary
Your trial team will want to know every little detail of how you have been feeling each time you visit the hospital and it is far easier to remember things if you have jotted them down. Don't forget, they need to learn all about the treatment you are taking, which helps with your own care as well as those who come after you.
9. Don't be afraid – easier said than done I know.
10. Live your life
Finally and most importantly remember to LIVE!  Being on a trial can be intense with hospital visits and it is so easy for it all to become all consuming. So plan in some nice treats for when you know you will be feeling well in between visits. This ensures you always have something to look forward to and you will return to your hospital visits refreshed.
If you'd like to talk to someone about your clinical trial experience, our specialist nurse helpline is open Monday to Friday, 9am-5pm. 
You can contact the nurses on 0808 800 4040