We Need Change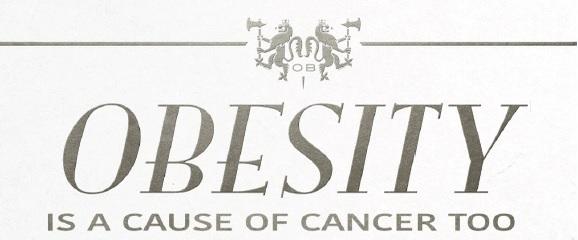 What causes obesity?
There are lots of things that can play a role in how much we weigh and the world we live in can influence us a lot more than we realise. Sophisticated food and drink adverts, bargain deals on high sugar and fat foods, the presence of fast food and takeaways shops on our high streets, bright, colourful packaging and well-known brand characters, and placement of unhealthy foods in supermarkets all impact our eating habits and the food options available. The way the world around us can influence people to eat unhealthily and exercise less is known as the 'obesogenic environment'.  
What does it take to reduce obesity rates?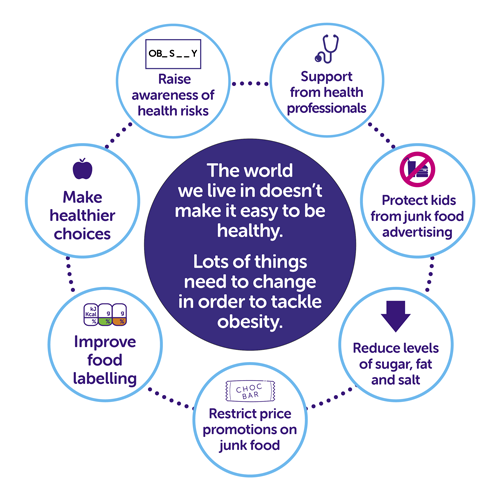 Our mission is to reduce obesity in the UK and prevent as many cases of cancer as possible. 
Tackling obesity requires a UK-wide, whole-systems approach that changes the food environment to make the healthy choice the easy choice and gives choice back to parents and families. Cancer Research UK is working to make a difference at all levels of society. This includes:
Running public awareness campaigns to inform people of the link between obesity and cancer
Working to influence Government to introduce policies to reduce childhood obesity
Funding research to build the evidence base on obesity and cancer
Working in partnership with other organisations to tackle obesity
Engaging with the public about how they can reduce their risk of cancer
Sharing information on health
What Government action is Cancer Research UK calling for?
The government has released its updated childhood obesity plan which includes a bold aim to halve childhood obesity by 2030. To achieve this ambition, we believe the key priorities for implementation are:
Introduce a 9pm watershed on junk food advertising
The more junk food ads on TV young people see, the more they eat – and that could amount to over 500 extra snacks throughout the year. Although junk food ads are banned during children's TV programmes, they are still allowed to air during the peak-time 'family-viewing' and entertainment shows that many children watch. We're calling for a 9pm watershed to protect children from exposure to marketing for foods high in sugar, salt and fat.
Introduce similar restrictions online
Introduce legislation to restrict multi-buy price promotions